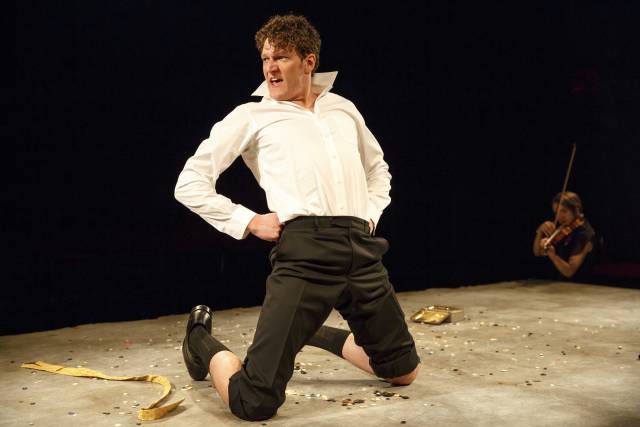 If John Doyle is well known for his minimalist productions, then his adaptation of Henrik Ibsen's Peer Gynt is downright molecular. He distilled the Norwegian playwright's massive five act epic, into a mere two hours of surrealism, proto-naturalism, folk storytelling and social satire that show off his ability to peel layers, but that also still feel like "a mere" two hours of surrealism, proto-naturalism, folk storytelling and social satire. Doyle has crammed way too much into a vessel that craves and demands expansion, which is not to say that the production at Classic Stage Company is entirely a faulty one. It's anchored by the larger than life performance of Gabriel Ebert, who plays the title character - a compulsive liar who dreams of finding himself without regard for who he destroys along the way - as a man-child able to seduce and repel in equal manners.
Ebert's limbs seem to stretch to unnatural proportions as Peer Gynt takes over the stage to demand attention must be paid to his plea. When we first meet him, he's showering his mother (Becky Ann Baker) with tall tales about a legendary stag he set eyes on, which by the time he meets a Troll King (Dylan Baker), and a mysterious man (George Abud) on a boat, seem to be little white lies. The sparse set design by David L. Arsenault, and the emotive lighting design by Jane Cox aid Peer as he regales other characters and the audience with anecdotes about his achievements, most of which defy the rules of compassion and humanity, but which have made him extremely happy.
Was Ibsen perhaps trying to understand the minds of corrupt political leaders of his time (or any time for that matter) who seem unaware of the damage they provoke as they seek power and self-fulfillment? Perhaps in the use of modern costumes, Doyle was trying to help place the story in a more contemporary setting, but for all we know Peer Gynt could have been dressed in Renaissance clothes and we would still have been terrified by his similarities to a specific egomaniac intent on running the world based on his love of money. If Doyle wanted to highlight the current relevance of Peer Gynt, the show might in fact have benefitted more from a calmer approach, rather than a "greatest hits of early Ibsen" take. As it stands, it's a production admirable for its economy, excellent performances and ambitious direction, but just like its central character it can't help but alienate others who'd rather move on than indulge its narcissism.