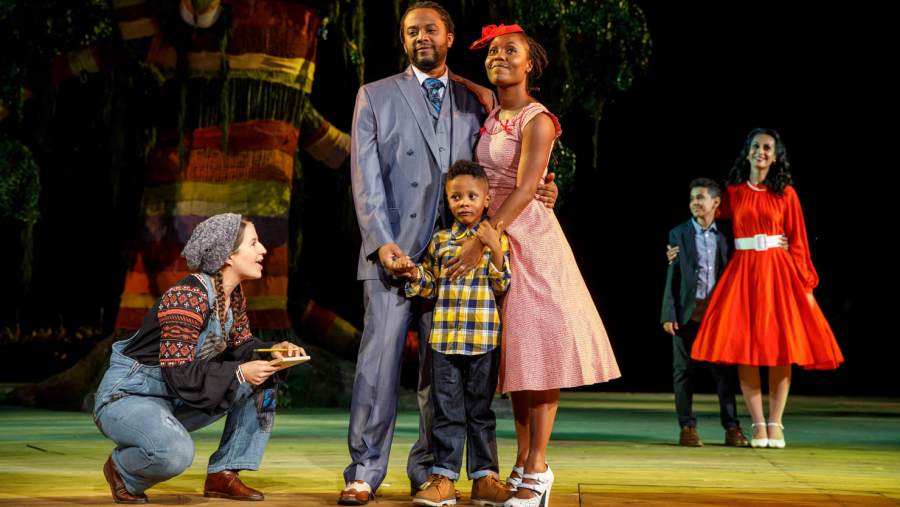 At the top of Act II of William Shakespeare's As You Like It, when the audience first glimpses the Forest of Arden, the banished Duke Senior (who is hiding out there) pronounces life in the wood to be "exempt from public haunt." That's certainly not the case in Public Works' new musical adaptation (by Shaina Taub and Laurie Woolery). I can't imagine there's ever been an Arden as teeming with human life as the one depicted at the Public Theater's Delacorte Theater in Central Park. A cast of some 200 performers crowds the boards, wearing colorful fabrics cut in a variety of 2017 styles. It's as though the sylvan glades had been overrun by attendees of some pop-music festival—a latter-day Woodstock, where everyone looks as crisp, bright, and stylish as players in a Vincente Minnelli film musical. The big trees in David Rockwell's charming set soon blaze with festive electric lights and lanterns. It's about as rural and rustic as a Park Slope block party.
As described in the program, the idea behind the production (which Woolery directed), was to present the play in "pageant form"—following a tradition that extends back to Medieval passion plays, which relied on the skills of various segments of the larger community. For its mega-stagings, Public Work teams with various community-partner organizations from multiple boroughs. The core of the acting company consists of experienced professionals, but they're supported by a diverse group of other players, including children. This As You Like It also includes appearances by several "cameo" groups, including the Bronx Wrestling Federation, Harambee Dance Company, The Sing Harlem Choir, and the Freedom Dabka Group of dancers.
In his aforementioned Act II speech, Duke Senior (played in this production by the excellent Darius de Haas) suggests that Arden is a kind of magical, utopian place, embodying the "good in everything." Here Taub and Woolery have picked up Shakespeare's cue and run with it. Their Arden is a happy multicultural co-op, a place where everyone embraces diversity in sexual orientation and gender identity. The lovesick shepherd Silvius has been transformed into Silvia (Ariel Mapp), a so-geeky-she's-hip young lesbian. Country girl Audrey is now a gay youth named Andy (Troy Anthony), romantically pursued by the Purell-packing Touchstone (Joel Perez), who has fled with Duke Senior's daughter Rosalind (Rebecca Naomi Jones) and her cousin Celia (Idania Quezada) to the countryside. Interestingly, while shepherds dwell in Arden—along with deer, a serpent, and a lioness (beautifully designed puppets by James Ortiz)—there's not a single ram, ewe, or lamb to be seen.
Shakespeare's main story, of course, concerns the romance between Rosalind and Orlando (smooth-singing Ato Blankson-Wood). The son of a gentleman, Orlando has been deprived of an education by his brother Oliver (Marc Randolph Henry) and is now yet another refugee in Arden. While Taub and Woolery have pared the story down to about 95 minutes and have substituted 21st-century language for some of the original text, they've, wisely, kept much of the more famous banter from Rosalind and Orlando's scenes. (And some of Shakespeare's lines earn the biggest laughs.)
Much of the story, though, is told through Taub's lively pop score, which runs the gamut from Latin-inflected to hip hop to country. Taub also plays the role of the famously melancholy Jacques, and, on the night I saw the show, sang Rosalind's songs—lip-synched by Jones, who was reportedly experiencing vocal issues
I found this As You Like It to be solid entertainment, thanks largely to its spectacular pageantry. In part because of its scale, it isn't the most subtly rendered version of the story you're ever likely to see. Its humor runs to the broad (and sometimes self-referential), rather than to the thoughtful and understated. Still, the rapt audience clearly found it winning.