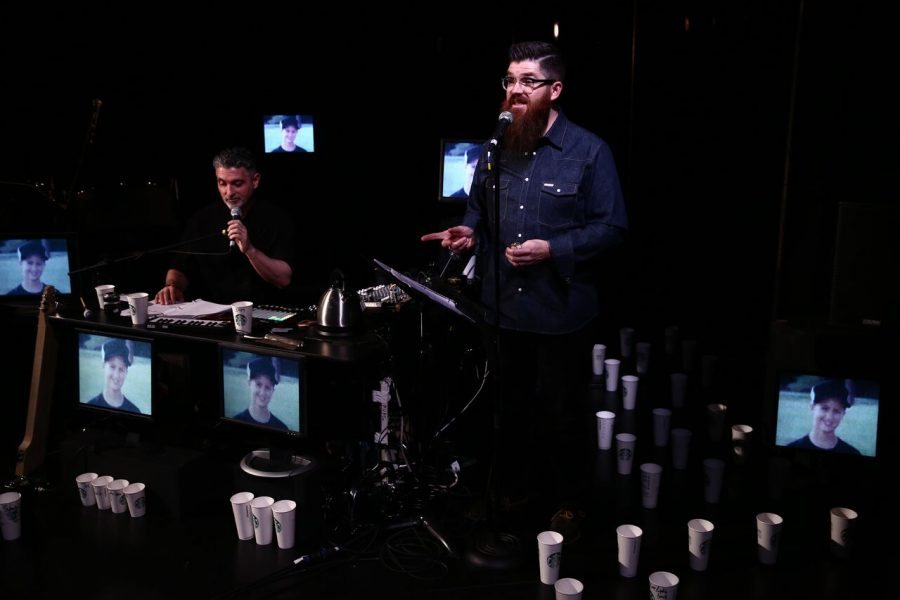 Audience members arriving for Ain Gordon's Radicals in Miniature at the Baryshnikov Arts Center are greeted by a stage on which twelve seemingly haphazardly-placed computer screens display small, flickering images of people and objects. Screens onstage hardly merit a passing glance in theater anymore, but in presenting this barely-perceptible slideshow before the start of the performance, Gordon and his Miniature co-creator Josh Quillen reveal this quirky and heartfelt production's modus operandi, of small details held and buffed until they illuminate the lives of the overlooked and un-famous, particularly in the downtown NYC 1980s arts scene in which Gordon himself came of age.
Gordon, the son of choreographer David Gordon and dancer Valda Setterfield, has mined the territory of the departed before, notably as a performer in Spalding Gray: Stories Left to Tell, for which he won an Obie (he has earned three thus far in his career). With Radicals in Miniature this seasoned and engaging performer is focused on paying tribute to some of the minor characters in his growing up, ranging from the club performer John Sex, to dancer (and Gordon's babysitter) Elaine Shipman, to the peculiar CPA who did the Gordon family taxes.
In the twists and turns of unearthing details about these little-known people, Gordon reveals how the cast did research, sometimes coming to surprising discoveries, or even dead ends. Quillen—whose straightforward delivery is a nice counterpoint to Gordon's more performative presence—adds to this crazy quilt with a tragic tale about the intertwining fates of several characters from his small hometown in Ohio.
The entire piece is songlike, with the cast's—stage manager Ed Fitzgerald is the third presence onstage—simultaneously singing/chanting/whispering particular lines and phrases. This incantatory effect is punctuated by percussionist Quillen's quietly commanding playing of the steel pan and lap steel, among other instruments.
Some stories were more moving than others—the CPA's tale felt like the weakest link in the chain to me—and some of the underscored phrases and images remained mysterious for why they were chosen. But Gordon and Quillen are an engaging pair as they slowly head towards a softly thundering conclusion, in which Gordon, warbling mis-remembered lyrics of Sylvester's "You Make Me Feel (Mighty Real)," movingly demonstrates the power of singing the unsung. The biggest achievement of this show, in fact, may be in how it makes that activity seem like a necessity.