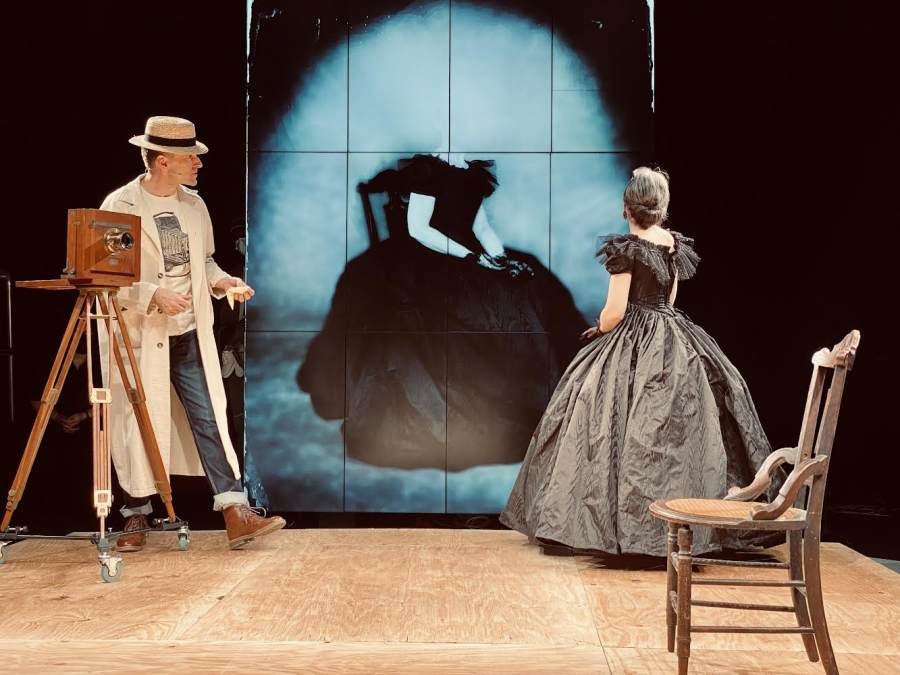 Mary Todd Lincoln: misunderstood First Lady, bereft mother, obsessive widow--and now, the unlikely subject of a trippy piece of experimental theatre.
In american vicarious' new work Shooting Celebrities, written by John Ransom Phillips and directed by Christopher McElroen at The Flea Theater, Mary Todd Lincoln arrives at celebrity photographer Matthew Brady's studio to have her portrait taken. Brady, who has photographed the likes of Audubon, John Brown, and even Mary's husband Abraham Lincoln, assures the reluctant First Lady that he will capture her true essence for posterity. There's only one problem: neither Mary nor Brady seem to know just what her true essence is. The photography session becomes a search for Mary's identity, aided by costume changes, varying poses, and help from the other celebrities Brady has photographed. At Brady's urging, Mary postures as an enigmatic socialite, saint-like mother, imprisoned wife, and grieving widow--all in an attempt to finally arrive at the defining image by which America will remember her.
Ironically, the play itself suffers from a similar identity crisis: it can't decide what it wants to be. Is it a biopic of an oft-maligned historical figure, a commentary on 19th-century women's oppression, an attack on slavery, or an artsy surrealist fever dream? Various historical figures (all played by Gene Gillette, who also plays Brady and Lincoln) step in to relive Mary's and their own pasts as Mary (Julia Watt) slips into more and more impractical outfits before a large video screen backdrop. Sometimes, the screen and the onstage action line up with chilling effect: such as when photos of dead Civil War soldiers contrast with Mary's descriptions of her lavish White House parties. Other times, the video screen lurches into out-of-nowhere absurdism, as when a twitching eggplant suddenly springs from the crotch of Mary's young son Willie. (It's as bizarre and uncomfortable as it sounds.)
Still, there's much to admire here. At times, the script is bitingly clever, and the production itself is often a feast for the eyes. The intimate setup--a black box theatre with antique wooden chairs arranged in a semi-circle before a spinning stage--transports us into Brady's 19-century studio, and video screens above the chairs cycle through some of Brady's most famous celebrity portraits. Phillips has clearly done a deep dive into Mary Lincoln's life, and history buffs will be rewarded with plenty of "Easter egg" references. Another nice touch is the lyrical opening dialogue between two inanimate objects: Brady's camera and the chair in which his subjects sit.
In fact, Shooting Celebrities is full of nice touches and lyrical moments that, rearranged via a more focused script, could yield enormous payoff. By the end of the production, I got a sense that Mary's struggle for self-definition was supposed to be a metaphor for America's own quest to reconcile its troubled history. It's a logical jump, but the play in its current form doesn't lay the necessary groundwork to make this sudden "aha" moment really shine. Instead, it feels like an afterthought.