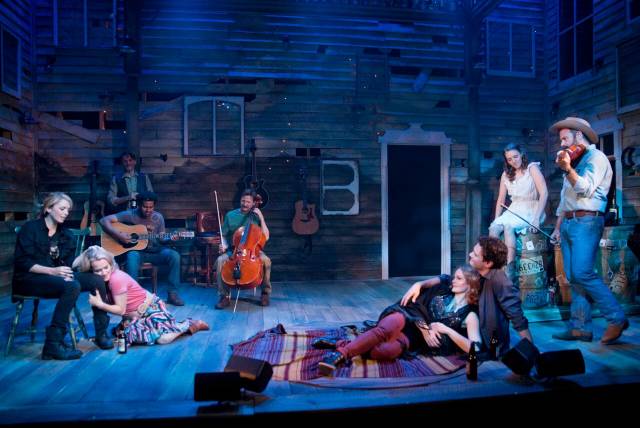 Playwright Michael Kimmel and songwriter Lauren Pritchard gambled by setting Songbird, their adaptation of Anton Chekhov's drama The Seagull, inside a messy nest of contemporary Nashville musicians. But the resulting work (produced in association with Less Than Rent Theatre) is a fervent theatrical experience that deserves a long, happy future.
It's an old saw that characters in a musical should segue from speech to song whenever spoken word won't suffice to express the emotion at hand. The twist that Songbird's characters put on this maxim is that music-making is a constant in their lives. They're forever trying out a new melody for one another or conjuring the past by revisiting some song that served as soundtrack for a half-remembered occasion. There's no need to suspend disbelief when these people suddenly explode into song. (Cast members also play their own instruments—and beautifully.)
The Seagull, set in the world of Russian theatre artists, centered on a quadrangle with Oedipal overtones involving a stage diva, her son, her young lover, and the son's actress/girlfriend. Here the diva is Tammy Trip (Kate Baldwin) a famous (if fading) country singer, who returns to her tribe's local watering hole with a hotshot/hot stuff songwriter named Beck (Eric William Morris), in tow. Tammy's troubled son Dean (Adam Cochran)—an indie songwriter—is wounded by the attention Mom pays the boy-toy. When Dean's companion, the sheltered Southern Baptist waif Mia (Ephie Aardema), also gravitates toward Beck, Dean spirals out of control.
Kimmel does more than use the source material as inspiration—he follows the contours of the Chekhovian script beat by beat. The Seagull's collection of engaging supporting characters is intact. There's even the original's four-act format (but with only a single intermission, between Acts 2 and 3).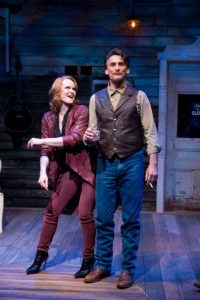 Engaging performances are delivered by just about everybody. Baldwin is a one-woman theatre festival as Tammy—an imperious, tantrum-throwing local girl made good (and gone bad—or at least gone hard). Just as watchable is Morris's Beck—a heartbreaker in spite of himself. Erin Dilly shines as the frisky Pauline, Tammy's lifelong confidante, involved in an adulterous affair with the smoldering Doc (the excellent Drew McVety). And Bob Stillman is just right as Tammy's brother Soren, an embodiment of still waters running deep. JV Mercanti's direction is mostly on-target, although there's one inappropriately sitcom-ish set piece in which Tammy and Pauline hurl epithets, then dissolve into apologetic laughter.
Pritchard's remarkably diverse score both explicates character and shapes conflict. Much like the soundtrack from Robert Altman's 1975 film Nashville, there's a generation-defining split between the old-guard music that Tammy sings (and Beck cranks out) and the more experimental sounds Dean creates. One star song is the rip-roaring "Cry Me a River" (which has nothing to do with either Julie London or Justin Timberlake), sung gutsily by Kacie Sheik, playing Pauline's daughter, Missy. Another is the funny, Taylor-Swiftian "Highway Fantasy," a duet for Beck and Missy. Beck derides the tune as an easy paycheck, but it's nonetheless an irresistibly bubble-gummy guilty pleasure, fully believable as a chart-topper.