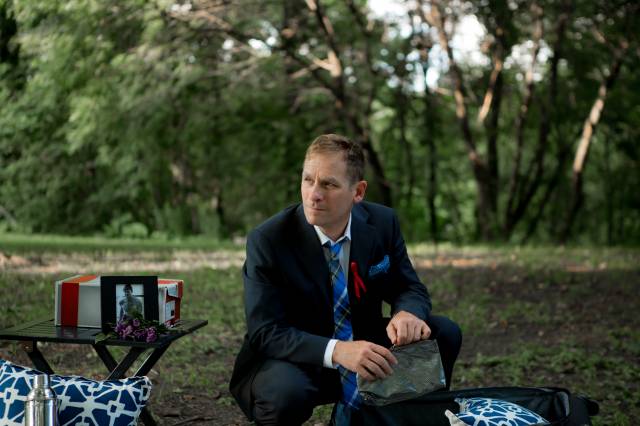 It is not easy to pull off a one-man show, ever. It is less easy to do this when the show is a personal history because these things so, so frequently become funky sermons or demands for attention to experiences not necessarily riveting to anyone but the one man. It is the nature of the confessional beast, and it takes a whole lot of craft and charisma to avoid the shudders pursuant to self-indulgent excess. The good news is that Steven Gallagher has both commodities in very fat doses, and his show Stealing Sam is a gripping, penetrating, and warming hour.
Gallagher's work, in fact, is so expertly constructed that there is not a single stitch showing. From an angry and funny opening vent directed to what we'll call an online date ignoring him in the park, he proceeds to lay out the reason for the scene, the meaning of the props at hand, and his soul as naturally as he lays out the blanket for the anniversary picnic with Sam, former lover and now lamented everything to him, residing as ashes and bone chips in a cocktail shaker. Gallagher has a great deal to impart, but the wonder here is the seeming spontaneity. True to life, revelations as deeply intimate as it gets follow and precede casual observations, and even these are the great stuff you wish your friends could generate more often. You wonder how much of this is real and believe all of it must be. Gallagher is incapable of sounding a false note, from the massively understated reference to being bullied in youth to the bitter humor encasing the anecdotes of online dating, and online dating for the HIV Positive man. The supreme effect of the piece is also due to understatement. You comprehend Sam as Gallagher's everything because he lets you do this on your own; all he gives are clues to the meaning of this love, and it sneaks up on you to devastating impact.
As to Gallagher's real charisma - I can't begin to distinguish between the actor and the writer and I see no reason to try, but I will acknowledge that it is enhanced by the grace of Darcy Evans's direction. Stealing Sam is, in brief, a knock-out, and will make you understand why Sam never let go.
Stealing Sam is presented as part of the United Solo Theatre Festival, which continues through November 23. For more information and tickets, visit https://unitedsolo.org/