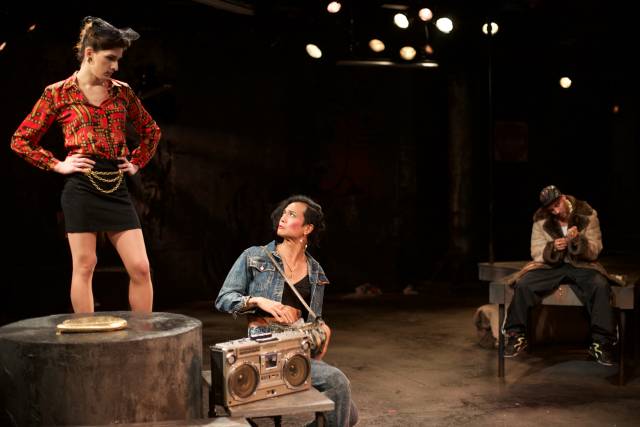 Moving down Christopher Street toward the New Ohio Theater with my partner, our moods lifted as we watched young people scurry excitedly into Stonewall. For those who fall somewhere on the LGBTQ spectrum, Christopher Street is more than a place to grab a drink. It's a place to congregate, be seen as who you truly are, and celebrate the birth of a culture, a culture born of suffering and perseverance. Vertigo Theater Company's production of Street Children turns your attention from the rainbow flags of West Village bars toward the Hudson River Piers, where marginalized trans and queer youth are both fearless and flawless in their fight to survive.
The production embodies the painful dichotomy of the lives it portrays. Breathtaking scenes of the '80s ballroom culture, alive with vogue, club music, and glittery garb are starkly interrupted by plights of poverty and violence. The story follows three protagonists, all children of the House of Diamante. Angela, a butch queen (played by JP Moraga), Jamie, a self-described "Jackie O" high femme (played by Eve Lindley), and Terrence, their brother and protector (played by Victor Almanzar) are thrust into a whirlwind of grief after the murder of their house mother, Gina (played by MJ Rodriguez). Throughout their strife the Street Children find strength in living their truth, even when their truth is fatal in a world that does not accept them.
Street Children does not feel like a relic of the past. It is a rite. Its audience, a congregation. Pia Scala-Zankel's dialogue is vibrant and uninhibited. Direction by Jenna Worsham gave the piece a musical fluidity, highlighting the gorgeous talents of the ensemble cast. Further compliments to the leading trio, JP Moraga, Eve Lindley, and Victor Almanzar, as well as MJ Rodriguez for performances that struck the chord between raw and nuanced. For a night of reverence, remembrance, and power, postpone your drink plans and pay your respects at New Ohio Theater. After, you'll have something worth toasting to.