Review: Summer Shorts: "The Sky and the Limit," "Riverbed," and "Sec. 310, Row D, Seats 5 and 6"
59E59 is presenting their annual Summer Shorts Festival. The following is a review of Series A. (For our review of Series B, click here.)
The Sky and the Limit, written by Roger Hedden, directed by Billy Hopkins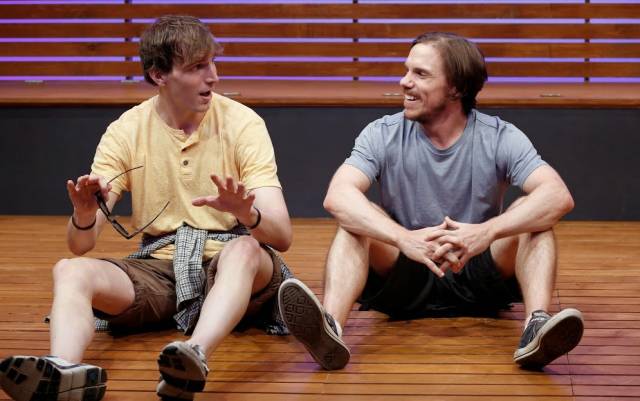 The Sky and the Limit starts out with a sickening CRUNCH sound. When the lights come up, we see George (Shane Patrick Kearns) sprawled flat on the ground, wincing and moaning in pain. He has just suffered a serious injury on a backpacking trip with his best friend Aldie (Alex Breaux). When Aldie catches up to him, he and George wait for the pain to subside so they can move on with their trip.
The play starts out as a light, yet intelligent light buddy-comedy. But before we know it, The Sky and the Limit takes a very serious turn and becomes a hauntingly lovely exploration of the limits of friendship, love, life, and what we are truly able to see. The rough-and-ready George and the "classy" Aldie make an entertaining odd couple, and Breaux and Kearns are believable as both individuals and close friends. Allison Daugherty also has a poignant and sympathetic turn as Ruth, George's girlfriend's well-to-do mother.
Riverbed, written by Eric Lane, directed by Matthew Rauch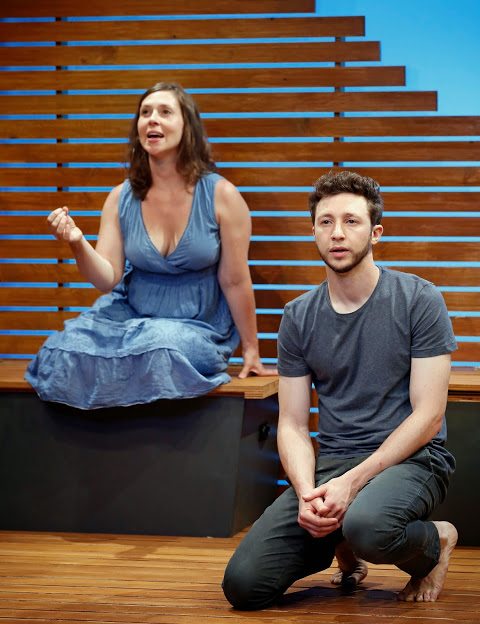 Adam and Megan (played by Adam Green and Miriam Silverman, respectively) suffer the tragic loss of their child, and try to cope with the loss in their own individual ways. The play is mostly structured as mental monologues -- sometimes Adam and Megan meet, but for most of the play they remain in their own worlds. Out of the three one-acts of the evening, Riverbed took the fullest advantage of its theatrical medium, combining lighting, abstract blocking, poetic text, and a sound-scape to tell its story (Nick Moore, the sound designer/composer, deserves a shout-out for his work in all three of the one-acts). Green and Silverman successfully convey both disconnect and connection, and beautifully deliver Lane's abstract, imagery-laden text.
Sec. 310, Row D, Seats 5 and 6, by Warren Leight, directed by Fred Burner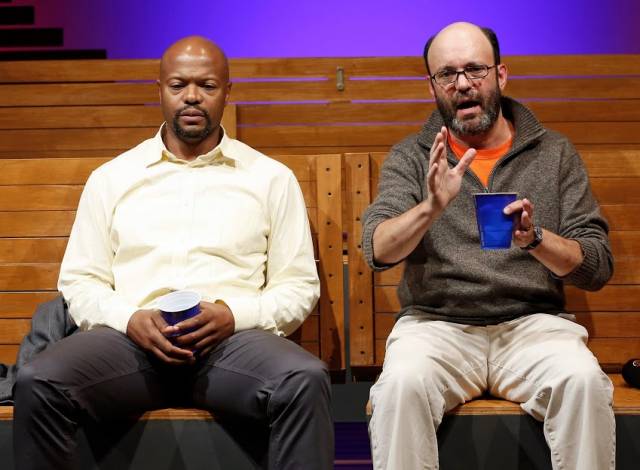 Three best friends, Roman (Peter Jacobson), Eddie (Geoffrey Cantor) and Josh (Cezar Williams), take turns two-at-a-time watching a disappointing Knicks game. As they spend the play hoping that the Knicks will win (and mourning when they don't), their lives go by as well. Jacobson, Williams and Cantor deliver fine, nuanced performances, almost making the audience wish that the three of them had a scene together. Leight is successful in writing characters who speak in sports lingo, but can nonetheless connect with an audience who is unfamiliar with the jargon. He uses significant events in the Knicks' history for the characters to mark important events in their lives, which helps to develop their characters. The peanuts on the ground were a nice design touch as well.
Summer Shorts continues through August 30 with two alternating programs.  Series B includes performances of Doubtless by Albert Innaurato, The Mulberry Bush by Neil Labute, and Napoleon in Exile by Daniel Reitz.  (Read our review of Series B here.)  For more information, head to www.summershortsfestival.com