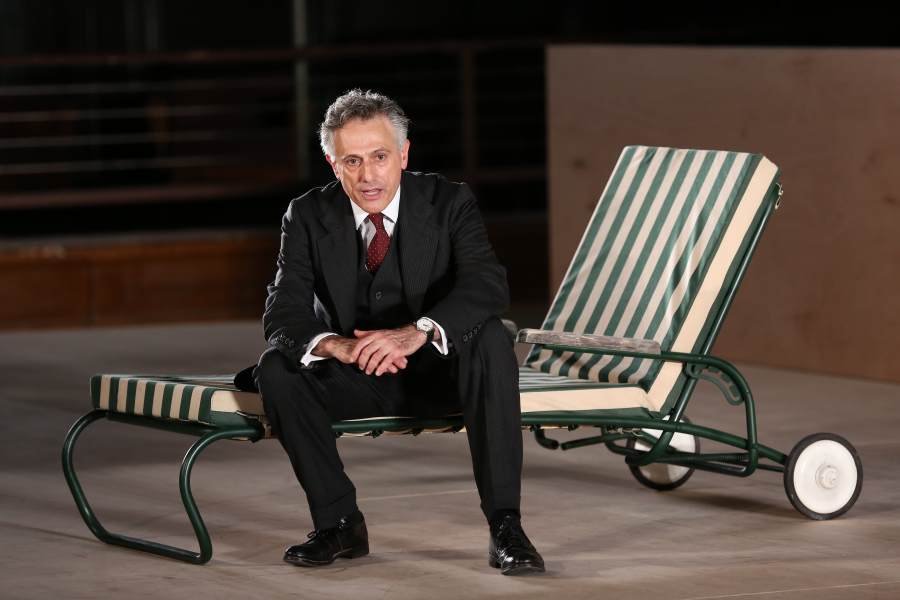 Who needs eight actors when one can do it brilliantly? If the actor in question is David Greenspan, then I bet you already know the answer. David Greenspan is revelatory in his six-hour one-man show Strange Interlude, by Eugene O'Neill. An interlude by definition is "a brief span of time," but it should be redefined from now on as a "Greenspan of time." The time flew, I wanted more. It's addictive. At times, reviewing a play is an honor because of the level of artistry involved in the production. This is one of those times.
Greenspan is so far ahead of us, I honestly don't think we can fully appreciate him. But let's try, shall we? We're guinea pigs, you see, part of a thrilling experiment in stamina and melodrama. We're running around in our little maze (I'll get to that later) being fed O'Neill at a dizzying pace. With breathtaking simplicity Greenspan enacts the story of Nina Leeds, a woman who at the play's opening has lost her lover Gordon in the war. Nina's father told Gordon not to marry Nina, and because of this interference, Gordon's death haunts her. So begins Nina's strange interlude with three men whom she loves: her friend Charlie Marsden, a writer; her lover Ned Darrell, a doctor (who mentions the guinea pigs we resemble); and her husband, Sam Evans. After discovering that Nina is pregnant, Sam's mother tells Nina that she must abort Sam's child because of Sam's family history. Without Sam's knowledge or consent, Nina agrees to an abortion and to take Ned as her lover to give Sam a happy life and a healthy baby. However, Nina and Ned fall in love. They are discovered by Sam's son, named for the deceased war hero, Gordon. Young Gordon detests his mother's friend Ned, not knowing that Ned is his true father.
Greenspan deftly navigates the spoken text, along with O'Neill's asides. The asides are a crucial device O'Neill was using at the time to convey Freudian subtext. Some directors, such as Shakespeare Theatre's Michael Kahn, have edited out these asides in a recent production, but here Jack Cummings III chooses to leave them in, directing Greenspan's work to new heights utilizing O'Neill's extensive (not excessive) text. Cummings and Greenspan clearly admire O'Neill, retaining the integrity of the play, actor and director mine the eloquent asides for humor and pathos.
During the course of the evening, we are escorted from room to room by two house managers. They instruct us clinically as to what is expected of us. The brilliant staging (and restaging) and sets by Dane Laffrey are absolutely part of the adventure. You're not being pampered here, the seating is tight, very tight. You are completely surrounded by a structure that houses two playing spaces and lies beneath a third, within the Church that houses the Irondale Center. Set changes happen while your attention is diverted. (The crew for this production gets extra special kudos: Greenspan is whispering his lines at times and I never heard a single extraneous sound.) We become intimate, merging and emerging with one another, chuckling at Greenspan's lightning quick changes and the aforementioned asides. It's a gargantuan effort, smoothly executed. Whether you interpret this production as a human experiment, or something else entirely, this Strange Interlude is worth seeing if you can. It's one for the history books.