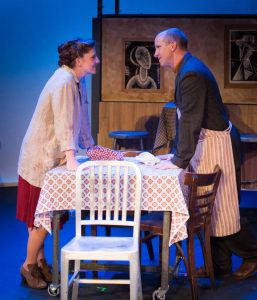 Playwright Mac Rogers and director Jordana Williams have found their Vitruvian man in the actor Jason Howard. In their The Honeycomb Trilogy, he played the astronaut whom bug-like aliens decided to "possess" in order to spread their message to humans, and in their revival of Universal Robots (at The Sheen Center through June 26) Mr. Howard plays Radosh, the human used as prototype for the creation of the world's very first robots. If Mr. Howard doesn't precisely fit the type media has made us think of as a perfect specimen, he perfectly encompasses Mr. Rogers' and Ms. Williams' very welcome, and very much needed, humanist views which they use to tell tales of idealism in times of chaos.
In Robots, they chronicle the rise of a man-made race in pre-WWII Czechoslovakia, who are initially used to prevent the Third Reich from overtaking Europe. As the robots become more and more "human" (their merciless need to kill those who stand in their way being among the most human of their qualities) they cause a stir amongst the intellectuals who helped develop them with the government (intellectuals helping run the government? Heart-burst-out-of-chest idealism) who wonder about the new morals and ethics that inevitably surface every time humans attempt to take on god-like creation.
Not to say that Universal Robots is a spiritual morality tale of any kind, when what makes it so compelling is seeing Mr. Rogers have that very dilemma on the page and then having Ms. Williams' production make it come to, yet again, life. That he frames the plot as part of a post-apocalyptic ritual isn't entirely surprising, what does shake one up a little is how the play yearns for compromise. In an interview with the Maxamoo podcast, Mr. Rogers spoke about his father's background as a man of science, and his mother's poetic abilities, and it's clear that his work is greatly affected by these two forces. What's refreshing is his optimistic take, since he doesn't really posit them as forces of opposition - some of the most beautiful moments in Robots come service of allegorical anecdotes told by President Masaryk (a remarkable Sara Thigpen, whose woman-playing-a-man role is especially poignant in the sexist 2016 Presidential election) who finds refuge in knowledge that can't be proved by science.
While everyone and their mother/father can write about faith vs. science, not many artists have the generosity to open up a space where the two can not only co-exist peacefully, but rather compliment each other. As we see Mr. Rogers offer theories on how our need for storytelling and anecdotal preservation was born, he also reveals a mirror from which we can look back at our reflection and detect not only our flaws but also our beauty. If the robots of the title suggest sleek, mechanical beings (and it must be said that the play works wonders as pulpy sci-fi), there might not be a more human show (with apologies to Mr. Karam) playing in any other New York stage.