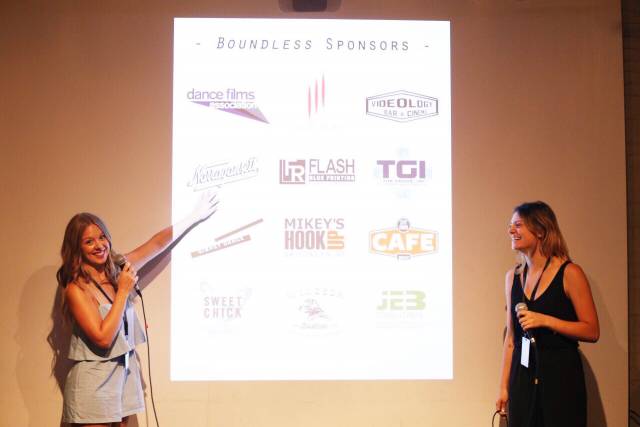 Hollye Bynum and Sam Owens of the Brooklyn-based dance film company of bones || hollye bynum will be kicking off the first annual Boundless in Brooklyn 48-hour dance film contest July  29 at Videology Bar and Cinema. The Boundless Screening Gala will be held on Sunday, July 31st at the Mark Morris Dance Center where films made within the 48 hour period will be screened, judged, and awarded. The Boundless in Brooklyn event aims to provide the community with an affordable, exciting, and educational way to view dance film. I sat down with Hollye and Sam to discuss dance filmmaking, their new project, and what excites them about being at the forefront of the dance film community here in NYC.
What should audience members expect to see when watching dance films? What should we be looking for? 
HB: The cool thing about film is the range of possibilities. Dance on stage is undeniably something very special. But there are things that you can do in dance film that you cannot do on stage. It's like you're taking the lid off something. When I first started working in [dance film] it hurt my brain to think about the possibilities (laughs). As an audience member seeing something, I don't know where I'm going to go but I know I can go anywhere. There are so many tools to use in film to keep an audience engaged. So you're going to be engaged, hopefully (laughs). You're going to be taken somewhere new, hopefully. Dance film is pretty new in the scheme of things. Hopefully when you see a dance film screening, [even] for people who might not even know what dance film is, you can be engaged and see [dance] in a different way with a whole new range of possibilities.
SO: When you go see a dance film, you can still think of it as a film. Whether or not there is dance, are you interested in it? Does it hold your attention? Is it too long? Are the characters interesting? Is it film for film sake or is it communicating something? All of those things go into dance film.
I imagine since it's still a new form, creators and audiences alike are still going through that process of figuring out what works and what doesn't to an extent. 
HB: I have realized how exciting it is to be a part of something that isn't quite formed yet. And then to meet the other people who are really excited about the fact that it doesn't quite work yet (laughs). Some of the best, most genuine and hard working artists I've met are working in dance film right now. And that is so cool and so exciting. That's why I'm so excited to contribute something new. We are helping form what this thing is—and that's really exciting.
You are also facilitating those people coming together to create together with events such as Boundless in Brooklyn. 
HB: This opportunity that we have offered is unique in that it is non-curated and unbiased. It's first come, first served and open to anyone. That is something really special to us. On an international scale, dance filmmakers are part of a much tighter community. In New York, it's a little difficult—it's hard to feel the network and feel the love because there's not a lot of opportunity to all get together. At [Boundless in Brooklyn] dance filmmakers can come together and all do this together. It makes me want to be in the contest (laughs), but it feels really good to facilitate that.
SO: I've gotten emails from people who say, this is my first dance film. And I've gotten emails from professional companies [who have] their own crew.
HB: We have alumni joining together from DeSales University. It's like a reunion team (laughs). They have a really extensive team so maybe they'll throw something really cool together!
SO: We thought dancers would sign up first and then find filmmakers, but there's a filmmaker who was like, I want to do this. So she put out a call for a choreographer. That was cool.
This seems like it would be appealing for filmmakers who are interested in creating concept driven films that are perhaps more about the imagery and have a kind of poetic approach. 
HB: That's one thing we'd like to push more—how to connect with more filmmakers. Because we're well connected with the dance community, but to reach out to filmmakers would be really interesting. I think that'll be a task for next year.
SO: It's also exciting because we have no clue what the screening is going to be like. On Sunday we get the films, we load them onto a computer, and then everyone comes to the show. We don't even really get to see them.
HB: That's where the curating goes out the window.
So all of the participants are in the gala. There's no elimination process or anything, correct? 
SO: Unless they don't complete their film. (laughs) There are 12 teams. Each team is given three items that they have to include in the film: one location, one object, and one dance movement. It gives them an extra challenge, which is a draw for a lot of people. We got inspiration from 48 Hour Film Project and [others]. Some give the same items for every film and also give genres. Dance film doesn't really have set genres yet, so maybe down the road that's something we could look at.
Unlike creating dance in a traditional sense, with dance film you don't necessarily need to go through all the trouble of finding and renting a dance space, which is neat. 
HB: That's another one of those range of possibility moments. You can dance in the street and then bring it to an audience.
Can you tell us more about where you see Boundless in Brooklyn in the future? What do you hope for next year? 
SO: This is already much more than we expected for this year. So, a bigger screen and more seats. Next year we will have a lot already in place. This year has been a lot of trial and error. So next year we will have an outline for what to do.
HB: Just bigger and better. I'd love to get more organizations involved. I don't know if it's next year, but multiple screenings is something that other film projects do. We had to cap this at twelve because we didn't want to subject people to more than that (laughs). But we have a waiting list. And I want to give more people that opportunity. So maybe we'll have [multiple] nights. With all the events we do, we just want to get more people involved and create an immersive experience for the audience members to be like, "I drank some good beer, listened to good music, met some really great people, and saw some great art."