Choreographer Teresa Fellion on The Evolution of her "Mantises" Series and The Challenges of Being an Artist in NYC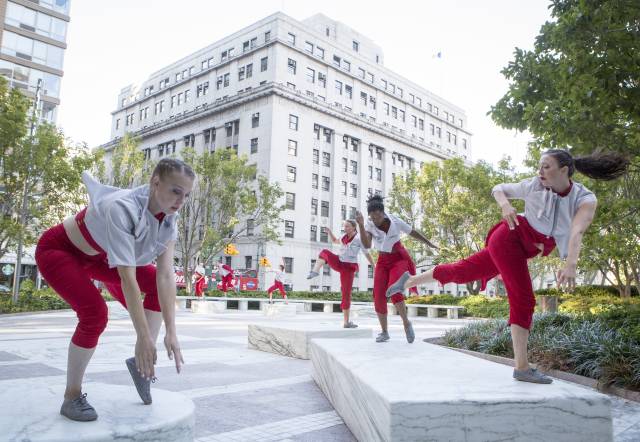 After seeing the third part of choreographer Teresa Fellion's The Mantises are Flipping series at Danspace Project, we couldn't wait to pick her brains about this fascinating work.  In between getting ready for a holiday party at Gibney Dance Center on 12/15, to benefit her company, BodyStories, Fellion was kind enough to find the time to answer a few of our questions about the inspiration for and evolution of the Mantises series, the challenges NYC choreographers face, and why she's glad she has an "overactive imagination."
What was the inspiration for the Mantises series?
The Mantises series sprang out of my MFA Thesis solo at Sarah Lawrence College, Vessel, Really Now? (otherwise known as rats nest). I had been researching contrasting movement qualities and reactions to sound in my solo. One tool I used in this process was selecting a diverse range of music from Rihanna, Star Wars, Fela Kuti, Led Zeppelin, Maurice Chevalier, and more. It was quite eccentric. There were stuffed animals involved, enough said. I was definitely intrigued by something within this work and was in a preliminary exploratory phase with it. When I was invited to do a three-week long choreographic fellowship at Summerstages Festival at Concord Academy in partnership with ICA Boston, this seemed like the perfect place to develop the ideas from my solo into a group piece. With a thirsty and talented cast of ten college dancers and professional dancers from Boston, I couldn't have asked for a better crew. They were so game to try these quirky ideas in the workshop for the first in the series, The Mantises Are Flipping (P.S. I'll have whatever they're having). The piece was a beast of information, with such wide-ranging, rich material that stemmed from contrast and the nature of opposites. After our company grew this piece and premiered it in June 2013, I realized that developing different aspects of this work warranted a long-term commitment and journey. I made it into a series of three. Each of the three pieces of the trilogy has ventured in its own direction, all related to the original, yet very unique on its own. Each of the three works in the trilogy also have their own unique musical scores by Ryan Edwards and John Yannelli, and costumes by Ljupka Arsovska. Several of the dancers in the casts have continued amongst the series, even since the original workshop in Boston, and several new cast members have been involved in each new world, in addition. I have huge gratitude to all of my collaborators who have made this project such an informative, challenging, gratifying experience.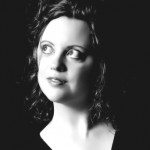 For the phase of The Mantises Are Flipping that premiered as a commission via the Department of Transportation on August 15, you took us outdoors to a Federal Building (to be exact: 26 Federal Plaza, elevated on the Lafayette Ave. and Worth St. Side of the building). How does the outdoor setting change the piece?
With the commission from DOT, I was given three sites to research, and 26 Federal Plaza was absolutely perfect for W.3 of Mantises. In W.3, we aim to take the audience on an interactive journey. The map I created for where the performance and audience travel within 26 Federal Plaza, gave each section of the dance its own unique setting and fresh perspective. The space magnified and highlighted the intent of each section, and it provoked changes to the dance. We had three times as much space as we did at Danspace Project, where we premiered W.3 via Dance: Access. That alone called for its own creative planning. Our opening section, called satellites, could really spread out. Each of the following vignettes in the first half had their own little enclave complete with architectural structures and vegetation. This allowed us to change the movement by climbing and dancing on the structures, digging in the bushes for props, and using the lines and pathways of the plaza. The dance is grounded in and references the space, and the audience really feels like they're discovering each new character in their individual habitats. Also, some of the comedic aspects were heightened by the space. For instance, the fountain came on in the area for the pirate ship duet. And one of our dancers, Alex, who is supposed to be snoozing and then late for a segment, took a staged nap in the bushes. In the second half of the work, perspective really gives the audience an informed sense of their journey. In some of the sections where the dancers are thrashing, searching, the audience sees Lafayette Avenue in the background and it feels so right as a busy set design. In this highly physical section, we prepared slight bio-mechanic adjustments, due to the concrete flooring and the August heat, however, the adjustments are not even noticeable. The dancers do an amazingly intelligent job performing the work beyond fully, and safely, so that their bodies are safe, and the movement remains as forceful as it is indoors onstage. In this second half, we also get to use elevation, and dancers behind glass to highlight the isolation in some of the ending solos and duet. Also, it being daylight, and having no stage light, we changed the costumes to steel and red. I am really happy with the changes that came about due to the space.
Your dancers obviously have a rich emotional inner life while performing, it is apparent they are working with some sort of narrative even though your pieces are abstract and very open to interpretation. How do you pull out this emotional acting in the dancers?
Each of the movements created comes from a very specific prompt with a backstory. I have a very overactive imagination and sometimes the prompts will come from an image in a horror movie I saw, or books I have read. We break down anatomically from where each movement is derived, but the feeling behind it remains strongly in the dancers' emotional connection to the movement. The piece was not put together linearly, but when we put the sections together, each one has a strong emotional intent on its own, thus when fused together it sets the dancers on their journey. Often it can be very exhausting for the dancers because they are shifting emotional states several times throughout the work. I don't want it ever to be emotion first and movement second. It is definitely movement first, but the dancers do have a rich inner life while living in the dance. They have a strong relationship to the movement and to each other within the work.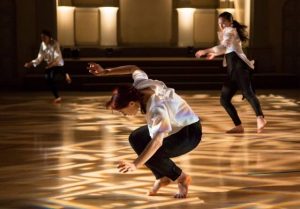 Describe your process in creating a new work. Example: Music first, then movement? Outside reference, then movement, then music?
Each piece for sure dictates its own process. I do enjoy approaching each new work in a fresh way, which often means each work has a very different creative process. However, I have noticed certain through lines that are fairly consistent. I have some sort of outside reference first. It could be a concept, an image, story etc. I rehearse in the studio by myself playing with this concept, using contrasting music styles to pull out different types of movement that could fit into the vocabulary. Then I analyze them and break down anatomically and image-wise what this movement is for me, so when I enter into the studio with the group, we can improvise and create off of these finding and my visions for them. After some time familiarizing and deepening my connection to this movement, I begin discussing it with the composer and our Musical Director, John Yannelli. Sometimes John is the composer in addition to our MD, and sometimes we work with other musicians as well. We discuss what instrumentation and sound could work best for this. From then, the process of making the music is parallel to the dance. I meet with the composer at several points throughout our rehearsal process.
What is your biggest challenge as a creative artist in New York City?
I find it challenging to secure enough time and focus myself in the studio, as well as enough time and focus to take class and dance. Being a choreographer, I am in the studio directing, I am teaching, I am administrating, supervising, leading the board of directors, etc. I wear many hats. I am sure many independent NYC artists are in the same situation. There is so much behind the scenes work in addition to work in the studio, that you must put it all down and make time for yourself as an artist, and as a person. That is the gift of being able to do this kind of work. It is so important for keeping things afloat and moving forward to wear the many hats, but keeping strong values and focused time allotted to where it all came from is important. A dancer needs time and space.
For dancers, what is your advice to them both on working on their technique and on their artistry?
To know yourself. Know where your passions and strengths lie. Focus on those, continue working with daily technical and creative practice, and stay true to yourself as a person and as an artist. You can only give onstage or in a creative process what you are connected to internally first. As an artist, it is so important to remain open to being inspired by the everyday. An overactive imagination is a good thing. Go to museums, to the cinema, travel – alone and with others. Experience everything.
If you weren't choreographing, what job would you be happy to do the rest of your life?
I have been making up dances since I was a small child, I love it, so it is hard to imagine a life without choreographing. However, I have always thought it would be fun to work in a doggie daycare center. Not the cleaning and feeding, but the playing part. I think it is someone's job to play with the dogs and cuddle them all day. Although, I am sure I would begin choreographing dances with them too, that's what I often did when I was a teenager, babysitting. When I wasn't getting the kids in trouble by playing tag in the house, etc.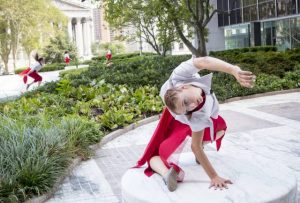 What do you think the modern dance world is missing, if anything, these days?
The modern dance world has so much to offer and is so diverse that I am having trouble thinking of what it may be missing at this time. Funding, of course, comes to mind. Modern and contemporary dance takes so much dedication, time, and energy to perform and create. And it can bring so much joy, evolution, and awareness to audiences. It would be beneficial to all if it could receive more funding so that more of the smaller companies could thrive. Also it is great that dance has become so widespread on TV and in movies in recent years. It would be helpful if we could use that popularity to expand audiences in the concert dance world. Sometimes audiences claim they "don't get" modern dance. NYLA [New York Live Arts] and other organizations do a great job of educating audiences. Additionally, if dance moves you, each performance is a different experience and after seeing a few you will "get it" and be hooked on the communication, depth, and inspiration it offers.
Celebrate the holidays with BodyStories: Teresa Fellion Dance at Gibney Dance Center on December 15.