The 43rd Dance on Camera festival, co-produced by the Film Society of Lincoln Center and Dance Films Association, will be held January 30 through February 3, 2015. The dance-centric film festival will include narrative, documentary, and experimental features and shorts, including several U.S. and New York premieres.
Capturing Grace
Sunday, February 1, 1:00pm, followed by a Q&A with David Iverson and cast members. Capturing Grace will screen with Stacy Menchel Kussell's Renewal.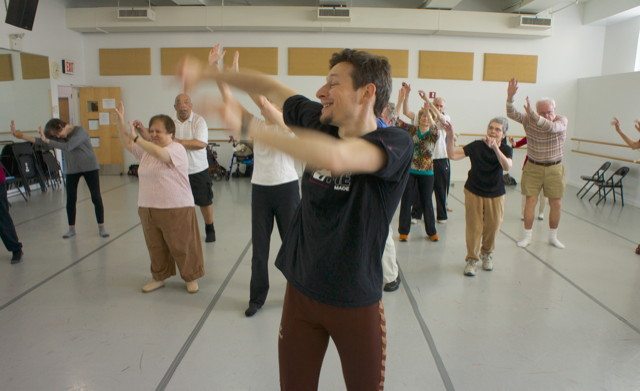 In 2001, the acclaimed Mark Morris Dance Group was approached by Olie Westheimer, a former dancer and Founder/Executive Director of the Brooklyn Parkinson Group (BPG), with the goal of forming Dance for PD, a program designed to improve the mental and physical strength of people with Parkinson's Disease through dance.  The documentary Capturing Grace, beautifully directed by David Iverson, follows a group of these individuals in their dance classes led by former Morris company dancers Daniel Leventhal and John Heginbotham as they rehearse and finally perform their first Dance for PD show.
Capturing Grace allows us to see up close the obstacles people with PD face and proves that dance and movement have the power to empower those who struggle from such a physically debilitating illness. Throughout the film we see a transformation from dance class to tight-knit community -- a family moving together with passion, trusting each other to lead and follow, and supporting each other in times of struggle. One can't help but be deeply moved by these real people as we listen to their stories being told: Charlie, a life-long athlete of countless sports; Joy, poet and teacher; Cyndy, a lively and excited woman who has found that when her mind can't tell her body to walk, her body can follow the music and dance forward instead; and Reggie, a big man with an even bigger heart who struggles with his health, sometimes unable to come to class, but returns as soon as physically possible, even if he is there only able to watch. These people not only find physical mobility through Dance for PD but are finding a way to be physically expressive. The program clearly has encouraged all of the participants to truly shine! And, in Cyndy's words, "for a Parkinson's patient to shine is to show what we can do and to say, 'here I am!'"
Robot
U.S. Premiere, Monday, February 2, 8:30pm. Screening with Tom Rowland's Primitive.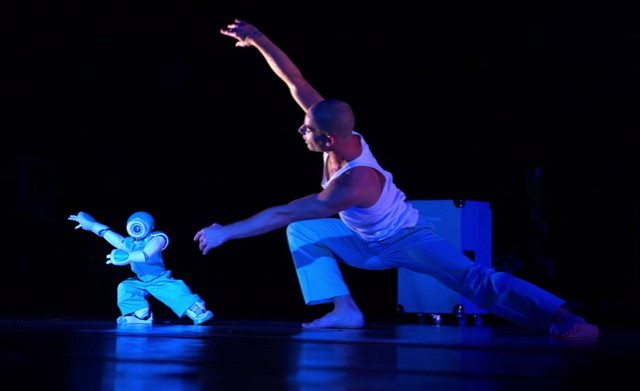 Blanca Li, a choreographer, dancer, actress, film maker and director of interactive exhibitions, presents her newest work in collaboration with Maywa Denki and in partnership with Aldebaran Robotics. ROBOT relates a creation myth in which human life is born out of scientific experimentation in a world where robotic life is already established, highly advanced, and even musically inclined. As the humans evolve, become aware, are emotionally awakened, and become workforce focused, we see an exaggeration of our own frantic, over-scheduled lives.
Portraying factory workers, the dancers move rigidly (like robots), performing quicker and quicker in order to keep in time with the intensifying and accelerating instrumentation of the robot band; we see panic, stress, and the pressure of working against the clock. As one dancer finally falls to the ground, we must ask if this is an overworked human, or an overheated machine. Enter NAO, a cute, laughable and highly intelligent robot capable of interactivity, who is welcomed into this world by a human.  (This time, the human is a calm, serene, and fatherly figure.) In a beautiful duet that turns into a reenactment of the opening's creation story, NAO and dancer Gaël Rougerez help us to see a world where robots and humans co-exist and can, perhaps, learn from one another. The work in its entirety prompts us to think about the advancement of robotic life and our own intellectual evolution.