Interview: MacArthur "Genius" Michelle Dorrance on American Vernacular Dance and the Tap Community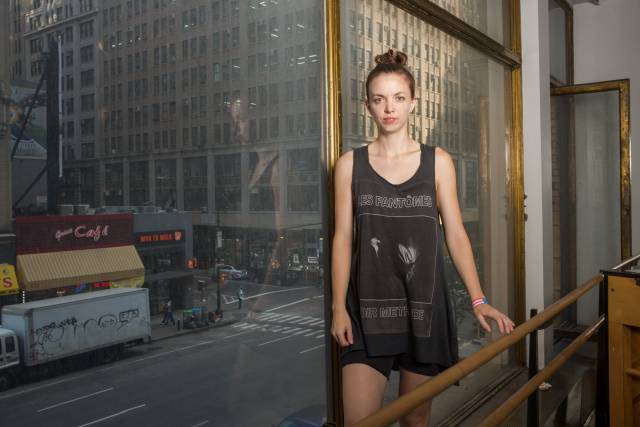 Known for her intricate footwork and complex rhythms, Michelle Dorrance is one of the most sought-after tap dancers of her generation. So when she says, "I'm not the dancer I want to be because I don't have any time to practice," it comes as quite the surprise. Since founding her company, Dorrance Dance, she's been busy wearing several hats: dancer, choreographer, and business owner, to name a few. When one starts choreographing, as she explained to me with a laugh, "You don't think, 'I'm going to be an executive level administrator.'"
Since receiving the MacArthur "genius grant" in 2015, Dorrance has been able to dedicate more time to being the dancer she wants to be -- and for her, that means much more than being at the top of her game physically and creatively. Dorrance, who is often described as being ambitious, is continually working toward goals that extend beyond her own career; her ambition is directed at the greater good of the tap community. Among her goals is to put her dancers on salary with health insurance, which is essentially unheard of for a tap dance company. Being the dancer she wants to be requires time to practice and create; it also means continually upholding the tap tradition, taking responsibility for its history, and creating positive change for the community. By reaching further into the past, she is able to push further into the future, pioneering the form (and context of the form) as others have done before her.
In collaboration with Nicholas Van Young, Dorrance Dance is returning to Jacob's Pillow to present ETM: Double Down, an extension of ETM: The Initial Approach (2014). ETM: Double Down features solos and duets from notable dance artists within complex ensemble work and incorporates live music and Young's award-winning electronic tap dance instruments.
You are returning to Jacob's Pillow for the 2016 festival. What are you looking forward to this year? 
The Pillow is a place that we cannot get enough of. It's an incredible magical environment. I never have enough time to go to the archives, but if I had nothing else to do [there], I would live in the archive building—I would get a cot and sleep there. It's an absolutely beautiful, natural environment and a place with such legacy, such history. Performing in the Ted Shawn [Theatre] and walking around and looking at the signatures from the past handful of decades is nuts!
The Pillow has been such a supporter of my company's work specifically over the past four years now—this is our fourth time [presenting] in a row, which has never happened with a tap company before. That already is such an honor and so humbling. Pam Tatge [Director at Jacob's Pillow] is our next champion; she's talking about wanting to explore tap dance in relation to the local community. And there's a handful of new folks on the Pillow's campus, so I'm really excited to spend time with the new staff there. We're such a young company. We have so much to learn, and I feel like there's always a breadth and depth of things to learn when we're there. Not to mention, we have such a great family of supporters at the Pillow that it feels like a second home. It's really special in that respect, to myself and to the dancers—to the whole company.
You and collaborator Nicholas Van Young have incorporated a lot of technical elements into the ETM productions: Wi remotes, electronically triggered platforms, loop playbacks... With so much tech involved, do you ever find yourself in a process figuring out what works and what doesn't work--trial and error both technically and creatively? 
Yeah. The entire process is that—an experiment. And the development of new ideas in relation to the technology is also an experiment. Nicholas is the one that has a more knowledgeable relationship to the way we interface with the technology. I will say something like, "Oh my god, Nicholas, could we… dot, dot, dot."  And he'll be like, "Uhhh, yeah!" Then, how many ever hours later… (laughs).
Sometimes in the middle of a rehearsal there's programming to do. Or very often (and to this day) we'll run into technological problems during a run-through or in rehearsal that we've never experienced before. We're like, "What is that sound?" or "Why is that thing happening." We're still troubleshooting [and have had to] several times in several different performances of ETM: Double Down [alone] now that we have even more boards. We literally say that we've doubled down on everything. We have more things that we're interfacing with that are new elements and new challenges. We have run into problems during shows. My brother [Donovan Dorrance] is a controlerist who is sort of in charge of what's happening with the way the computer and the program are interfacing with what we do, so he always has to try to troubleshoot. Or Nicholas or I will crawl back there [when] something will happen. It's an element we are constantly engaging with and it keeps us on our toes, so it's really fun.
There have been many tap artists in the past who were just as visually engaging as they were aurally engaging. For instance, the spatial expansiveness of Jimmy Slyde—a visual spectacle in itself—or Bill "Bojangles" Robinson dancing up and down a staircase. How do you see yourself continuing this concept and pushing it further? 
I'll harken back to the [earlier] question in the fact that I'm currently a dancer dissatisfied with my own dancing. One of my objectives (that is selfish) is to develop my personal style; because truly Jimmy Slyde is a master stylist (so is Bojangles Robinson), maybe not necessarily known as a stylist, but he was a groundbreaking dancer and what he did was visual, whether or not is was really hyper-stylized. For me to have a real strong satisfaction with where I am as a dancer inside of the tap legacy [is] really important to me as an artist, because a lot of the work I create is and extension of what I am excited to explore in my own body.
What's interesting is that I love working with dancers who have a strong sense of individual style. Every once in a while I'll ask them to embody something specific to me, but often I choreograph to their particular strengths or their stylistic idiosyncrasies. People often say, "You bring a contemporary sensibility to tap dance." And I understand why people say that, but if they mean contemporary dance I would beg to disagree. I have a dancer that has contemporary dance training, sure! But some of [my dancers] have zero contemporary dance training or only street form training or vernacular dance training. What they all possess is a relationship to their body and their self expression that is unique. I would hope my legacy is that I feature an individual dancer inside of ensemble work. And that my dancers will simultaneously execute what I ask of them and [what they] do themselves. That's what I hope. I'm not sure if that answered the question but I'm just curious in pursuing what my voice is in this great legacy… still to this day. And I'm also excited to continue to push my dancers towards finding and exploring their voices as well.
I love that you mentioned Jimmy Slyde and Bojangles in your preface to the question because our legacy is virtually unknown. People say, "Oh, you're doing this and this." I'm doing nothing new. Jimmy Slyde and Bunny Briggs already did this and this. Every time we think we've done something new, somebody already did it in the 1920's (laughs). So we have to be mindful of [ourselves].
Speaking of street and vernacular dance styles in your work, can you tell me a bit about your collaboration with b-girl Ephrat Asherie and how you incorporate breaking into your choreography? 
What's really great about Double Down is that [Ephrat] and I get to explore a little bit more together… not nearly enough yet. We'll continue to develop as we have more time. A lot of people don't know the history of breaking, but most early b-boys and b-girls watched footage of the Nicholas Brothers and a lot of their flash and acrobatic stuff… and Kung-Fu movies. There [are works] that inspired breaking that now are inspiring works that I'm interested in--it comes full circle. [Tap and breaking] are both these American vernacular forms that I think really champion our legacy as American people--it's from the people. Ballet is from literally the courts of French kings; hip-hop and tap dance are from the streets, from the plantations.
It's really cool that through your work we're seeing those vernacular forms in a concert dance context. 
I'm very grateful for the opportunity to be on a concert dance stage, but I also believe we have to push in every direction at once, so I'm grateful for the work that all my peers and colleagues are doing right now. I'm so greatly inspired by my [tap] community.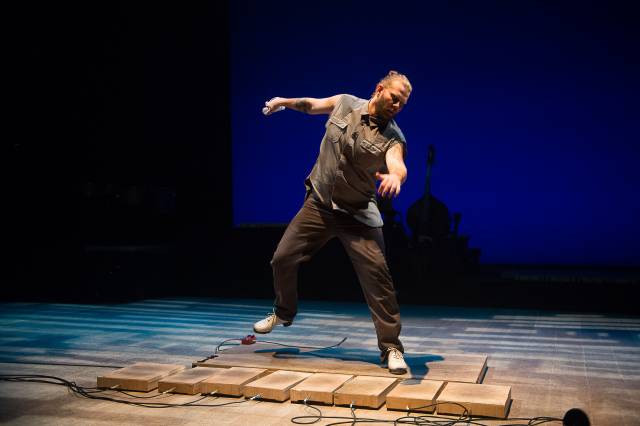 Given the ancestral nature of tap dance, what are you hoping to pass down to the next generation? 
As far as passing something on, I think the legacy really speaks for itself. I think what is most important is that the form is recognized and institutionalized in a way that it deserves to be. Right now it's still very marginalized and is still very much the bastard of the dance form. I hope eventually there is serious institutional and government support of an organization, or a company, or just preserving the art form itself. That's a huge goal. If we could get a strong tap history course inside every dance department, if we could get floors for tap dancers to dance on…there's so much! I feel like if we can do anything for the next generation, its provide the type of support that doesn't exist right now.
I loved tap dancing growing up. But in my college dance department, there wasn't much in the way of tap classes and just less opportunity to pursue tap. 
Yes. Exactly. And that's across the country--exactly your experience.
The performers in your work are tappers but are also drummers, or they play some other instrument. Are those performers hard to find? Or do you find it to be normal for tap dancers to play other instruments?  
It's a mixed bag. I think the nature of being a dancer and percussionist simultaneously lends itself to being a very musical person. I'm a bootlegger. I never studied or trained traditionally, but I love to pick something up and give it a shot. Of course, there are other folks who have trained and studied--Nicholas is a great example! He's a great kit drummer and a masterful hand percussionist of so many different cultural legacies. He's a brilliant body percussionist as well; I would say world-class. In the way I'm drawn to dancers with individual styles, I'm also drawn to dancers who have pursued their passions in many directions.
One of my dancers, Claudia Rahardjanoto—who won't be with us at the Pillow but was just with us at Vail—she has an incredible ear and is a great singer, she plays piano… I made her, for the very first time ever (she had never played bass) play the bass and sing lead (laughs) in a performance we did in Vancouver. So I also think the kind of people I work with [are people who] are up for something a little bit crazy [and] will push themselves. That is my favorite type of environment and favorite kind of show: let's take ourselves to the next level in this performance. Of course I want to have [the] time to prepare (laughs), but it's often that not having enough time is what pushes you to have to execute something on the spot. I [have] a fervor for that type of exploration.
What advice do you give to young tap dancers out there who are maybe trying to find their own voice?
The first advice I would give to anyone in our form is to be obsessed with its history and its legacy—before anything else. If you don't know where what your doing comes from or who [it] comes from, you will not be informed in developing your own voice or your own style. We stand on the backs of our ancestors who fought through a tremendous amount of oppression to innovate this form. The history of tap dance is the history of a very racist America; it was a black form that was whitewashed in the musicals. The biggest piece of advice I would give to a young tap dancer is to actually pursue being a dancer and a historian. And of course, be true to yourself and be an honest performer. That's at our pentacle, to be generous and honest with the audience that we share the art form with.