Q&A: Kate Mueth, Founder and Director of Neo-Political Cowgirls, on Life, Love and the Art of Theatre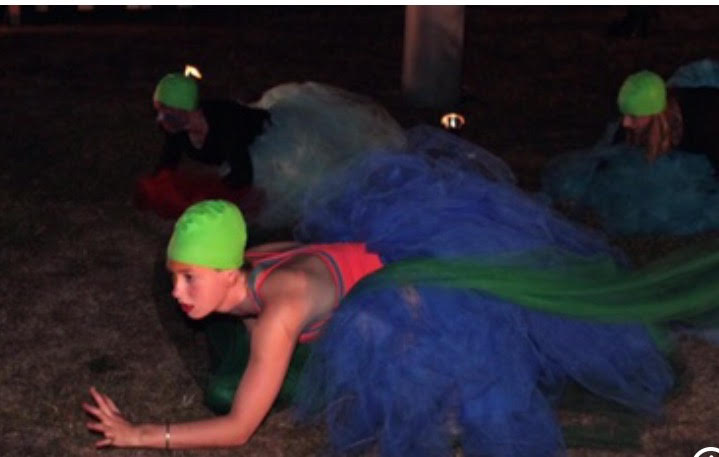 Kate Mueth is to the New York City/Hamptons arts scene what Blondie was to rock and roll: a rebel heart pumping fearless blood through her art. Mueth and her company of like-minded trail-blazing dance-artists, Neo-Political Cowgirls, is also emboldening the next generation of powerful and sensitive young women in their community outreach which focuses on teaching girls how to use choreography to tell their stories though dance and theatre. She funds all of this with the help of fellow artists, such as her fundraiser November 16th: 'Battle of the Fantasy Girl Bands,' MC'd by Nancy Atlas and Inda Eaton at The Stephen Talkhouse located at 161 Main St. Amagansett, NY.
Right off the bat, what made you start Neo-Political Cowgirls?
Because I got tired of leaving my son to go and sit around an audition waiting room with desperate women staring down their noses at each other so we all could go in a room, placate a smile and say some worthless text for a Red Lobster commercial, be mistreated and ignored by some punk casting assistant to the assistant, then leave and go home spiritually empty to wishful think on whether we got the role or not.
I knew I had more to offer and experience. And I knew if I hated this industry such as it was, it was up to me to change it. Because I was an artist and I lived, ate, and breathed acting, story-telling, movement, dance and all that was theater. I could never be sat behind a receptionists desk and do a 40 hour week without stabbing myself in the heart. Bottom line.
I do not audition people in the way this industry crucifies artists. I generally like first to go get tea or a beer and talk about the work. Then we get together and play in a rehearsal room. That's how I like to audition people. Nobody is at their best, most honest coming through the door petrified and nervous and thinking they need to get into my head and give me what they think I want while I sit behind a table all assholic and pompous. If they can come, get a good work out, rile up their imagination and leave feeling their artistry was respected and honored, then hopefully I've done my part to cherish that artist and not break their spirit even if I don't end up casting them. Fuck the cruelty and disposable quality that permeates the grind of artists looking for work in the present day. That's no way to spend ones craft in a world that doesn't promise tomorrow.
Neo-Political Cowgirls is not just a dance-theatre company, nor is it an ultra-political branding campaign. It is a blend of the two but keeping it very hip, if not a bit punk. How do you walk this line of outspoken feminism and creative outpouring?
I listen to my guts. I say yes when I'm needed. I pay attention. I do not fear that I am not doing exactly what I should be doing when I create new work. I sleep as I need to sleep. I pay someone else to clean my house. I drench myself in music, daily. I cry. I rage. I laugh. I write. I smile obsessively at dogs and babies. I watch classic comedy YouTube videos -- Carol Burnett, Not The Nine O' Clock News, Mary Tyler Moore, All In The Family, The Kids In The Hall, Mad TV, etc.  I ponder my little girl inside and all the wrongs done me and it fuels me to work tirelessly on behalf of girls and women who need support. I fall into the scary conversation inside myself instead of away from it. I look to be two steps ahead of the zeitgeist. I get acupuncture and massages to care for my heavily burdened, empathetic body that tends to hold and carry far too many emotions.
I make the work even when the money isn't there. This then pisses me off, infuriates me actually (as it's a reminder to those of us who battle feelings of unworthiness that the world still doesn't want us) and generally gives me an angry persona which I relearn to let go of in the depths of heavy lifting fundraising. I make my art anachronistic so I don't have to follow any restrictive "rules." I believe in the timeless myth that connects us all throughout time.
I trust the ancient storytellers while also breaking open all that they've not yet explored. I don't compare my work. I don't fixate on "what I want the audience to feel." (It's their job to take care of that, not mine.) I don't put up with assholes and I don't suffer fools. I only want to work with those artists who get their ego the fuck out of the way, who are brave and raw, and who aren't all into when they're going to be famous. I want performers who will give as much blood as I will and those humans who deeply comprehend the importance of our mission as artists and how little time we have to undertake it.
What is not being said that you'd have said, or shouted, currently in the New York City dance and theatre scene?
Get over the bullshit shock value tactics and just tell the story.
Talk about your use of 'site-specific' performances. What are the challenges and what are the benefits of such theatre?
Challenges are most times the weather. It can be a real misery when one takes the weather so personally. Also to get allowance for certain work spaces (performing artists tend to frighten people). Benefits are huge when working outdoors because of the incredible added scenic design of Mother Nature. The breeze that comes from out of nowhere or the faint smell of the salty ocean that expands the experience.
I love working in places that most would consider problematic because that's what I think makes a space interesting and adds to the texture of how we build movement. A pillar in the center of the stage or off to the side, partial blocked view spaces (what isn't seen is as fascinating as that which is, to me) or places where we are forced to have the audience move with us. I like problems like that. Gives us conflict to work with.
You and your husband, the theatre director Josh Gladstone, are parents, as you know (laughs). What would you say if your son said he wants to be an artist? (Though he probably doesn't have much choice, gene-wise!)
Our son was raised a calm, grounded prince (for better or worse) and if he came home and said he loves picking up litter and wants to go work for a dump company, I'd say (with a full, joyous heart), "Son, I am so thrilled for you! I cannot wait to see how you proceed and what you make HAPPEN in your life! I'm so proud of you!"
Now if my son were a highly successful filmmaker (let's say) and he acted like a regurgitated asshole, I would feel I had failed miserably in my role as his mother guide on this planet. I would be so depressed.
August is his own human and he's already, for 17 years, lived through a lot of roller coasters. Incredible ones (on Broadway at age 6), extremely blessed ones, some harrowing, others tragic, a few exciting rides, and others truly magical. In his 17 tender years, perched to enter University studies, these days he calls himself "An Arts Kid." None of us really know what that means right now. He's going into film but doesn't pigeon hole himself, which I find so wise. He knows he's a creative type and he honors the fact he is still finding his passion voice. It's all still a sweet mystery to be unfolded in time. And this is all fine by me.
You are also a very big advocate for other artists and women all over the world. What motivates you to keep forging ahead in all of it?
My anger about how I, along with so many other women, got jackbooted too many times on our journey into and through our work. And also my feeling that I am either running away from myself or towards myself (I'm not sure which) with a ferocity that feels like a fire in my belly. And just so I don't keep sounding like a vein-bursting rageaholic, I am profoundly curious about others lives, their stories, what makes them tick, how they think, what they are challenged by.
I like discovering how we can find our own missing puzzle pieces through connection to other humans. It feels so nice to empower others to stand center stage and speak. I know how good that act feels to me and I believe we can save the world by wrapping ourselves around one another through this act of speaking/listening/story telling.
If you could delete anything from this world what would it be?
Every single act of violence.