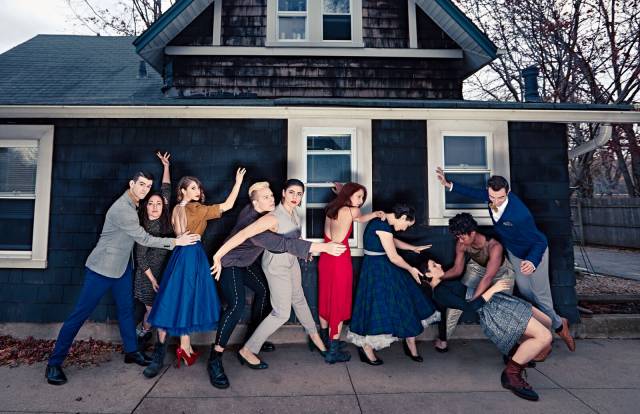 BodyStories: Teresa Fellion Dance/Bryn Cohn + Artists' collaborative production of Home premiered at Gibney Dance last week. Home is a study in relationships and love of all kinds: familial, romantic, for places, and for ideals.
In light of the tragedy in Orlando on June 12, the evening held special weight.
"We believe in love," choreographer and Artistic Director Bryn Cohn told a sold out audience after the performance. "We believe in finding it through dance, and through every day."
The audience entered to dancers from both companies already moving through and around the edges of the space. They broke off periodically, forming small partnerships and groups within the blended community.
The first half of the program was choreographed by Teresa Fellion and danced by BodyStories: Teresa Fellion Dance with original music composed and performed by John Yannelli and Trilogy. Fellion's movement often takes on the quality of a surrealist painting: a striking juxtaposition of the pedestrian with the abstract. One dancer stares out a window while three others writhe and writhe and grasp at the air as though it can save them from some terrible fate. Movements that look simple at first often contain layers, and reveal themselves as both complex and deeply rooted in meaning over time. Fellion uses her dancers' lines and strength to construct elaborate piles of bodies that range in tone from tender to almost sinister. Throughout, Fellion is incredible at illustrating the way that people fit together--or don't--in different kinds of relationships. Collapsible planks are used both to create a physical space that we identify as home, and to echo the dancers' movements, as people who comprise the idea of "home."
In transition between the two companies' segments, a duet choreographed collaboratively by Fellion and Cohn, and featuring one dancer from each company, packed the brief interlude with intimacy. Alex Jenkins and Nicholas Grubbs provide gorgeous canvases on which the threads of a relationship are tied and broken. Beautifully and in a short time, the stage is infused with a full spectrum of emotions that allows the audience to draw from it what they will.
Bryn Cohn & Artists' piece in the evening also incorporated the physical elements--tables and chairs--of a home with the construct of "home." Cohn's intricate choreography lends itself especially well to the tableaux of love and connections that she creates. She depicts with stunning clarity the way that people move in and out of each other's lives. Each dancer's movements influence that of the others, emphasizing the fact that everyone who crosses our path changes it in some way.
The line that carries the piece from start to finish is danced by Jessica Malat and Will Tomaskovic. It develops slowly; evolving through textured movements that play with the body's responsiveness to touch, weight sharing, and the table and chairs set onstage. Ms. Malat's and Mr. Tomaskovic's vignettes are mesmerizing to watch, and Bryn Cohn's choreography allows them to create a world of their own. To the audience, it almost feels voyeuristic to watch them onstage.
The full evening echoes for hours after it concludes. Both choreographers truly have a gift for storytelling through movement, and Home is a story that everyone can relate to.