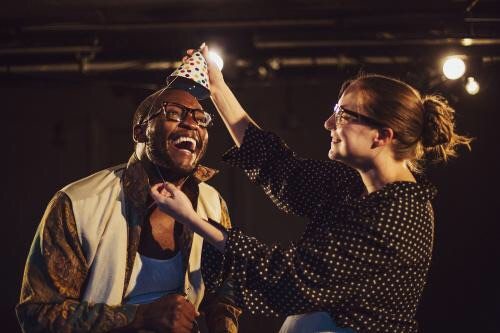 An elderly woman slowly emerges from behind a trunk, plugs in a small lamp, and retreats into the past. So begins Dancers, a 'movement play' performed by Wrought Atlas Theatre Ensemble currently making its North American premiere at the New York International Fringe Festival. Conceived by Emma Dante and Sicilian theatre company Compagnia Sud Costa Occidentale, Dancers is a simple and captivating exploration of love, nostalgia, and memory.
With direction by Francesca Spedalieri, Dancers tells the story of an elderly woman (Sarah Ware) reliving the memories of her relationship with her late husband (Sifiso Mazibuko). The two start as an elderly couple falling asleep while dancing in each others' arms before transforming back into young lovebirds getting engaged, with glimpses of marriage, parenthood, and the New Years Eves that came in between.
This journey into the past is set to a soundtrack of 1960's Italian pop songs, whose bright vintage sound gives an added nostalgic tinge. Their lyrics, the program explains, are used "as text to unfold the couple's love story"—though the show's simple premise is easily understood without them, the Italian lyrics give such insights as "and if tomorrow I'd suddenly lose you, I would have lost the whole world and not just you," which deepen our understanding of the couple's feelings. Helpfully, there are English translations of these lyrics in the program for those of us who don't speak Italian, and Spedalieri has translated the performers' limited dialogue into English.
As suggested by the title, though, it's dance and movement that primarily bring this enthralling reminiscence to life. Those expecting classical technique will be disappointed, as, save for some drunken soft-shoeing, Dancers' actual dancing mostly consists of loosely performed 'freestyle' moves and social dances, from line dancing to Lindy Hop. But these more pedestrian movements are still thrilling because of the pure emotional physicality Ware and Mazibuko employ. The two performers, who are credited as choreographers alongside Spedalieri, give commendably nimble performances as they physicalize their characters' shifting mindsets and emotions through movement. As young lovers, the two embody pure joy with each outstretched limb and playful twirl. As their characters' elderly selves, there's a careful slowness and decrepit precision, and they transcend their thick, wrinkled masks to be affectingly expressive even when still.
At its most pure, dance should be an unfiltered expression of emotion, taking over one's body to convey what words can't. This is the experience that Dancers provides. The production did have some small faults—the beginning felt a little too drawn out, while other parts were rushed through, and the couple's few moments of discord were so abstract as to be a bit confusing. But much like the filtered haze of nostalgia itself, the smaller details don't matter so much as the emotional pull. Dancers has a weight to its simplicity that makes it not only an engaging performance, but a genuinely moving journey.