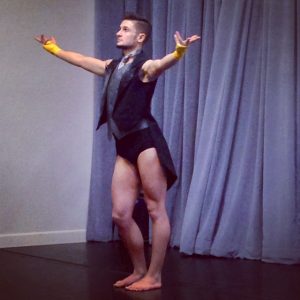 The 10th anniversary of the REVERBdance Festival was held this past weekend, for the fifth year in a row at the Baruch Performing Arts Center. The ten artists selected for this year's second program made for an interesting, if somewhat lacking in diversity, evening of contemporary dance that contained moments of true innovation and brilliance.
The first standout of the evening came with the program's second piece. Tiffany Rea-Fisher, of Elisa Monte Dance, choreographed a wild solo for one man that drew attention to the concept of excessive entertainment. Why So Curious? began with the soloist, Thomas Varvaro, announcing a performance, almost as the ringleader of a circus would. He is impressive in all respects—technique, presence, and stamina, to name a few—but as the piece progresses, he dances more and more erratically. As he throws himself on the ground and across the stage in a perpetual search for the audience's attention and approval, watching him exhaust himself for the sake of entertainment is a strong message. He, and Rea-Fisher, seem to ask: 'Is this not what you wanted?'
Another strong piece followed immediately, with Michael James New York's USE. Choreographed by Michael J. Cerwinski, four heavily made-up and sparsely dressed dancers took the stage for an athletic echo of something Kabuki Theater might show. The dancers pulsed in tableaus and shapes that were simultaneously grotesque and ethereal. Cerwinski's choreography juxtaposed brilliantly softness with raw movement, and was certainly a highlight of the program.
The final piece of the festival, choreographed by Omar Roman De Jesus, also walked the fine line between gorgeous and repulsive, and did it beautifully. Saakasu (excerpts) opened on a single dancer, almost naked, with a painted white face and clown's neck ruff. He moves fluidly and effortlessly, while laughing and screaming maniacally, before being joined by a cast of similarly clad, white-faced dancers. The dancers' pale, expressionless faces and vaudeville-inspired choreography are punctuated with moments of delicate wonder, especially in a touching and intimate duet between the opening clown and a dancer we can only assume to be the ballerina on the tightrope. De Jesus truly evokes the essence of the 'circus' that Saakasu translates to be. He was also the recipient of The Commission for the Steps Repertory Ensemble Award, presented on the evening of Nov. 8 and sponsored by Steps on Broadway.
The night did have its down moments, and included a few pieces that were less than innovative, along with several that were performed well, but not exceptionally conceived. But the evening as a whole promised great things from the companies and choreographers it showcased.