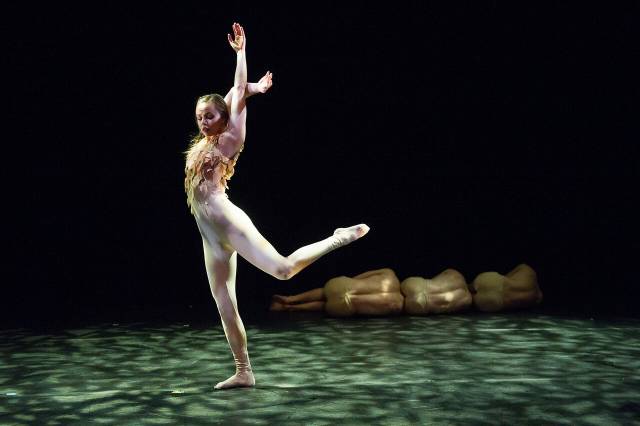 In front of an intimate crowd at Five Angels Theater's black box space nestled outside of Midtown's hustle and bustle, Alison Chase/Performance swimmingly delivered an impressive, imaginative 75-minute program. Artistic Director Alison Chase, who founded the namesake company in 2009, boasts quite the résumé, having been a founder of Pilobolus Dance Theater in 1971 and a contributing creator of Momix in 1980. All three organizations share similar ambitions to break the confines of classical dance; to explore human kinetics, collaborate with motley artists, and construct unconventional, stimulating exhibitions. In contrast, AC/P proved down-to-earth on Thursday, less extravagant than the other two groups are known for.
Each of the presentation's four works – two world premieres, one repeat, and one originally performed by Pilobolus – represented a distinct approach. In the Forest of the Night challenged the dancers with not only movement, but also lighting. The dancers, who were outfitted in informal camo attire, initially passed the small, mobile lights like table hockey pucks, breaking the darkness, and progressively employed them to cast spotlights and silhouettes. Despite the ever-changing physical landscape and communal contiguity, the choreography appeared linear and static.
Between each piece, mother-to-be Jenna Sherman provided comedic interludes where, donned in a long, black dress, oversized, floppy hat, and one long, red glove, she embarked on a bird watching exploration. Sherman observed with a pair of binoculars glued to her face, while the audience received educational anecdotes about certain species' calls, such as the Barred Owl and the American Woodcock.
The first of these three pauses segued nicely into Chase's other world premiere of the evening, Tracings, set to a calming nature composition by Christine Southworth. Jessica Bendig strutted across and perched on her three male admirers, who all the while moved up, down, and around the floor, demonstrating unwavering core strength. Flying solo, Bending softly, flirtatiously stretched and arched her limbs, occasionally flicking an elbow, wrist, or hip to catch the onlooker's eye.
In Red Weather, the ensemble of dancers continued to show off its formidable strength and balance, seamlessly executing the ongoing precarious partnering sequences. The work, accompanied by violinist and vocalist Rob Flax, evolved into a rather mesmerizing counterbalance, in which Mark Fucik forcefully moved around the stage while Mistral Hay, manipulated by two male dancers, pursued him.
Saving the most dramatic for last, Monkey and the White Bone Demon incorporated props and theatrics, upping the ante and dynamics to bring the program to a final climax. Long poles, like those used in pole-vaulting, creatively transported the dancers, while a costume harness on Bendig helped her defy gravity when least expected. Fucik, who depicted the deceptive and resilient demon, returned for the final showdown on stilts. Despite the ambiguous apparatuses, the dancers, especially Fucik, propelled with legerity. This work procrastinated at times, but prospered in innovation.