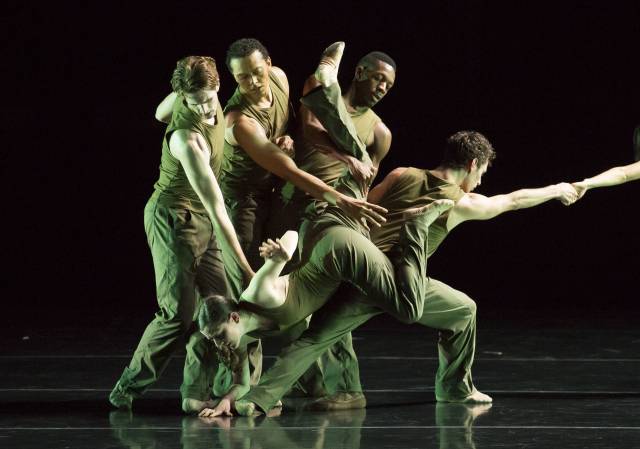 Jessica Lang founded her namesake dance company in 2011, due in part to an artist residency at the Joyce Theater. The company has since made great strides, including touring nationally and commissioning its own permanent home, the Jessica Lang Dance Center, which will officially open in Long Island City, Queens in September. JLD's current program marks the beginning of its fifth anniversary with five works (including three New York City premieres) that exhibit its unmistakable passion and unassuming talent.
The 90-minute show opened on Tuesday night with the short and sweet Solo Bach. Although the piece is only a mere three minutes in length, the buoyant Patrick Coker captured the audience right out of the gate with his dexterity and musicality.
The program advanced with the lovely duet Among the Stars, featuring Laura Mead and Clifton Brown. Mead didn't waver as she commenced a deliberate procession on an upstage diagonal, revealing a prolonged train made out of structured, translucent blue fabric. Representing the expansive sky, Mead and Brown navigated the material — dancing apart from it, then breaking its plane to unite — and manipulated it, exploring boundaries and constructing possibilities.
Right away, this recalled a similarity to Lang's Splendid Isolation III, though without the same breath-taking grandeur. Mead and Brown gave generous, proficient performances, but lacked an essential connection between each other and the audience. Elena Comendador's costumes were beautiful and airy, complementing Ryuichi Sakamoto's delicate musical compositions "Snowy Village" and "The Girl."
The sophisticated and captivating full-ensemble piece Thousand Yard Stare emerged as the crux of the program. The dancers moved as a unit in regimented succession that evolved into stages of struggle, loss, and hope before coming full circle. Beethoven's equally powerful String Quartet No. 15, Op. 132 and Nicole Pearce's progressive lighting design, which incorporated night vision green spotlights, silhouettes, and strobes, further stimulated senses.
Thousand Yard Stare is a perfect exhibition of Lang's full-scale visionary concepts and her ability to tailor the ballet and modern vocabularies to create exciting original contemporary choreography. Her gift to tell a story through the progression of movement is so much more than linking together sequences of steps — it is authentic art. All eight efforts of Laban movement can be found in Lang's work, which employs dancers' full dynamic range and tests their limitations.
The penultimate, and newest, piece, Sweet Silent Thought, presented a quartet of dancers set to five Shakespeare sonnets with original score by Jakub Ciupinski. Unfortunately, the crackling of the recording made it very difficult to ascertain the lyrics. The turning point, anchored by Milan Misko, occurred during the musical interlude and was indicative of Jiří Kylián meets David Parsons.
Although containing graphic projections, i.n.k. appeared to be the least overall inventive of Lang's five repertoire selections. The fourth section was upbeat and light-hearted with quirky interactions between the dancers and video art. However, it was the third section's pas de deux that struck a chord with its simple, yet strong approach exquisitely executed by Brown and Kana Kimura with magnetic urgency and energy.
The perceptible pride that Lang takes in her work showed through in the accomplishments of her dancers, especially their harmony, diligence, and effortless partnering that seemed to defy gravity. After such a wonderful and inspiring performance, it's no wonder that Lang continues to be admired, acknowledged, and awarded for her choreographic achievements on an international level.