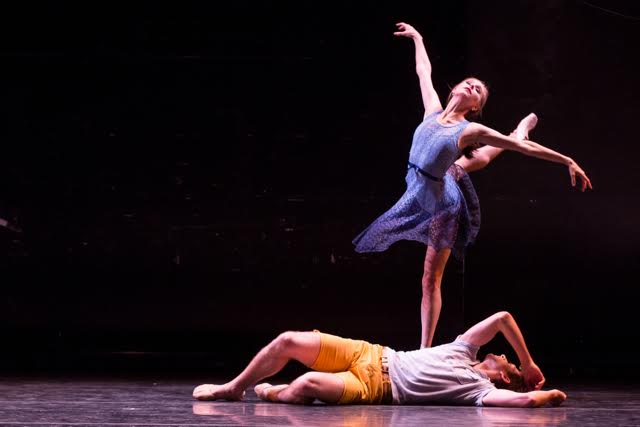 In a display of the growing trend towards the old ballet guard meeting the new, BalletCollective's Invisible Divide at the NYU Skirball Center was exactly that. A blurring of the lines between classical and contemporary. Concrete and abstract. Rather than Troy Schumacher adopting the traditional model of ballet companies, collaboration was chosen over conformism. With Invisible Divide, Schumacher and his band of collaborators created art that appealed to all, and connected to all.
The evening opened with All That We See, choreographed by Mr. Schumacher to an original score by Ellis Ludwig-Leone based on David Salle's painting. The piece had the air of a sweeping epic or novel, and not just in name. Group movement by five dancers had a distinctly grand and powerful feel, while the duets and trios that separated out gave an impression of being allowed to peer in on intimate moments between dancers. Power and softness juxtaposed brilliantly, and the whole ballet took on a sense of clarity. Clarity in movement, clarity in the music, and clarity in being alive.
Dear & Blackbirds, the second ballet in the program, was a duet as emotional and heartbreaking as the poem it was named for, written by Cynthia Zarin. Though the story is nothing new, Schumacher's choreography and Ellis Ludwig-Leone's music lent it a fresh feel. Leading from youthful discovery into discovery of a much more weathered nature, Dear & Blackbirds is about growing up and growing old, and the fine line between the evolution and dissolution of love.
Schumacher's third work of the evening, The Last Time This Ended, based on a series by Israeli photographer Dafy Hagai, and with a beautifully fragmented score by Mark Dancigers, is a study in stressed connections. The two dancers, David Prottas and Taylor Stanley, circle and circle each other with echoing movements, close, but just not in sync. Even pausing to listen to each other's heartbeats, they can never quite find a rhythm. The frustration builds, felt by both dancers and audience alike, to a separation. Again.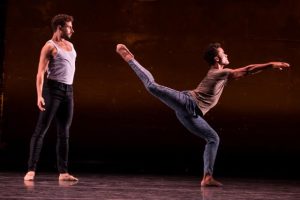 The evening closed with Schumacher's world premier, The Invisible Divide. The ballet sees all seven dancers in a remarkable display of technique and artistry in Schumacher and Ludwig-Leone's third collaboration of the evening. Inspired by Paul Maffi's photography, the piece is a dark and ethereal representation of introspection. Harrison Coll was magnificent as a man haunted by the tendrils of his own mind. His solo was an explosion of power and control that gripped the viewer and invested us wholly in his plight. The piece begins with Coll's fight against his tormentors, and try though he might, his fight eventually weakens. The mind is stronger than itself, and Coll, exhausted, is engulfed and obscured by the other dancers. Raising the question of whether or not there is a divide between thoughts and identity.
The evening was a delight to behold. Troy Schumacher's choreography is inspired and innovative—like little else out there. And his dancers' prowess, combined with the art and music by which he was influenced, makes BalletCollective a unique breath of air in the dance world.