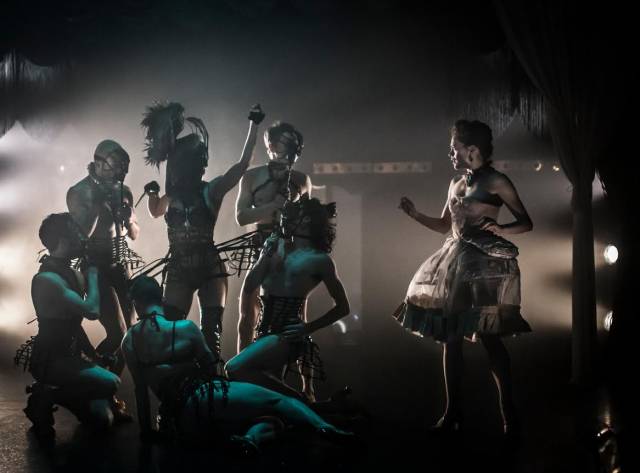 Advertised as a "baroque-burlesque confection" and hailed all over New York as a holiday wonder, Company XIV's Nutcracker Rouge truly lives up to its reputation. Part circus, part dance, and part opera—among other things—Austin McCormick's creation brings together all corners of the theatrical world into one voluminous, sexy, opulent, and overall spectacular evening.
In a twist on the traditional Nutcracker storyline, our protagonist, Marie-Claire, receives a Nutcracker doll from Madame Drosselmeyer, played by Shelley Watson. Ms. Watson shines as the blonde bombshell, whose magic takes Marie-Claire on a journey to a land of sin and sweets, where she is transformed into the Sugar Plum fairy. As the evening's narrator and instigator, Ms. Watson radiates energy from every pore. She dazzles the audience with her impressive opera, comedic interludes, and cheeky stripteases, and brings just the right amount of tongue-in-cheek to Marie-Claire's odyssey.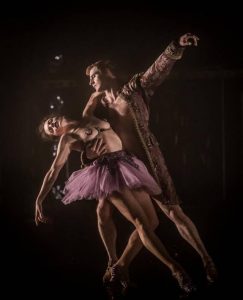 Laura Careless is dazzling as Marie-Claire. Her transformation from innocent girl to sensual Sugar Plum is danced, and played, gorgeously. Ms. Careless's Royal Ballet and Juilliard training are evident, as is her status as Company XIV's Prima, in an acrobatic and carnal grand pas de deux with the Nutcracker Prince, danced by Steven Trumon Gray.
Mr. McCormick's production utilizes Tchaikovsky's original score throughout, but creatively peppers it with jazz by the likes of Duke Ellington and Josephine Baker, reimagined versions of traditional Nutcracker music, and arrangements of popular songs that are barely recognizable. The most memorable of the latter was a glittering vocal and aerial solo, performed by Marcy Richardson, to a stripped down, French version of Sia's "Chandelier". Ms. Richardson's crystalline soprano and skill on the aerial hoop combined for a tableau so mesmerizing that the audience had its collective breath taken away.
The evening was full of similarly impressive acts: aerial, voice, and dance alike. Among them, a 'Turkish Delight' trapeze act by twins Nicholas and Ross Katen, a raunchy can-can, and a sparkling arrangement of Lady Gaga's "Alejandro", performed by Brett Umlauf and Marcy Richardson.
Mr. McCormick's brainchild is at once dramatic, technical, hilarious, and kinky, and all aspects of Nutcracker Rouge are enormously successful.