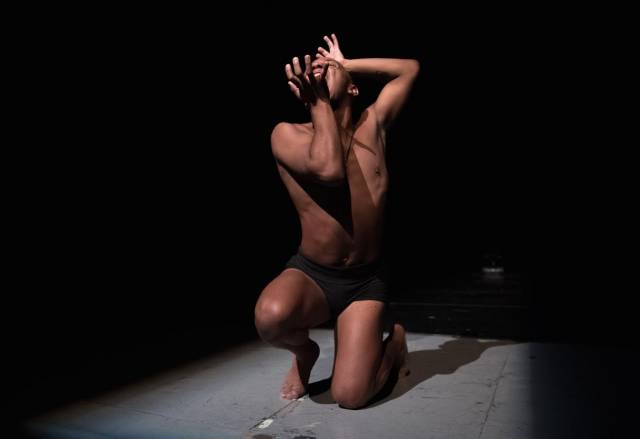 Eryc Taylor Dance premiered its new program, The Exhibit, on October 15. Fresh in from a presentation at the International Dance Festival Avant Garde in Mexico, the new program held moments of brilliance by very strong dancers, couched in what turned out to be a fairly pedestrian evening. Taylor's movement is viscous—not quite solid and not quite liquid. His dancers' talent is clear, and he uses them well, drawing influence from various schools and styles to create something that is visually appealing, but mostly forgettable.
The first piece in Taylor's program, The Zone (Prelude), was visually striking, if lacking in choreographic purpose. Shadow play and red lighting set the scene, and music by Nosaj Thing, Salomon Lerner, and the choreographer himself provided an interesting score for movement full of isolations—a study in angles and contractions that echoed the unnamed "pre-performance" piece danced by Dafni Mari as the audience filtered into the space. Three dancers clad in mesh face masks begin the piece with three solos, and eventually come together choreographically without interacting for the remainder of the section.
The two dancers in Lumen, the second piece of the program, were continually reaching for something—perhaps each other. Caroline Brethenoux and Samuel Asher Kunzman partner each other almost blankly as they clamor over and around each other. At the piece's climax, there's little to suggest that they've gotten what they're looking for, save for their alternating between violent shaking and Forsythe-esque collapsing.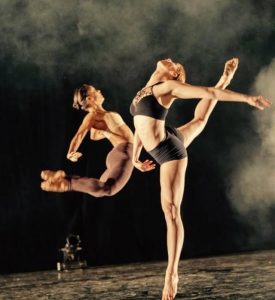 The Hunt, performed to music commissioned by Eryc Taylor Dance from Salomon Lerner, pulled from traditional and contemporary African techniques, and was the most athletic and exciting of the evening's pieces. Camille Workman, the lead of four strong women onstage, was explosive in her turns, leaps, and lifts throughout the piece. Her intensity lifted the piece to a level higher than the choreography, and she was a true vision in performance.
The highlight of the evening came with The Time, a solo performed by Timothy Patterson. With another elevating score by Salomon Lerner, Patterson's performance was simultaneously difficult to watch and impossible to tear your eyes from. Emerging in the light with blood dripping from a chest wound, Patterson writhes and arches in what is undoubtedly the last minutes of life. He emits grunts and near-screams that echo and disquiet the room, bringing the audience closer to something that so clearly shouldn't be intimately examined. Patterson's talent is obvious, and he is one of the company's best trained dancers, making his solo even more gripping.
The Box closed the program, again to music by Salomon Lerner, and performed by three women: Jessica Aronoff, Caroline Brethenoux, and Jessica Featherson. The dancers execute Taylor's choreography well (which he did in collaboration with Jesus Olivera), but the piece remains a representation of the fear of nonconformity. Unfortunately, it was neither particularly inspired, nor outside of "the box" it promised to inspect.