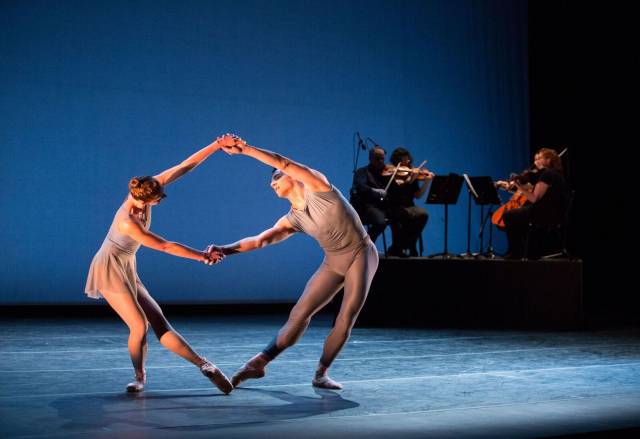 Strength and Longing, a program consisting of four ballets presented by the Pennsylvania Ballet at Merriam Theater, lives up to its name in both muscular and atmospheric tone.  The evening provides both modern ballets and throwbacks to bygone eras side by side.
The first ballet, Without Words, choreographed by Nacho Duato and set to to six instrumental compositions by Franz Schubert, is one of three company premieres.  More than any other piece of the evening, Without Words exemplifies the simultaneous physical prowess and delicacy of the dancers (Mayara Pineiro, Harrison Monaco, Amy Aldridge, Ian Hussey, Lauren Fadeley, Lorin Mathis, Oksana Maslova, and Arian Molina Soca).  The design elements of the piece include photographs of the dancers in intimate embraces or standing cheek to cheek while their real life counterparts embody the tension of longing for another body so much that even when it is right beside them it is not enough to satisfy desire.  All six dancers participate in duets that electrify the audience; when all six are on stage together, the audience gets a first look at what the company does so well throughout the evening: move as a chorus.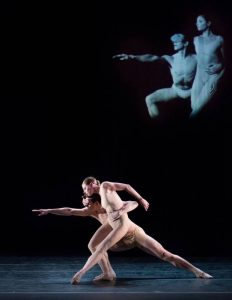 For Four, a four-man ballet choreographed by Christopher Wheeldon and danced by Arian Molina Soca, Amir Yogev, Ian Hussey, and the captivating Jermel Johnson, is equally exceptional.  Also set to music by Franz Schubert, it employs all four dancers onstage in a way that stands out as the most magical part of the evening.  In both For Four and Without Words, the dancers move through space with such precision and uniformity that it's hard to believe that they are four or six bodies moving to the music and not one creature born from it.  This effect is enhanced when they move away from uniformity but stay in close proximity to each other, such that the complicity between them is even more apparent.
The second ballet of the evening, Chutes and Ladders, choreographed by Justin Peck to Benjamin Britten's hypnotizing String Quartet No. 1 in in D Major, offers a sweeter look at longing than the two that sandwich it.  A pas de deux, Chutes and Ladders presents ingenues (the elegant Alexandra Hughes and Ian Hussey) in flowing fabric and invites the musicians onstage to play as the pair present a romantic interpretation of the theme.
The final piece of the evening, Jerome Robbins' N.Y. Export: Opus Jazz (1958), danced by the full company, is also a throwback to times gone by.  Danced in sneakers to smooth jazz by Robert Prince, it is sometimes cutesy, but there are also moments of genuine surprise and impressive physical feats, most notably when a ballerina is seamlessly lofted high into the air and offstage above the heads of her fellow dancers.  While the piece is enjoyable on the whole, it doesn't quite reach the vitality of the contemporary ballets that draw the audience so completely into the world of the Pennsylvania Ballet.