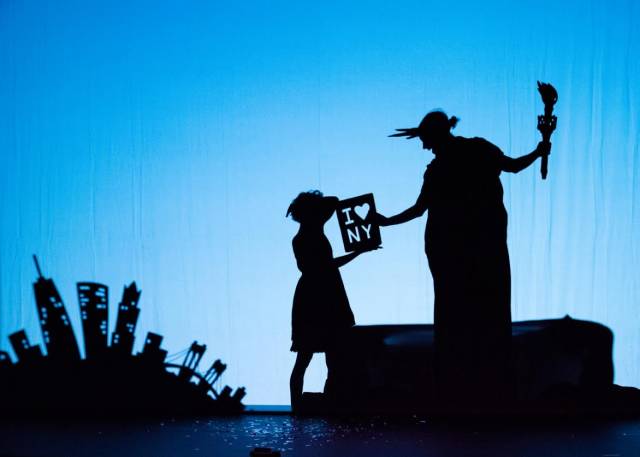 A girl with the head of a dog has run away from a red-hot circus. Fleeing the hunt by the strongman, sword swallower, and lion, she dives, headfirst, off a cliff and into the ocean. A few moments later, what was the ocean floor begins to move, its mass combining and shifting until the shadow of a gigantic seahorse appears.
Pilobolus' Shadowland had its North American premiere this weekend at the NYU Skirball Center for the Performing Arts. Combining impressively low-tech shadow work with acrobatic performance and curious twists and turns around every corner, Shadowland is an Alice in Wonderland for the new age.
The protagonist, a girl on the cusp of womanhood, is transported into 'Shadowland' as she imagines her journey into adulthood. The company's collaboration with SpongeBob Squarepants writer Steven Banks no doubt contributed to the cartoon-like feeling of the entire evening. Along her path, she meets (among others) three chefs who threaten to turn her into soup, a pack of werewolves, and a kind of wizard or God figure, who transforms her first into a dog, and then back into her human form, only with a dog's head. And all is done in shadow.
There's a wonderful juxtaposition in Shadowland; one that allows the audience to see behind the scenes as dancers change costumes, prepare props, and set up for acrobatic stunts, while maintaining the magic and mystery of how six bodies transform themselves into the silhouette of a circus elephant.
The remarkable skill required by the Pilobolus dancers to achieve such feats, and to do so without break for an evening-length production, is undeniable, and has audiences talking both before and after the performance. However, the storyline leaves much to be desired.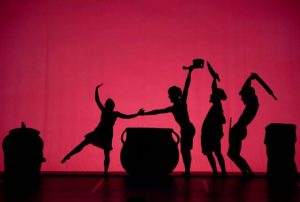 For an audience of children, the story might be effective as-is—aside from the sexual awakening that our protagonist experiences towards the program's finale—but for the adult viewer, the story feels disjointed and a bit opportunistic. Vignettes come in and out in no particular order. Each is entertaining and impressive in its own way, but they fail to come together as a cohesive story. The homicidal chefs, circus freaks, seductive minotaur, and (what I assume to be) marijuana-smoking cowboy whom our girl encounters give the story more of a hallucinatory air than anything else. This could be someone's acid trip—not unlike Carroll's Alice in Wonderland.
In the end, our girl, dog-head and all, conquers 'the beast' of all the characters—and, presumably, adulthood—out to get her, and wakes up, safe and sound and rejoicing in the fact that she's not yet fully grown.
A big, colorful evening closed with an encore, one of the best sections of the performance. Bodies form the empire state building, statue of liberty, cabs, and street vendors in a fun and fast-paced tribute to New York City that showcases Pilobolus' strength as a group of performing artists and dancers. Small sketches like this are where Pilobolus shines as a company, and it closed the evening beautifully.