In Honor of Would-Be Tony Awards, American Theatre Wing Revisits Centennial Concert & Gala on BroadwayHD
As we continue to do the necessary work to make our world and our industry a more fair and equitable place for all (and make no mistake, we know that work has to be done), we can't help but acknowledge that, were things up and running, the last few weeks of this past May (and the first few weeks of this past June), would historically have been the ones leading up to the Tony Awards, presumably to have been held on June 13th. 
In honor of the occasion — and in lieu of the annual bash — the American Theatre Wing removed the paywall back in June for its Centennial Concert, originally filmed in September 2017 and now available on BroadwayHD. Celebrating 100 years of theatre, education and arts advocacy, the event featured stars, showtunes, and even a few surprises, all of which spoke to universal themes of equality, diversity and acceptance within the Wing — especially hot-button themes today, as we launch into our new era of inclusion and equity. Here are some of the highlights from the stream: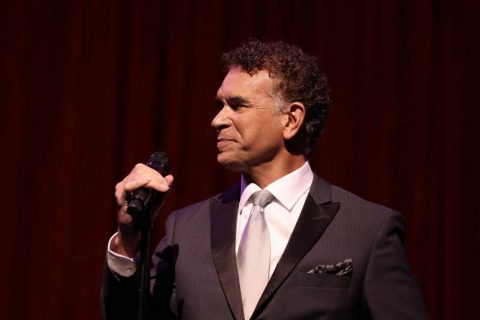 Brian Stokes Mitchell Makes Us Feel "Alive" with Company Tune
Stokes, a power player in the theatre community himself, kicks off the event with this well-known classic. Acknowledging the way Sondheim's musicals detail the joy, the pain and the complexities of what it's like for all of us to be alive (wink wink), he launches into an intense and moving performance. Buttery, booming baritone aside, the true genius lies in how he evokes the sadness and reality of Bobby's eventual realization. We can see the arc — the moment it hits him — a realization we're all too familiar with in our own right, given the events of the last year and a half. Prescient lyrics like "somebody hold me too close / somebody hurt me too deep" hit a little bit harder now, given that we've been separated from that companionship in various capacities longer than we ever thought we would. But still, here we are. We're all frightened together, but moving through it together, united as one, bit by bit, helping each other survive. We all genuinely understand, now more than ever, that "alone is alone… not alive!" And this performance, though it happened four years earlier when a pandemic was the last thing on anybody's mind, fully — and stunningly — captures that experience. And it's all thanks to Stokes.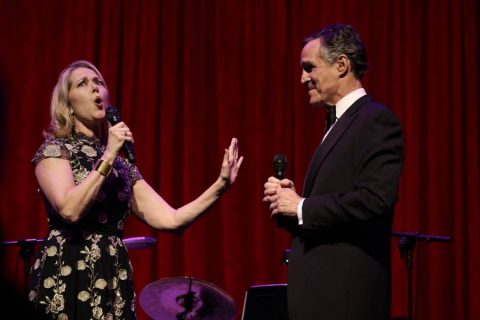 Rebecca Luker and Howard McGillin Use Showboat to "Make Believe"
An angel gone too soon! The original Magnolia in Hal Prince's 1994 revival of Showboat, the late and great Rebecca Luker teams with Phantom's Howard McGillin — for whom the movie version of Showboat was his first exposure to musicals — to reprise that musical's "Make Believe." The song finds the two smitten sweethearts daydreaming about what their life in love could be, unaware of the harsh realities that will befall them later in the show. An incredibly chilling concept in retrospect, especially given Luker's terminal diagnosis, which further emphasizes (in the show and out) how life can change on a dime and we never really know what's around the corner. But while we should indeed be prepared for anything to happen — 'cause if this year has taught us anything, it's that anything can happen — it's also proven that, in a strange way, ignorance is bliss. So, despite what we know now, in this moment, we can just live in Luker's light, her unparalleled angelic soprano emanating through the room, while she's lost in a daydream, eternally, everlastingly, in love.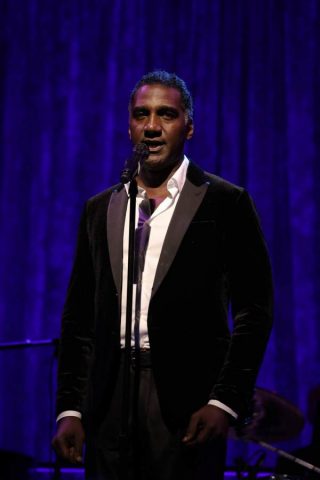 Norm Lewis Basks in "The Music of the Night" 
You simply just can't beat that voice! A staple song at every cabaret or gala performance since his acclaimed debut as the first African-American to play the Phantom on Broadway, Norm Lewis returns here to sing the haunting ALW standard once again. Like a true Phantom would, he hypnotizes us from the start, leading us on a musical journey that's equal parts chilling, soothing, and seductive. Let your fantasies unwind and your spirit start to soar as he lures you in with his vocals, lingering on every note. You'll truly — and aptly — live as you've never lived before. In addition to praising the Wing's educational outreach efforts, he observes that while his historic performance was undoubtedly a personal and professional feat for him in its own right, it was also significant in that it opened doors for other people of color. "I had people from Asia, from South America, [and] from India, coming up to me and saying, 'Now, I think I can play this role.' It was so much bigger than just me playing the role." Well, if anyone can build that mentality, it's Norm.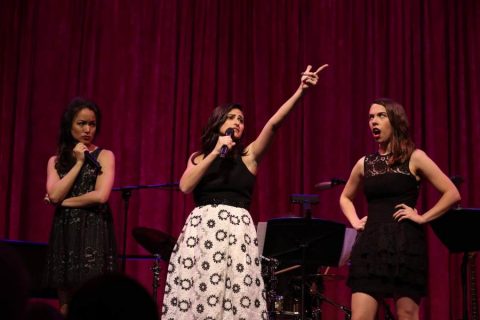 Natalie Cortez Sings the Praises of "America" 
Former 2009 West Side Story Anita revisits both the show and the role with this memorable number. Recalling the experience of working directly with the late Arthur Laurents, she states that while the song is, on the surface, "a fun song, it's [also] a really important song" packed with deep, intellectual commentary on the American experience. "That was the brilliance of [Laurents] and Stephen Sondheim. They could take these seemingly silly, carefree songs and turn them into something incredibly profound." Cortez also contextualizes the significance of the number with a personal story. "My grandfather came to America from Argentina in 1952," she explained. "I remember washing dishes alongside him at home, and I'd say, "How do you say 'dishes'?' And he would say, 'No. We are American. We speak American.' And that [idea] is what this show — and this song — is celebrating" — and it's no doubt a concept we're all aware of today. Backed by singer-dancers Olivia Puckett and Melanie Brook, she then gives a spellbinding performance that would make her abuelo proud. Okay by me in America!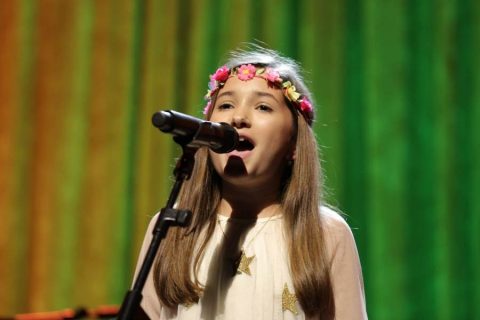 Evie Dolan Lets the Sun Shine In 
The perpetually spunky School of Rock alum, then a fresh-faced, guitar-shredding 13-year-old, speaks of how Hair, the radically revolutionary musical of the '60's, was touted for igniting the spirit of a new generation — beckoning youth to protest for justice, freedom and equality in hope of a better world. Decked out in her finest Flower Power attire, Dolan then awakens us to "the dawning of the age of Aquarius," before grabbing her own bass and leading all the evening's participants in the rousing and spectacular finale, "Let the Sun Shine In." With the entire cast arm in arm, leading the entire room in the continuous titular anthem, the joy is palpable, and — much like it did when Hair first took Broadway by storm, and much like it's doing in this very moment — sets the scene for a hopeful, bold, and progressive new day.
Quality and Inclusion Above All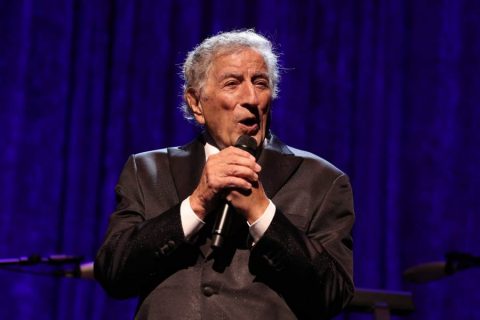 In a surprise appearance, American Songbook aficionado Tony Bennett popped in to share his own personal story about getting started with the American Theatre Wing. "It was a company that I fell in love with because they said [they] only do quality music and quality songs," said the singer, who studied with the Wing on the GI Bill following his return from World War II. Emphasizing the most important thing he learned throughout his time with the Wing, he said, "Stay with quality. Don't do anything silly just to make money.  Don't be embarrassed about what you're singing. Always stay with quality, quality, quality."  
Earlier in the evening, Wing Chair David Henry Hwang also offered his thoughts from a personal place. Explaining how the US Senate's denouncement of the interracial Stagedoor Canteen — founded by the Wing to provide comfort and entertainment to the soldiers in WWII — was met with a particularly scathing response, he declared, "This is the DNA of your American Theatre Wing."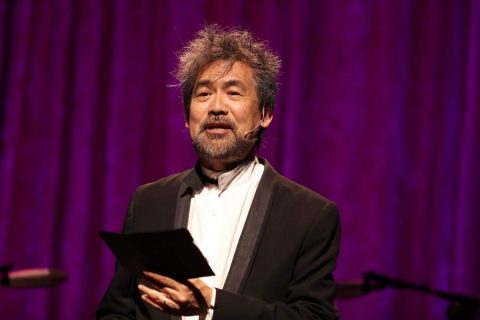 "I'm the child of immigrants," he continued. "I dreamt of becoming an artist in the American theatre and I got to live my dream. In troubled times, we [the ATW], too, [like the ladies of the Stagedoor Canteen] can stand up for cherished values like democracy, civil liberties and inclusion. We, too, can utilize the power of our art to fight for an America which lives up to an immigrant's dreams."
Building on that idea, and commenting through the success and effectiveness of the evening as a whole, Wing President Heather Hitchens adds, "It's a powerful reminder of the critical role that live theatre plays in bringing us together and moving forward as a nation."
And, as we move into a new day, a new dawn, a new era…. that's what we'll aim to do… because what else would you expect from a quality company? 
Photo Credit: Jemal Countess/Getty Images