Interview: Nolan Gerard Funk on His Character in 'Hello, Again' and Why He Loves Going From Genre to Genre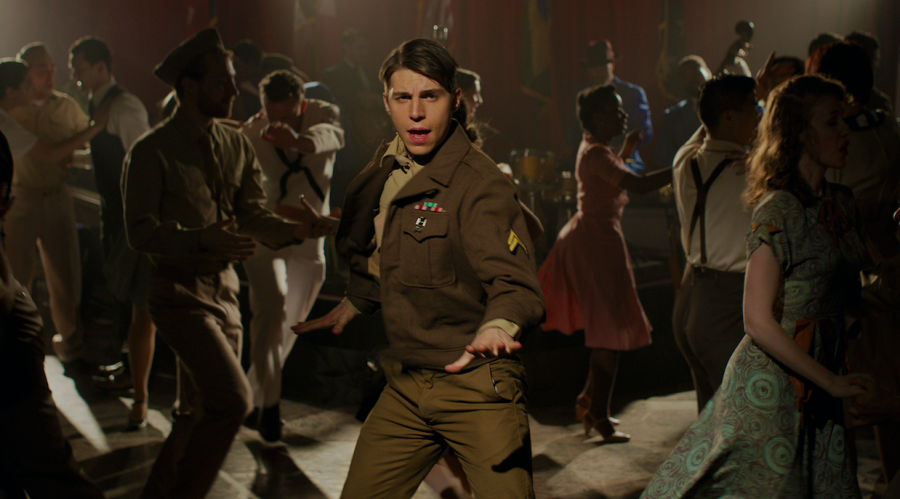 Whether playing an a cappella sensation on Glee, an aspiring actor in The Canyons, or a rock star in Bye Bye Birdie, Nolan Gerard Funk knows how to deliver the vocals and the star presence to go with them. In the film adaptation of Michael John LaChiusa's cult musical Hello, Again, Funk plays a soldier entangled in a game of seduction with a nurse played by Jenna Ushkowitz. We spoke to Funk about getting to sing LaChiusa's beautifully complex score, the difference between film and stage, and why he loves defying audience expectations with the characters he plays.
When did you first encounter Hello, Again?

To be honest being in it was how I was first introduced to the material. I was a fan of Michael John before, but I first discovered Hello, Again when I got the call to be in it.
How do you create the interior life for a character with such few scenes?

I think that fits into the whole thematic structure of the piece, you have all these people having these romantic/sexual encounters and pretty much everybody is afraid of getting close in one way or another in that film, even if they seem they're going for connection they have their own issues. Approaching the soldier I had to look at the reality of being a soldier in that time and where he would be at emotionally. There's definitely clues in the writing, I think the soldier is suffering from some PTSD and has all this pent up energy, maybe he's running from his feelings, or he's driven by terror. But you can also say he's just a guy who's horny.
Which of the characters in the musical do you identity with the most?
Without sounding narcissistic (laughs) when I read the script the soldier really resonated with me. I loved many of the characters, they're all so unique and specific, but really when I read it I understood where the soldier was at, I understood he wasn't necessarily a bad guy even if he was going to have sex with all these women and not call them. I think he's going through a lot, so I was curious about what was behind all that. Really, I couldn't have chosen a better character for myself. With that being said, I'd initially been approached to play Albert, which would've been a great character departure for me, but through fateful circumstances I think I ended up playing the role that fit me best.

How would you describe what it's like to get to sing a Michael John LaChiusa score?
You can't because his scores are crazy! That's what's so beautiful about them, he so artfully finds ways to switch a melody just as you're becoming used to it. It's a wild party, pun intended. The experience in this case, since we were shooting on a tight budget and schedule, was to remember what was happening to hit certain notes. It's not pop music so I view it as a different way of communicating.
Having done film musicals and stage musicals, what elements from each would you bring into the other?
One of the great things about the movie world is the freedom for spontaneity, sometimes people approach stage productions and they feel kinda locked into their choices. Being able to have more freedom to see what happens onstage would be great. With that being said the live audience brings such a thrill when you perform in front of them and it's definitely something I miss. If there was a way to bottle that rush an audience gives you and bring it to set that would be great.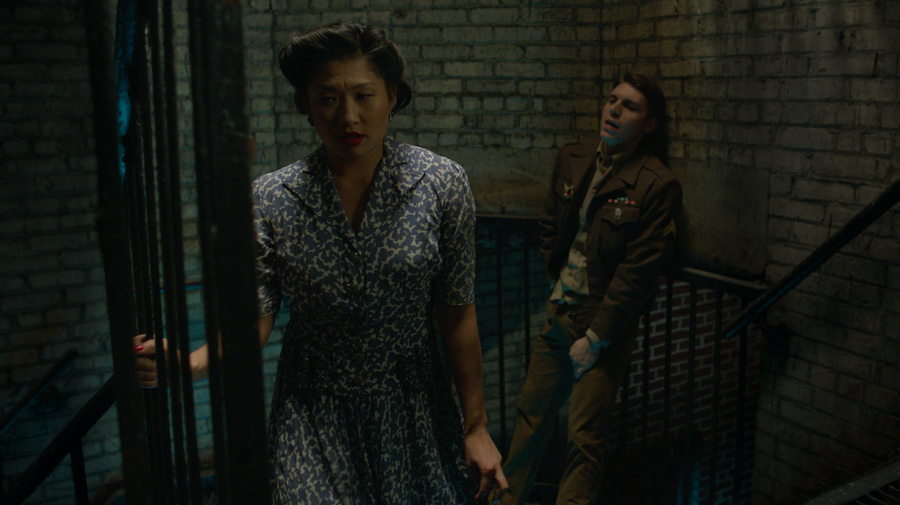 You're no stranger to going from genre to genre and format to format, what are some places where fandoms, like Arrow, Riddick or Glee for instance, intersect?

Honestly first of all I'm beyond flattered to have fans in the first place, I'm not the best at social media. What's most exciting for me is so far not being branded into one kind of role. That was really important for me especially coming off Glee, it was fun to be in Riddick. I'm really excited for people to see Counterpart which is coming out in 2018, it's going to be a very interesting thing to see. I'm grateful my fans believe in me and they buy the performances enough to see me as different characters. I became an actor cause I love imagining being different people. My focus in the past year and a half have been to see how I can diversify the genres and characters I play.

You've spoken about your love for Elvis Presley in the past, which of his movies is your favorite?
That's so hard! It's a tie between Viva Las Vegas and Jailhouse Rock. Ann Margret is so unbelievably sexy and present in that, and their chemistry is fucking off the charts in that. Jailhouse was my first introduction to Elvis and it's something I've always loved.

Which of his songs is the most underrated?
Oh man! I guess everybody goes to the classics, when I played Birdie I listened to a lot of Elvis. "Loving You" is a great one, but I don't know, I just love all of his music. Lame answer, I know (laughs).
Hello, Again is playing in select theaters.