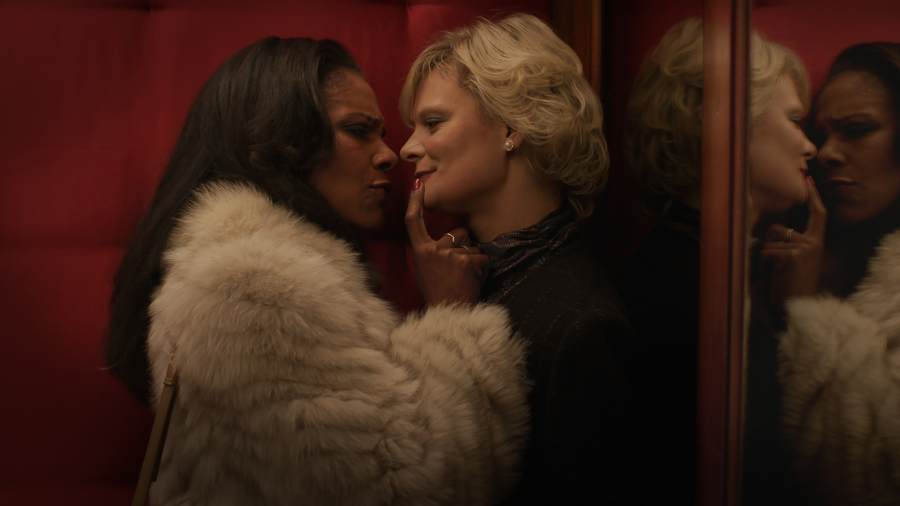 Hello, Again revels in its eccentricity, it's the type of movie that makes a world where musicals are a popular genre seem plausible. The idea that this small, Off-Broadway chamber musical was getting adapted to the big screen made me incredulous when I heard the news. And after seeing it I remain incredulous. To its credit. Too often "the musical" as a genre on film is seen as an event, not something by the way. Which means that, generally, musicals on screen tend to be of a specific type: big budgeted, even when they are intimate. With the biggest stars, with familiar themes or sources. Hello, Again is none of these things and everything about the film leans into its oddness. And why shouldn't it, when its borne out of the familiar?
Hello, Again, originally a 1993 Michael LaChiusa musical in turn based on the French play La Ronde does not immediately beg for a big screen iteration. The La Ronde story is familiar on screen, most recently with 360 (the Fernando Mereilles film) most famously with La Ronde (the Max Max Ophüls film). There's no real story, just a series of sex scenes and Hello, Again is emphatically that. There is little story here, just a series of sex scenes set to music. LaChiusa's score has spawned numerous cabaret standards, and the score is excellent. It's no surprise, though, at first that Hello, Again feels more interested in the music and the locales than the people having the sex. Director Tom Gustafon's best directing conceits come early on, even as the film itself seems to be showing off, but just about halfway the film takes a sharp turn in the fifth encounter when the aching ballad "Tom", the standout from the score, arrives. It was gloriously sung two decades ago by Carolee Carmello on the Original Recording, and excellently interpreted by Audra McDonald on her "Way Back to Paradise" solo album, but Rumer Willis more than acquits herself of the task. Her solo is the moment Hello, Again stars feeling impactful.
Up to that point the film had been charming, if light, the series of young actors who set up these scenes Sam Underwood, Noland Gerard Funk, Jenna Ushkowitz, Al Calderon, sing beautifully but their love affairs are so illusory and fleeting, their arcs are easier to dismiss. But, "Tom" ushers in an older, more complex "Hello, Again". With Willis' entrance as she hands the baton over to T.R. Knight, each successive performance seems to be topping each other until the film leads up to its most compelling portrayal of bleak love with Martha Plimpton and Audra McDonald. Their sequence legitimizes everything that came before, a relationship between a congresswoman and an actress. It's such a discernible climax to the story that we feel robbed when we shift gears, as we must, to hurtle on to the next scene. It's a triumph and a failing of the story in a way.
Hello, Again, onstage, is not meant for mass consumption – the score is beautiful, but not traditionally cohesive, and its lack of plot lends an air of abstruseness to it. The film leans into this lack of coherence. It's disorienting at first, especially when the film never tries to give you any narrative hook to reach the characters at. At times, Gustafon seems more focused on his editing than the actors. But, the film's lack of interest in making the film, or sex, palatable becomes impressive. It tells a gnarly idea of sex, that is bleak and perhaps does not add much to the cultural lexicon on love and romance but the film is decidedly its own thing.
It argues for a musical film not as a special event, but just a regular thing that revels in its own weirdness. It wins you over by the end. Hello, Again is not exactly cohesive, and it doesn't seem interested in being so. What it is, is a brazenly unique take on a musical adaptation with a score to span genre and decades. And if this world had any justice, every club would be playing Audra McDonald's "Beyond the Moon" for us to bop along to.