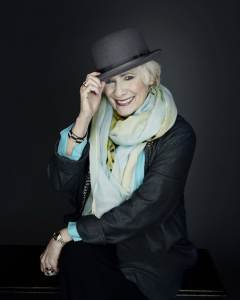 About four years ago, I listened Betty Buckley's An Evening at Carnegie Hall album for the first time. Two songs stood out among the excellence – a plaintive take on Mary Chapin Carpenter's "Come On, Come On" and Kurt Weill's "Pirate Jenny". To this day, they remain as the pinnacle of Buckley's talents for me, no mean feat. Since her Broadway debut Buckley's distinctive voice and rich belt has been a treasure, but her place as an essential performer goes beyond that. Buckley has always proved adept, more than many of her contemporaries, at establishing the narrative in song. It's why the purely lyrical Buckley albums, although a great showcase for her voice, never feel enough. Buckley reaches her peak (and oh what peaks they are) when she can move you through a story.
It's why I was immediately compelled by the promise of her newest album, the simply titled Story Song. The two-disc album is a live performance of two Betty Concerts performed at Joe's Pub last year.
The first disc is packed with eleven tunes, playing something like an audition reel for different Bettys. It's a wonderful collection that promise good things early on and seems to deliver it on the very first soaring note of the third track, "High and Dry". The delivery and arrangement on these early numbers is exemplary (hat-tip to "Cassandra" and "All Things in Time", two excellently sung Jason Robert Brown songs), and points to the new normal where albums from concerts does not mean compromising on sound quality.
But Buckley is merely warming up, albeit excellently, on these numbers. It's at the halfway point of the disc, on the hilarious/disturbing/depressing "Old Flame", that we reach our sweet spot. And a what a peak of a sweet spot it is. It's a perfect epitome of the album. The Joe Iconis number was written for Buckley and it tells of a woman hopelessly, obsessively attached to an Old Flame. But it's not a traditional letting go of the past benediction and in Buckley's hand plays like something out of a Southern Gothic tale, like a Tennessee Williams matron gone to seed; an Amanda Wingfield type, but more deranged. Buckley is funny, she is chilling, she is pathetic and she is ugly on this number. It's that rawness that she reaches for when it's so often easy to make it pretty, or to make it sweet. The desperation dripping off the number when she almost strains to sing, "I will always be the same…old flame".
It's what makes Buckley's albums so compelling. There's a rawness there that can be hard to articulate, a rawness that comes with daring. Buckley is always willing to go far, almost too far – she'll hold a note just a bit longer than you would expect, she'll be willing to go out of breath, or to go just a bit sharp on a high note. She seems to wilfully court danger when she sings, which is why she's so good at songs which flirt with the darker aspects of life (see her "Pirate Jenny", her uncompromising "Rose's Turn", her heart-breaking "Only One" or unbeatable "When There's No One"). It's why Story Songs is such a great idea for her because Buckley paints a picture with her voice. Sure, it's a mixed metaphor but that hokey description of her abilities describes what makes her so eager to take risks and play with different arrangement. She injects that rawness for a desperate, moving "Throw It Away" and presents the double album's strongest vocal example with the sorrowful "Prayer in Open D". Here Buckley recalls her penchant for cultivating poignant sadness, recalling her stellar work covering "Fire and Rain".
Disc 2 is shorter with only six songs (three of the nine tracks listed are brief song introductions), but it presents a different shading of Buckley, and a necessary one. I'm fortunate enough to have twelve of Buckley's albums in my collection and only now realise how rare it is for Buckley to break mid-song and narrate to us. The three spoken interludes are each of great value, and are not just typical name-checking but each a tribute to someone of value in her life. The first is to her childhood friend Stephen Bruton, preceding my favourite song on this disc (a haunting "Too Many Memories"); then there's the Howard Da Silva one. It's the longest interlude as Buckley speaks of working with Da Silva on her Broadway debut in 1776. What charms most about this sweet monologue is how girlish and sweet Buckley sounds at 69. The interlude, just below six minutes, touches on everything from Buckley's adoration, her love for Hamilton, the terrifying nature of our political climate, the uncertainty of success, before she settles into the reasons she sings "Both Sides Now". The song's emotional thesis seems apt. Buckley is no more the ingénue of 1776 or Drood but still retains her exemplary ability to appeal to the air and the emotion. She can speak to both sides of being the performer and it's why the last song is so apt even if it's an obvious closer. A brief, sweet tribute to Elaine Stritch (who Buckley calls her guardian angel) precedes "I'm Still Here".
She isn't always making it pretty and she isn't always making it fun (the album's melancholy is hard to get through at first but richly rewarding) but she's making it moving and she's making it impactful. Story Songs stands as glorious proof that Betty Buckley remains a superlative interpreter of song, her enunciation is impeccable and her willingness to take risks with her interpretations of songs continues to thrill. It makes it doubly sad to remember that she has not headlined a show on Broadway since the 1990s. Buckley is a storyteller in search of a story, and Story Songs gives her wonderful opportunities.