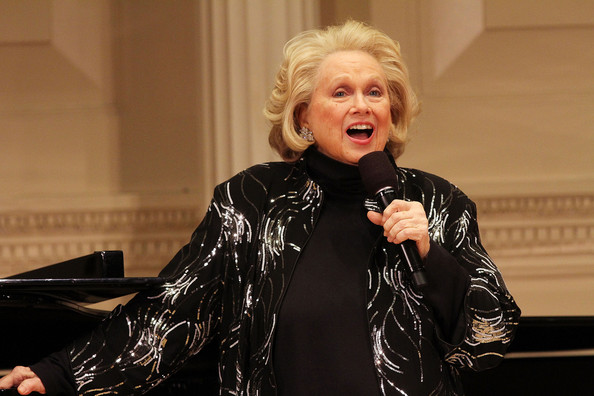 The first thing I thought about when I heard that Barbara Cook had died was her appearance at the 34th Kennedy Center Honors. To be fair, I think about (and listen to) that Barbara Cook tribute fairly often. It might seem ridiculous that my mind turns to this moment first. She does not perform in the tribute, we never hear her voice. Instead, a slate of theatre women sing to her as she watches on. There's, doubtlessly, a bit of awkwardness that comes with being an honoree. Having to sit and watch your professional life being paraded before you as you watch on, somewhere between grateful and embarrassed. Throughout the minutes, she looks on like a gracious benefactor. Then nine minutes in, as the medley segues into the finale of Candide, she claps her hands and seems to gasp, her eyes visibly teary. She seems not just to be looking at the performers but beyond them. You can't see someone remembering, but her eyes betray those of someone going back in time as she nods her head blinking back the waterworks. When it ends, she rises, mouthing "thank yous" as she raises her hands saluting those who are rising to salute her. Each time I watch it I begin to tear up at her reaction. It's always stuck with me for its grace, its kindness and its humility. It's how I remember her.
Unusual, but not completely so, that is this image of kindness that I think of when I think of Barbara. Not one of her singing, or performing, but just existing beatifically looking on at her legacy. And even without that legacy of kindness and grace, her voice would be enough. For Barbara's voice was magical. Her Tony winning work as Marian in The Music Man is probably the most popular of her turns. Her soaring voice on "Til There Was You" and "Goodnight My Someone" seem peerless so that any singer would happily sign them off as their apex.
Except, for a technician as superlative as Barbara her apex could never be so small. As my love for theatre grew, removed from Broadway by thousands of miles, I would marvel at realizing how many songs and scores that I would first hear on revivals, or solo discs, had been first sung by Barbara. The slew of performers that would interpret songs that she had originated would be so wide and dissimilar, their connection was Barbara who sang these songs first. Like "Will He Like Me" (from She Loves Me) which I first heard as a Barbra Streisand entry on her People album. Or "Glitter and be Gay" which I first heard sung by Harolyn Blackwell on the revival of Candide in 1997. Or "Till There Was You" which I first heard sung by Audra McDonald. And on, and on. And when she wasn't originating songs, she was singing what would seem like definitive versions, like "Losing My Mind" or "I Had Myself A True Love".
My Barbara devotion was solidified in 2009 when I first listened to her album Mostly Sondheim. The two disc album is one of mostly Sondheim songs (with guest performance from Malcolm Gets). The album, like many of its kind, features interludes where Barbara just talks, a trend listeners either love or hate, but which I treasured. To this day, it remains my favorite concert album from a Broadway singer. No entry seems superfluous as she offers takes on songs as different as "The Trolley Song" to "The Eagle and Me" to "Buds Won't Bud" to "Anyone Can Whistle"
When I think of Broadway and sopranos there are a number of great women that come to mind – Kelli, Kristin, Audra, Judy, Julie, Marin - but I always think of Barbara Cook first. It's not that she made it look effortless. Or not just that. It's that she did it all with that grace, that wit, that lack of self-consciousness that never seemed hard edged or cynical. Even through the personal troubles and trials. She did it generously and sincerely. And, so, when I heard of the news that she had died at 89 I turned to my favorite track from that Mostly Sondheim album. Oddly, it is not a Sondheim song but a two-song duet medley with Gets, of an Irving Berlin song and a Jerome Kern/Oscar Hammerstein number. For me, they represent - even from their titles - the best things about Barbara.
"Let's Face the Music and Dance", the Berlin tracks tells us, and surely, in remembering Barbara being sad at the loss her death represents feels foolish, since her glorious voice urges us to take solace in her music. The second song, "The Song is You", has a title that could not be more apt. For Broadway, for sopranos, for music – the song was Barbara, is Barbara. And how beautiful she sounds.
---