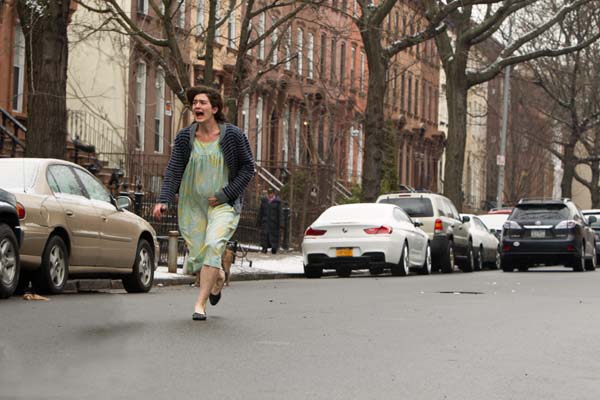 In horror films about hauntings, the demon's job is to kill and possess. But there is always a standard build-up; the demon has to perform for half the film before getting to the killing. We might think that without this convention there'd be no horror film, but Stewart Thorndike's Lyle proves this theory wrong.
Lyle avoids this predictable, call it, "evil crescendo"-- ghosts/monsters/spirits presenting themselves in mirrors and backs of closets, slowly revealing themselves over time, characters doing double-takes asking themselves, "did I really see that?" until finally, the characters are possessed or killed. Avoiding the "evil crescendo," or at least refining it, Lyle is something refreshing. An incredibly effective and moving independent horror film that is still nicely disturbing.
Leah (Gaby Hoffman), June (Ingrid Jungermann), and their toddler Lyle are just at the beginning of their lives together. Leah is pregnant with another child, and so the family, needing to upsize homes, is viewing a new place. Instantly something strikes Leah as odd about the apartment, but she doesn't know what exactly. The home is too good to pass up. After moving in, Leah's unsettled feeling continues to build, eventually coming to fruition when tragedy strikes the young family.
Fast-forward seven months. After many sessions of ineffective couple's therapy, a chasm has formed between the lovers. Leah is always emotional, often hysterical. June presents an icy, unsympathetic façade; this is an important piece of her character that Ingrid Jungermann builds nicely upon from the first scene. All things around Leah begin deteriorating, but Thorndike keeps the mystery in check. Is the world out to get Leah? Are forces conspiring to steal her baby? Or is she really paranoid? An undeniable homage to Polanski's Rosemary's Baby (1968).
Gaby Hoffman's Leah is one-dimensional. Her torment seems merely topical and circumstantial. This film is being touted as gay, but aside from the fact that two women are partners, there is nothing about love or sex at all. The sexual orientation of the characters has no real affect on the film. Lyle is driven by a combination of great script and excellent filmmaking, both attributes of Thorndike. Despite the average performance by the lead, the film is so strong in its creative ability and unflinching serious tone, it never delves into parody, that Stewart Thorndike forces us to engage with paranoia. Or is it being stifled for telling the truth? Or is it about an all powerful, supernatural force? We have no choice but to ponder such things, after a shocker of an ending forces us to.