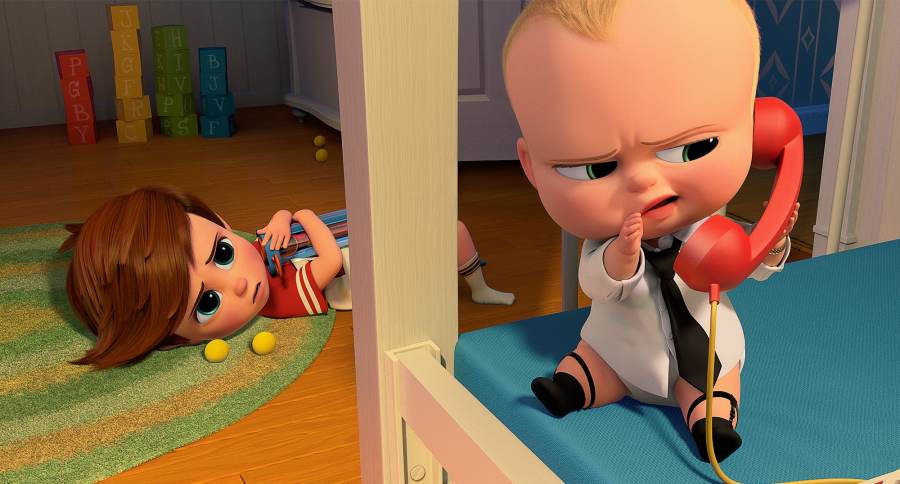 Alec Baldwin seems to have cornered the market on playing ruthless, blond, businessmen with plans of world domination, but unlike the terrifying character he's played on Saturday Night Live post-election, his (voice) turn in The Boss Baby is of the adorable kind. Baldwin's thunderous tone fills the tiny title infant with instant comedic appeal, he's a baby with a plan, and has been sent from the place where children come from with one mission only: to upset the peaceful existence of his older brother Tim (voiced by Miles Bakshi as a child, and Tobey Maguire as the adult narrator). But unbeknownst to Tim, his younger sibling is a double agent, who must also thwart the evil plans of a corporation who wants to dethrone babies as the cutest creatures on Earth; therefore destabilizing the balance of love in the planet.
Based on the book by Marla Frazee, The Boss Baby is a refreshing offering from Dreamworks Animation that puts aside their usual knack for zeitgeisty jokes that become almost instantly dated, and instead concentrates on developing characters that have more timeless appeal. Anyone with a younger sibling will identify with Tim's plea, not only because director Tom McGrath perfectly captures the angst of learning their parents' love must be shared, but especially because of how good he is at evoking the upside to that, which is suddenly realizing you love your baby sibling.
In that sense, The Boss Baby becomes quite literally the ultimate bromance, as McGrath focuses on the two characters' love story, rather than the insane plot around them. If the film repeats its themes and central message constantly (we get it, there's enough love in the world for everyone) it's also arriving at a time when the idea is comforting, rather than eye-roll inducing. The film could've certainly done with a little less espionage jokes, and more moments like the heartbreaking epilogue borrowed straight out of the Pixar storytelling book. The film is also commendable for its use of diverse characters, none of which are used to fulfill racial stereotypes that animation often confuses with playfulness.
One can only hope that with The Boss Baby, Dreamworks Animation is, ironically, also entering a period of maturity, and rather than seeing endless sequels to trite moneymakers, we'll be given more films with a steady emotional core and evergreen humor, the kind of which children can show their children in the future.