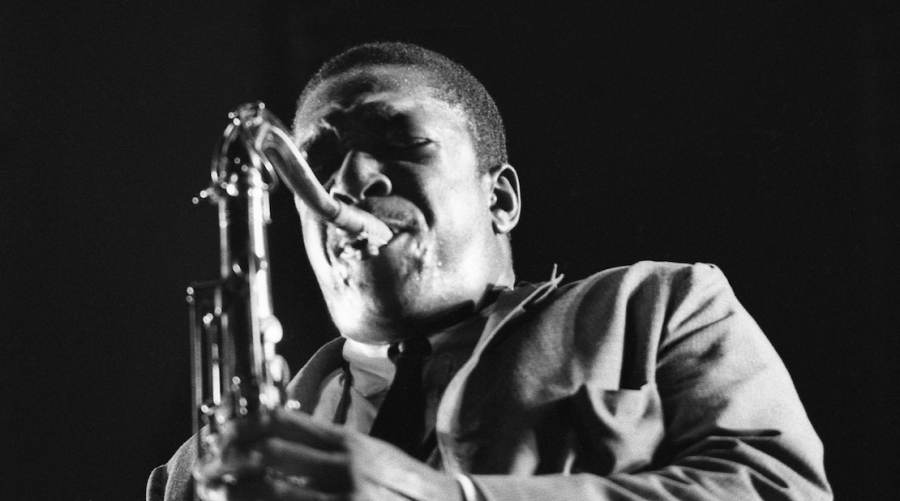 In Chasing Trane: The John Coltrane Documentary, the titular jazz titan remains elusive and out of reach as the title of the film might imply. Director John Scheinfeld starts at the beginning of  Coltrane's life in North Carolina where his religious upbringing would grow roots inside of him and lay a curious sprawling spirituality later in his career.  It takes a tender pace, moving chronologically to Philadelphia where Coltrane first picked up the sax and so on, with a later focus on his time in the Miles Davis' Quintet or his own quartet.  Denzel Washington provides a satisfying narration, while the usual talking head interviews occur with an impressive list of those closest to, and closely affected by, Coltrane, ranging from his family (Ravi Coltrane), his admirers (Bill Clinton, Kamasi Washington), and his peers (Wayne Shorter, Jimmy Sheath) as well as Wynton Marsalis of Lincoln Center, an ubiquitous presence when it comes to all things jazz.
Nothing short of glowing praise is offered throughout the film, rendering the mood of Chasing Trane as that of old friends gathered to reminisce about a loved one who's passed away.  Save for a few touching anecdotes from his step-daughter—including an instance when he once walked several miles home from a gig, all to save money to buy her a new pair of shoes—most of the commentary is generic and lusterless, neither insightful nor idiosyncratic in their banality.  Any trace of the unseemly when speaking of Coltrane's period of drug abuse is extinguished and told as a straightforward tale of missed rehearsals and various firings, after which Coltrane successfully quit cold turkey. Speak no ill of the dead of course, even more so if no ills should exist. But, the lives of saints are often dull.
The film shuns the informational route, too. The lack of technical talk or analysis of his music seems not only a discredit to the legendary man and his craft, but a disappointment to longtime fans and neophytes, eager to learn more about him. Chasing Trane makes do by cobbling together glimpses into the musician's life with a trove of old photos and film, many of which were unearthed in a garage. Guarded, deeply pensive, Coltrane has the look of someone with searching for greater meaning. Indeed his peers remark on their friend's penchant for the bigger picture, the greater good, but these rare recordings aren't much without any context.  Since we're working in the vein of reverence, the film does have a few bright spots when we hear from the fans. Among them, a Japanese super-fan whose memorabilia collection spans so large he had to find another building to house it all. While the film awkwardly pivots focus at one point to Doors' drummer John Densmore when he recounts meeting Coltrane, it shines when ardent admirer Carlos Santana intones passionately in brief: some people played jazz, Coltrane played life! Perhaps though, Coltrane and all his gifts could not be contained, at least in this doc.