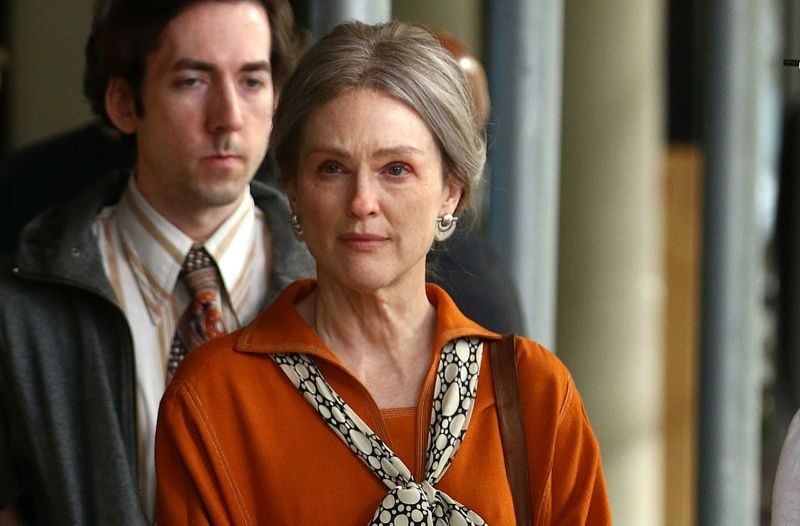 As Carol, Todd Haynes' period drama from 2015, proved heartbreakingly tender and adult, so Wonderstruck is a film so thoroughly lobbed at the juvenile. To call it a children's picture though would be unfair and to overlook its immediate and cinematic pleasures, in which adults might partake as well. The film is based on the book by Brian Selznick, writer/illustrator of The Invention of Hugo Cabret, which too spawned its own movie version directed by a renowned American auteur. That film, by Scorsese, romped in a overwrought lugubrious romance in a sooty clock tower of grey Paree. Wonderstruck roams more like sunshine in 1970s New York City, funkadelic and golden -- a marvel to behold to a kid visiting for the first time.
Such is the case for Ben (Oakes Fegley) of Gunflint, who is still reeling from the sudden death of his mother (Michelle Williams), a pouty saint memorialized in her silk robe listening to Bowie with cigarette in hand. Wistfulness falls not far from the tree; Ben steals away for Manhattan in search of a father he's never met. A determined rascal, he is armed with two clues, the name of a bookshop and a mysterious book about museums, and down one human sense, having lost his hearing after an lightning incident. Haynes opts less for the claustrophobic silence at this sonic confusion, instead mobilizing it, the strangeness and Ben's new world, opening up the sensory possibilities. The film's attractively pop score, liberal with the electric guitar, is easy on the ears. Ben takes up lodging at the Museum of Natural History with the help of a newfound friend (Jaden Michael), the warm confab -- over shared sandwiches and secrets, under inches of repository dust -- of which is unfortunately rendered hammy due to aggrandized readings and pauses. The jury's still out on how their tot contemporaries will take the exchanges.
The storied museum figures significantly, too, for Rose (Millicent Simmonds), a young deaf girl in the 1927. Her story is told in black and white without dialogue, like a silent movie, and these two sections flip back and forth like pages of a book, eventually landing in the same chapter by film's end. Rose is enchanted by a glamorous silent screen actress (Haynes regular Julianne Moore), and for her deafness makes the threat of talking pictures that lurks around the corner is especially disheartening. Newcomer Simmonds has a power behind her eyes that imbues her equally forlorn and furious. She appears at times too serious for and better than the movie she occupies.
Always one to dabble in genres and the visionary Haynes applies his handiwork to the silent era capably crafting an homage with perfect stern embouchures, silent screams and protrusive pointed fingers that never rises above its status as a recreation or the pastiche bric-a-brac -- newspaper clippings, photo albums -- that so lovingly adorn the film.  Wonderstruck is capital C cinema for 11-year-olds, the perfect kindling for a young moviegoer or cineaste-in-training, but, like that scrapbook in your attic, it runs the risk of being forgotten in a closet.