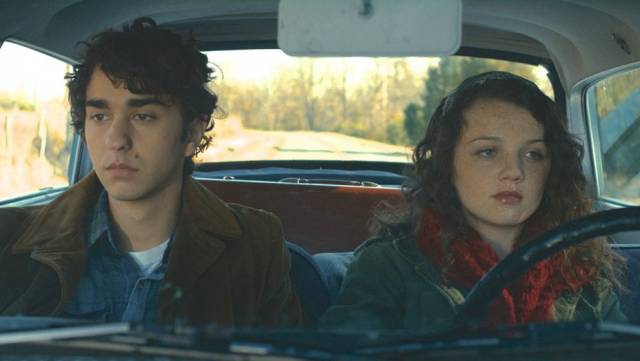 James Sadwith's smart and touching Coming Through the Rye arrives with a simultaneously promising and dubious premise: a misunderstood teenager in 1960s America goes searching for JD Salinger to get his permission to play Holden Caulfield in a stage adaptation of Catcher in the Rye. The opening title card reads, in typically snarky Holden Caulfield style "A lot of this is inspired by real events if you want to know the truth". You can't help wondering if you're about to embark on a self-congratulatory journey with a now-successful writer musing with disdain about the high school phonies who made his adolescence miserable. Thankfully, Sadwith's movie is too self-aware for that.
Despite treading predictable territory, Coming through the Rye is a refreshingly thoughtful, honest and authentically touching coming of age story. The story follows unpopular teenager Jamie Schwartz (Alex Wolff) as he ditches his all boys' private school, following a hurtful group prank, and finds himself on a road trip with the smart and down-to-earth Deedee (Stefania Owen) to track down the famously reclusive Salinger. Though there are some surprises along the way, Coming through the Rye doesn't exactly break new ground, but both Jamie and Deedee are such richly drawn and performed characters that their blossoming friendship becomes a beautiful and tender thing to watch. Sadwith diverts expectations enough times to keep things fresh and engaging. Jamie's journey touches on male friendships, insecurities, sexuality and heartache in a way that feels surprisingly new; and Deedee is thankfully steered well clear of turning into, well, Natalie Portman in Garden State.
Both characters are warm, dimensional and engaging, and both actors - Wolff in particular - give performances full of conviction and surprise. Following them on their journey is well worthwhile. Their unfolding growth and awakenings feel, for the most part, natural and unforced, and often genuinely touching. Chris Cooper shows up for a smartly cast cameo as the reclusive writer, and his performance is, of course, as smart and engaging as expected. Barring some distracting prosthetic eyebrows, you really wish someone would write a whole film around him in this part. Ultimately, Coming Through the Rye is an affecting and relatable coming of age story, and a fitting ode to adolescent dissonance, and the ageless novel - and its author - that so beautifully articulated it for generations of teenagers to come.