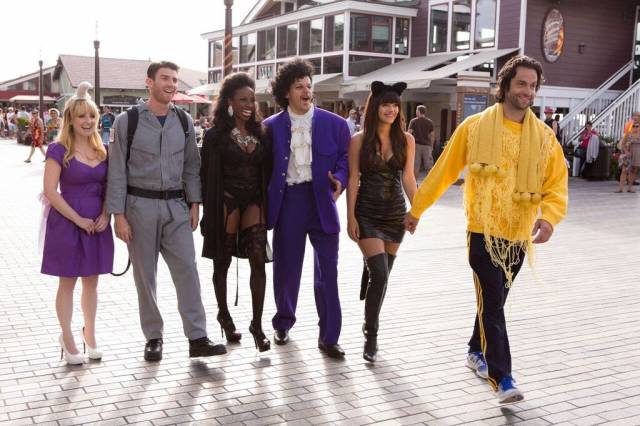 It's nice to see a dude-centric comedy that actually has the nerve to suggest that maybe being a dude isn't that impressive. Bob Castrone makes this point in Flock of Dudes, which stars Chris D'Elia as Adam, a thirty-something man whose life is basically still that of a college frat boy. After he and his mates are evicted from the party house they inhabit, Adam decides it's time to grow up and 'break up' with his childish friends.
While the premise is admirable it works against itself, since the most entertaining moments in the movie arise from the chemistry between the four friends who are breaking up. This effect undercuts the movie's premise by actually encouraging the audience to root for the guys to fail in their break up and remain men-children simply because it's more enjoyable. Adam's life doesn't even really improve that much after his decision to end his relationship with his friends so it's hard to believe this is a worthwhile journey for him.
There is some complexity here that could have potentially been explored further by Castrone but Flock of Dudes adheres so strictly to the structure of a conventional comedy that any room for nuance is sidelined in favor of the hero's attempts at wooing a new love interest. Another troublesome aspect of Castrone's film is that the male characters are outrageous and are still allowed a little depth, while the female characters fit into one of two categories: outrageous cartoons or uninteresting love interests. The actors do as good a job as they can and Melissa Rauch particularly stands out, as one of the love interests, but it doesn't fix the problem.
Despite its flaws, there are a lot of great laughs to be had. D'Elia is hilarious and Bryan Greenberg, Brett Gelman and Eric Andre all do a great job as his quirky troupe of housemates. The premise of Flock of Dudes is quite promising, but the film as a whole doesn't amount to much, like its main characters it still has some maturing to do.