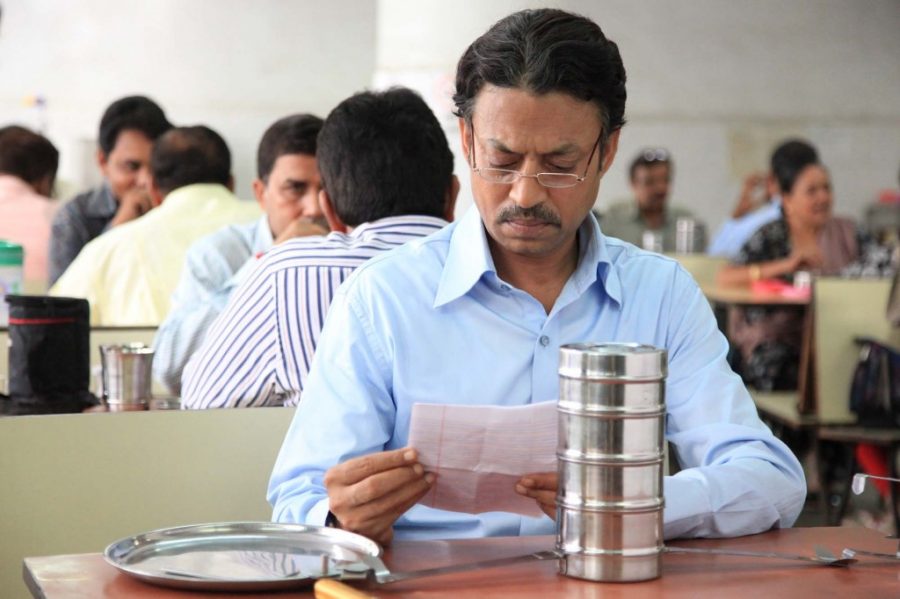 With a population of roughly 12.5 million people, it's hard to think anyone can be lonely in Mumbai. Housewife Ila (Nimrat Kaur) feels just that, as her neglectful husband spends more time looking at his phone than at her. The only interaction she gets outside of her young daughter is with an upstairs neighbor that she communicates with by shouting out the window. To try and grab her husband's attention, Ila begins putting extra effort into cooking his lunch, which is delivered by Mumbai's famous "Dabbawallahs", or lunchbox deliverymen. The Dabbawallahs deliver millions of meals a day from homes and restaurants, and according to a Harvard study only one in a million lunchboxes is ever delivered to the wrong place. "The Lunchbox" is the story of that one box.
Ila's delicious meals land on the desk of Saajan Fernandes (Irrfan Khan), a lonely older man one month away from early retirement. Forced to train his replacement, a cheery orphan named Shaikh (Nawazuddin Siddiqui), Saajan shows himself as a rather unkind man, only concerned with his own business. But when Ila's meals begin to inexplicably arrive, the forlorn Saajan begins to smile again. The two lonely people begin to send notes back and forth in the lunchbox, and despite never meeting, form a beautiful bond.
"The Lunchbox" is the debut film of Ritesh Batra. Despite being produced in India this is not a Bollywood film, and is closer to a romantic comedy of Hollywood. But to classify it as a rom-com doesn't do this delightful story justice. The notes sent between Ila and Saajan are not sappy or cutesy, but personal stories that affect each other in intimate ways. It's clear that both these tired souls desperately needed someone - anyone - to connect with. Just think, whenever you make a new friend, you've found someone that doesn't know any of your old stories. These two have had no new people enter their lives in so long that their pasts have become meaningless. By finding each other, they once again get to remember all the things that once made them happy. By sharing these thoughts, it enriches their present.
Ritesh Batra captures the hustle and bustle of Mumbai and balances it well with the solitary lives of Ila and Saajan. Loud scenes of crowded buses and trains are often contradicted by quieter scenes in Saajan's office. Taking one step further, as Saajan reads Ila's notes, her voiceover becomes the most peaceful sound in the world and makes the office seem cacophonous by comparison. Batra's clever use of sound and parallel imagery is paramount to highlighting the connecting between our separated protagonists.
This is a remarkably simple story with a fascinating premise that, despite feeling like a Hollywood film, would never be found in America (since we don't have anything like Dabbawallahs). "The Lunchbox" is a wonderful insight into Indian culture, as well as an enriching love story. It will also give you one hell of a craving for Indian food.