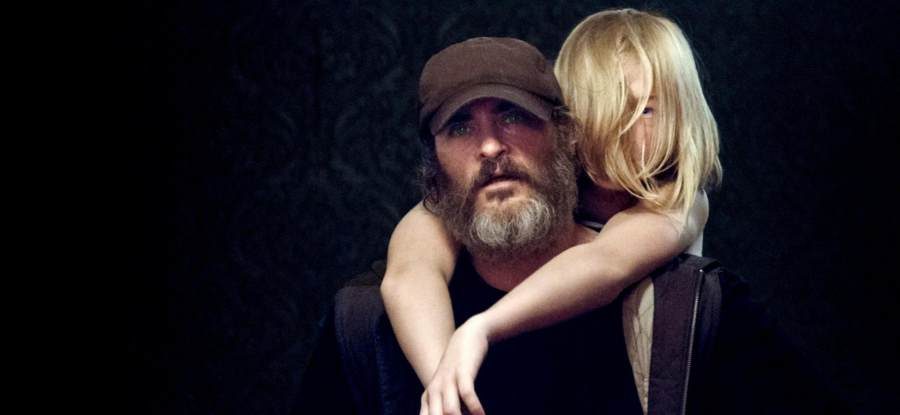 It's been six long years since Lynne Ramsay's We Need to Talk About Kevin shocked and terrified audiences. She may not direct many films but her skill is undeniably first rate and Ramsay films have become synonymous with psychological stunner and unforgettable performance. So goes her latest effort You Were Never Really Here, an adrenalized hyper violent thriller that takes Ramsay's distinct melding of image and sound to a jaw dropping new level. As a tortured veteran who spends his present days infiltrating the darkest corners of New York City rescuing missing girls, Joaquin Phoenix unloads an incredibly nuanced and devastatingly emotional performance.
The sound design is used to place the viewer into the head of Phoenix's unstable gun for hire, Joe. Conversations being had by passersby are heard at an unnatural level, mixing with the voices from his traumatizing memories and the loud urban landscape of traffic, car horns and wind. Images trigger and morph into memories as reality blends seamlessly into memory and back again. All these sounds and images combine into a collective sensory assault that gives you just a taste of what it's like to be Joe. It makes complete sense why he would be the kind to take on the dangerous job of a hired gun, one who prefers to use a hammer over a much noisier firearm. Joe is so fraught with mental anguish that he's constantly looking for ways to hurt himself—many times even casually—and it's terrifying to watch.
You Were Never Really Here is a dark film with subject matter depicting the most despicable of criminal activity and a steady flow of violence but, for all its brutality, it remains a film about the preservation of humanity in the face of pure evil. This is all too clear in the love and patience Joe shows as he cares for his aging Mother (Judith Roberts) and especially in a memorable moment of calm compassion between him and a wounded gunman. The film also presents a fascinating way to tackle PTSD by actively engaging the audience in the protagonist's sensory experience, giving a fuller understanding to the chaotic nature of his mental health.
Charging through its crisp eighty five minute frame further fueled by a fantastic and energetic Jonny Greenwood score, Ramsay's flawless thriller is an intense and cerebral ride with absolutely zero fat on its bones. Lynne Ramsay and Joaquin Phoenix are simply a match made in cinema heaven.
---