The Annual Animation Show of Shows is the place to find the best, most acclaimed animated shorts of the year and it often includes at least one of the year's Oscar nominees. The show will screen in Los Angeles at Arclight Cinema Hollywood from September 24-October 1 and in other parts of the country in the upcoming months.  Here is a rundown of this year's shorts, our favorites, and which filmmakers you should keep an eye on.
TOP PICKS: We Can't Live Without Cosmos, World of Tomorrow
FAVORITE FIRST FILM: Snowfall
WOULDN'T BOTHER: Tant de Forets, Messages dans L'Air
The Story of Percival Pilts
It's rare to find your bliss so young in life, and once Percival Pilts finds his, he doesn't let anything get in the way. His passion isn't just any normal one, it's a passion for height. As a child, Percival declares his love for stilting and his ambitions take him higher and higher, forcing his family and society to adapt. This charming little stop motion short acts as a whimsical parable for utter devotion to a dream and the havoc that devotion can wreak.
Presented with a Seussical narration, the lovely film by Janette Goodey and John Lewis proceeds elegantly apace, covering Percival's entire lifespan in eight minutes' time. The gorgeous sets show a particular attention to texture and color. With charming details, like post-it note leaves on trees, one could very well be inside an I SPY book or very jolly, Victorian train set. But, in the final moments of the film, when Percival's dreams take him higher than buildings, away from family and society, the emotions felt are more than quaint. The Story of Percival Pilts, and his journey on stilts, tackles the very real difficulties one must confront when a passion is just too strong to resist.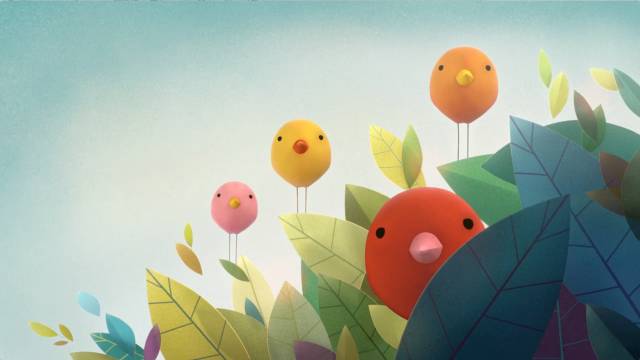 Tant de Forets (So Many Forests)
In a graphic, Nina Paley-meets-Pixar take on the titular French poem, this short warns its viewers of the dangers of deforestation. Originally part of an educational series in France, it does not quite rise out of the didactic genre. Though visually, the film is quite unique, the simplicity of the poem, a fairly flat narrative delivery, and the clean lines of the animation hold it back from being truly effective. Tant de Forets is most impactful at the start, before the poem begins, where the creators are freer to experiment. We witness beautiful, slightly abstract representations of forest animals being disrupted by what is ultimately a large machine at the center of the earth — a gorgeous visual concept. Unfortunately, this time I am left wondering if filmmakers Geoffrey Godet and Burcu Sankur should have chosen better source material.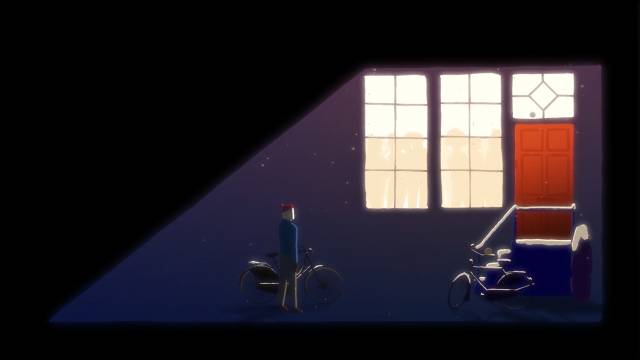 Snowfall
Filmmaker Conor Whelan has chosen the perfect subject matter for a short film: a single moment. Or rather, all of the many complicated emotions that go into a single moment. The beauty of Whelan's Snowfall is in its utter simplicity and relatability of story. The film depicts a young man, who anxiously drags himself to a party and makes a connection, only to be soon rejected. While the story is ubiquitous, the visuals are entirely unique.
Using elegant hand drawn animation, Whelan experiments with negative space and framing to focus attention and isolate the main character. While most of the film is quiet as its title, there are moments of abstraction where the medium is used to emphasize emotions — for example, when Guy is feeling anxious pre-party, he flits about his apartment like a ghost on the fritz, and when Guy finally meets someone, we are suspended in space along with him, where bottles and solo cups float by, unnoticed. A simple story of fleeting love, Snowfall elegantly explores deep universal emotions through beautiful animation.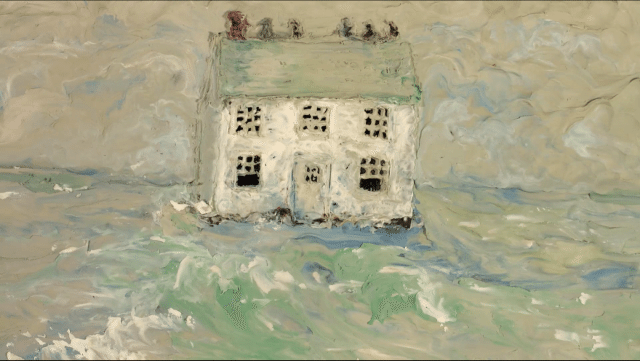 The Ballad of Holland Island House
Inspired by the true story of the last house on a sinking island in the Chesapeake Bay, filmmaker Lynn Tomlinson's gorgeous style of evolving, animated clay paintings explore themes of environment and metamorphosis set to a ballad that sings the tale of the wood that made the house. A clearly intentional tribute, watching this film is like living inside an Early American Impressionist painting. The motion of the images as they blend into one another visually evokes the themes of endless change and transformation. The music carries the viewer along and its lyrics tell a fairly straightforward, didactic tale in a style reminiscent of old Irish folk ballads. While appropriate enough for the aesthetics, the song falls short in comparison to the beauty of the visuals. With slant rhymes, wordy stanzas and an educational feel, the soundtrack ultimately stifles some of the inherent rhythm of the film. But minor quibbles aside, the film is a visual delight, and effectively immerses its audience in a small, rather beautiful slice of true American history.

Behind the Trees
Notoriously explosive artist, Dresden Dolls singer, TEDtalker, self-proclaimed "professional party thrower," and eyebrow adventurist Amanda "Fucking" Palmer brings us a sweet little morsel of her married life with Neil Gaiman in Behind the Trees. A sketchy animation, reminiscent of office doodles, this film is inspired by a voice memo Palmer found on her phone. It's a recording of Gaiman's sleep mutterings; apparently he's still a writer, conscious or not.
The filmmakers riff off of Gaiman's REM-thoughts in an abstract, free-association dream-doodle built around the topic of there being potentially many Gaimans in existence, hiding behind trees… or something. While not earth shattering, the film is a cute surface dive into the subconscious.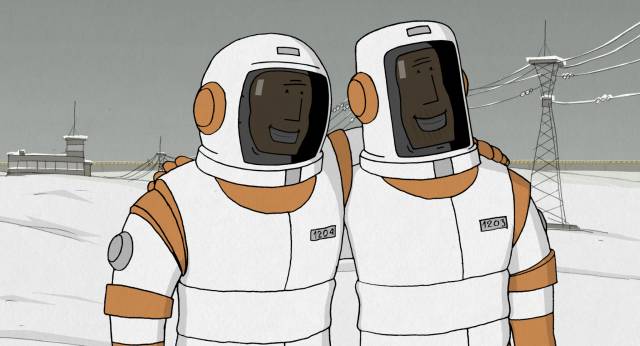 We Can't Live Without Cosmos
Acclaimed director Konstantin Bronzit's latest short film gets to the heart of loss in perhaps the most poignant buddy film this year. With goofy, though skilled, 2D character design, the film starts off with the promise of comedy. Two best friends, cosmonauts, are in training to make their dream of going to space a reality. Though dialogue-less, the film does an incredible job of expressing the strength of bond between the two friends.
Bronzit flips the comedy with ease in the second half of the film and may well leave his audience in tears by the end. This ease comes from the sophistication in his well-practiced storytelling. Every detail has a purpose, every comedic moment has a melancholy foil. This clear, simple, and elegant structure works to pack a powerful punch. We Can't Live Without Cosmos turns a buddy comedy into an evocative exploration of loneliness and the power of friendship.

Messages Dans L'Air (Messages in the Air)
Isabelle Favez's film Messages in the Air is an abstract meet-cute made entirely out of paper. A simple story of two neighbors falling in love, the film is reminiscent of kids shows like Sesame Street and Blue's Clues in its playfulness and warped sense of space. The main plot line is a humorous interaction between the neighbors' pets: a cat (hers) and a surprisingly robust goldfish (his), who survives death and total digestion several times. Favez takes delightful liberties with the medium in some of the most charming moments. At one point, a speech bubble showing a boxing match playing on the radio literally punches itself off a table. With simple lines and a simple story, Messages in the Air is a whimsical romantic short that explores space and time with glee.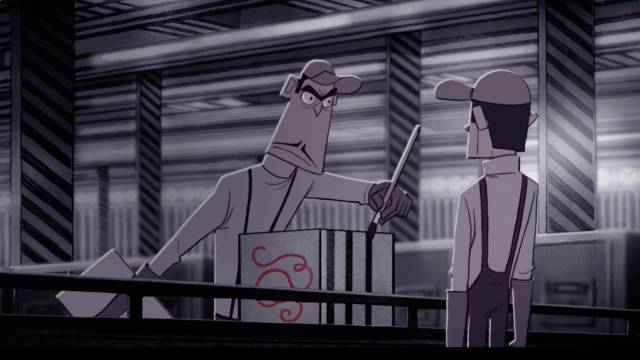 Stripy
What could be more joyous than a little rebellion every now and then? This Iranian short celebrates chaos in the ultimate setting of order and mundanity: a box factory. Presented in grey tones, the factory workers bleakly paint stripes on boxes as the come down the conveyor belt. They carry on in perfect symmetry until one worker breaks the machine with a loopy, bright red squiggle. Total mayhem.
The film by Babak and Behnoud Nekooei is set to Johannes Brahms' Hungarian Dances - No. 5, proving once again that nothing suits animation better than a raucous orchestral classic. Fun and unique character design makes the story easily identifiable. And the music complements the quick cuts and complicated factory shots. With great flow and exciting visuals, one willingly buys into the film's message: keep creating, keep making trouble, stay one step ahead of the man, always.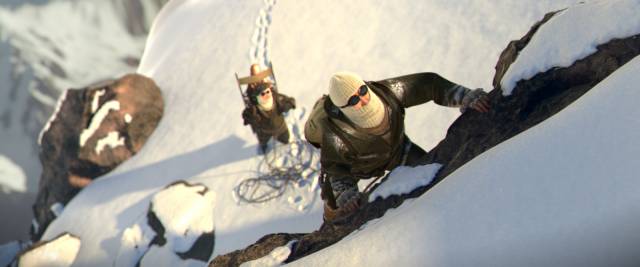 Ascension
Depending on ones faith, this short could be lightly comical, exceedingly dark, or wildly offensive — at least it isn't boring.
With incredible photo-realistic CGI, the team behind Ascension pokes at the myth of Sisyphus, and snickers in the face of religion, with a story of two climbers struggling to transport a statue of the Virgin Mary to the top of a mountain. They face a hilarious, or depressing, (or hilariously depressing), number of obstacles along the way that test their faith.
The ultra realistic animation adds to the comedy, giving a layer of seriousness that makes improbable antics all the more amusing. Ascension is a bold film that explores uncharted comical territory.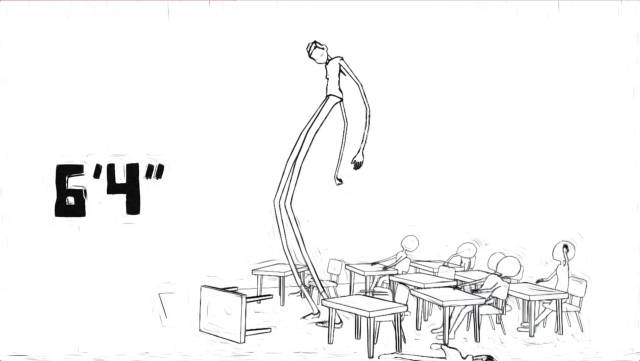 Love in the Time of March Madness
Melissa Johnson's true story makes for a "tall short" with Love in the Time of March Madness. A popular first person essayist, Johnson has made a post-basketball career out of exploring what it's like to be different. This trippy, black and white animation follows the same theme. She hit 6'4" in 8th grade and has been struggling with standing out ever since.
Johnson narrates while the slightly scary mixed media linework jumps and evolves to the story. The style works to add a sinister note to Johnson's somewhat cheery narrative tone. Ultimately, the tale of not fitting in is a well worn and easily identifiable one, making Love in the Time of March Madness a film that many will enjoy.

World of Tomorrow
The Annual Animation Show of Shows closes with its pièce de résistance, Don Hertzfeldt's new masterpiece, World of Tomorrow. A feat of storytelling and craft, the short film lives in a time-bending outer-worldly realm. The main character is a little girl, Emily Prime, who is visited by a distant future clone of herself. The two Emilys travel through space and millennia while the Emily clone explains her dark and lonely life in the inter-planetary system.
In classic Hertzfeldt style, the characters are not more than stick figures, but manage to emote so much. This film is as important and evocative as any other venture into science fiction, this year or any other. The film's bleak outlook is peppered with dark humor and demonstrates Hertzfeldt's far reaching understanding of humanity.