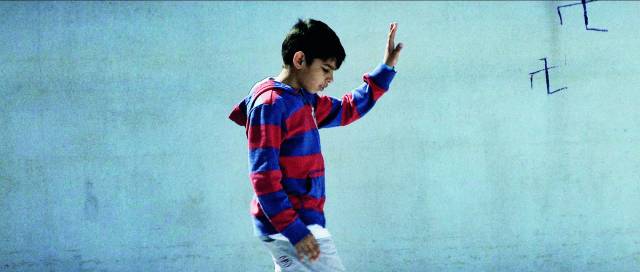 Toto (10), Andreea (14), and Ana (17) live in a filthy apartment with no appliances or running water. Their mother was arrested for drug offenses and the door is still damaged from when the police broke it down; the siblings talk endlessly about when their mother will come back. Officially the children are under the care of their uncles, but their uncles are drug addicts and not qualified to be parental guardians; they use the apartment to gather with friends and take heroine. Director Alexander Nanau never shies away from showing the reality of the children's lives—trying to sleep while a roomful of junkies shoot-up is one of the major difficulties these kids are faced with in the film. With no jobs, money, food, and no prospects, these siblings need to stick to together.
Toto is young and needs his sisters to look after after him. Ana tries, but her uncles, instead of caring for her, introduce her to heroine and she gets hooked. The police subsequently storm the apartment looking for drugs and Ana goes to prison. Considering the environment, up until this point Andreea has been largely absent, often sleeping at friends' houses, but now that Ana is gone she must stay and look after Toto. Then hope glimmers as brother and sister find themselves welcome at an educational club for children where Toto learns to dance, and Andreea gets the basic education she missed by not going to school.
A thoughtfully engaging addition to the film is in deciding how to classify it. If Toto and his Sisters did not identify itself as a documentary, one might have difficulty deciding what it actually was. While the cinematography looks very much like the style of a documentary—images remaining mostly un-processed and minimal post-production—and subject matter is indigenous content worthy of a documentary investigation; it is the characters and the content of the scenes that seemed staged. Everything seems very meticulous and arranged. It is as if the characters are acting, or at least performing (Toto does put on a great show in this film) instead of just being normal people. But does it really matter? All elements considered, Toto and his Sisters seems to sit loosely somewhere between the category of documentary and scripted feature film, but can firmly be categorized as totally worth the watch.