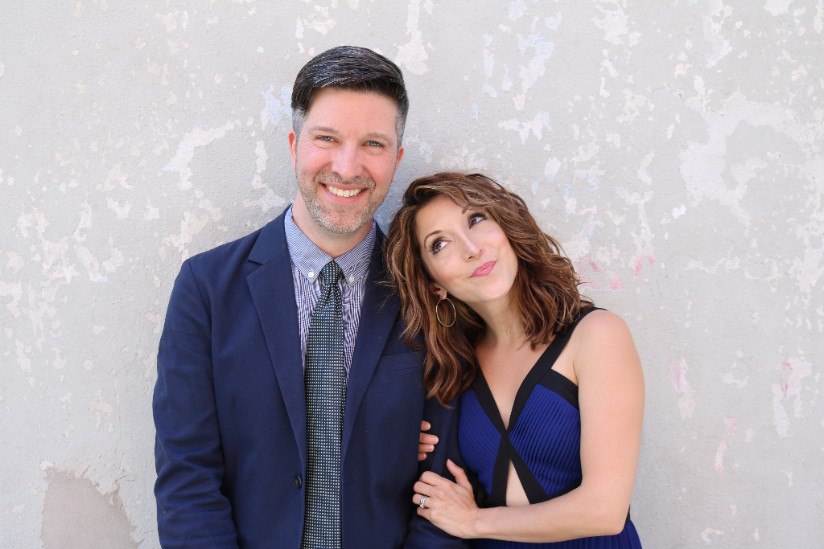 I'm a fan of Christina Bianco, ever since I first saw her perform on our very own StageBuddy live show we used to do at the Players Theater on MacDougal Street (Hmmm, maybe we should start that up again?). This is before she 'hit it big' with viral videos of her musical impressions, and before she had her multiple runs Off-Broadway, West End, tours, and two Drama Desk nominations. She is bright, bubbly, smart, funny and super-talented with an amazing voice and a control of the stage.
With that said, I saw her recently at Birdland with a show she's put together with pianist/vocalist and music director, Brad Simmons. The show is called "The Long and the Short of It" -- she's 4'11 and he's 6'2, get it?  It's a fairly straight-forward cabaret experience, pulling from a musical repertoire that includes Lionel Richie, Bob Seger, Paul Simon, the Gibbs, Billy Joel, James Taylor...you get the point. It's a jukebox of mostly '70s/'80s songs that are easily recognizable and fun to listen to.  Bianco and Simmons trade funny banter between themselves and the audience -- both of these performers are highly experienced and polished pros -- while also trading off singing the songs.
The show is good, and it's solid since you're watching two talented performers. It's not a cabaret that's been worked on to death (although obviously thought has been put into its creation), but instead feels more like "hey, let's jump up on stage and do songs we'd like to do." With that, there were a few stumbles along the way. The first couple of songs of the show, while nicely arranged and sung, were just a little too low key, and there was a disconnect with the dialogue about having a "party" while playing Bob Seger's "We Got Tonight" (a great song, but not exactly a party song). But soon after, a groove was found and the audience was brought along for the ride.
Christina had Edith Piaf singing Abba – hysterical! Click To TweetWhat really breaks the show away from standard musical revue -- and brings it to a higher level -- is when Christina struts her stuff as a musical impressionist. She did the song "Tomorrow" (Strouse/Charnin from Annie) as a collection of divas (Julie Andrews, Kristin Chenoweth, etc.) that brought the room down. Then she topped it later in the set with a collection of "Unlikely Interpretations," which included Shirley Bassey singing "Walking on Sunshine" and Edith Piaf singing ABBA – hysterical!  Christina's vocal humor mixed with Brad's musical arrangements are a winner!
Another highlight of the show was Brad's version of Billy Joel's "Summer Highland Falls" -- beautiful.
All in all, a fun time and with many highlights. Bottom line, if you get a chance to see them perform in the future - GO!
More about the performers at: