Somewhere, in a Victorian mansion, on the very top floor, in the attic, behind a wall hanging, is a small closet, and locked in that closet is an early recording that is growing older and decaying. This Wilde/Dorian Gray explanation is the only one I can come up with for the miracle that is Judy Collins's voice. The folk legend's sweetly soaring soprano is every bit as pure and crystallin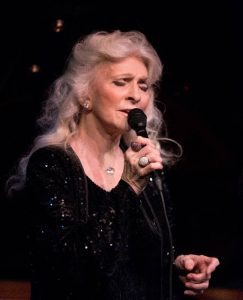 e as when I first heard it on recording in my long-ago college days. Collins was a seminal force in my music listening, introducing me to everyone from Joni Mitchell to Leonard Cohen to Kurt Weill, and showing me the possibilities of song interpretation with songs by Bob Dylan, the Beatles and others. As time went by, her own writing abilities impressed me more and more as well.
There have, of course, been a few surface changes over the 57 years of her career: on the one hand, the silken tresses have become a shock of billowing white hair, while on the other hand the, youthful passion of her performing now possesses a gorgeous patina of wisdom and maturity. The show she is presenting at the Café Carlyle is packed with highlights from her remarkable career, sprinkled with some brand new material, courtesy of her guest star, singer-songwriter Ari Hest. Her Joni Mitchell offerings include her opener, "Chelsea Morning" and, a bit later, the crowd-pleasing "Both Sides Now." Reminiscing early in the show in her always entertaining and personal patter, she sings bits of songs from her childhood a cappella, climaxing with a full length, "Golden Apples of the Sun" a traditional folk song from her second album, in 1962, that proved an unexpected treat, filling the room with unadorned and unaccompanied beauty.
She pays tribute to her friend, and Nobel Prize winner, Bob Dylan with a pointed "Masters of War" and an exuberant "Mr. Tambourine Man." The latter is preceded by her reminiscence of being present at the creation of the classic. Of more recent vintage, is "When I Go" (Dave Carter, Tracy Grammer), a solo version of her wonderful duet with Willie Nelson on her last album, "Strangers Again." The title song from that same CD brings on its co-writer, Ari Hest, who joins her on several selections; his booming low notes provide lovely counterpoint to Collins's angelic highs. In the midst of so many iconic songs by iconic songwriters, the songs that they wrote together do not always hold their own, but two of them, "Silver Skies Blue" (the title song of their new CD) and "Slow Burn," are quite well done.
Seated at the piano, Collins makes her classic "The Blizzard" even more moving than its original version. I found myself wishing this song could last an hour, so that I could continue to be mesmerized by its literate, captivating lyrics and haunting melody. She has great fun with Ian Tyson's "Someday Soon," and, of course, she includes a quietly thoughtful investigation of her major hit, Sondheim's "Send In the Clowns."
My one complaint, and it continued through the evening, is that someone (perhaps the singer, perhaps her producers, perhaps the tech director) chose to boost the reverb on her microphone to ridiculous levels. When she spoke there was a warm, natural sound, but as soon as she started to sing it was as if she were shouting her songs on a mountaintop in the Alps. The beauty of her sound survived and my ear was able to tune out the distraction much of the time, but I wish it had not been there. It was in no way necessary to augment that stunning voice in this way.
As the evening closed, she returned to the piano and hushed the room with Leonard Cohen's "Suzanne," filled with melancholy and fragility and gossamer beauty. I went out into the night on a high, only to discover right outside the Carlyle that Cohen had passed away that night. The beauty of Judy Collins's performance proved a great solace as I tried to grasp the reality of his passing.
Café Carlyle  –  November 10 - 19