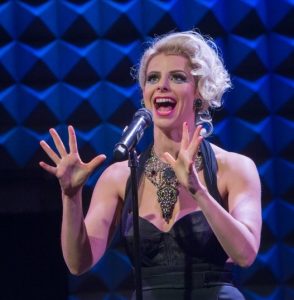 Since her early days of "diva-dom" at the legendary Continental Baths, to her triumphs on Broadway and in Vegas, to her decades of touring and recording and filming, Bette Midler has influenced generations of performers hoping to capture her uniquely entertaining combination of broad, risqué humor, solid musicianship, and consummate showmanship. Often, particularly in the earlier days, this took the form of slavish imitation that more often than not failed. But there are exceptions: performers genuinely inspired by Midler's energy and talent but who apply them to their own voices and styles.
A case in point is singer-comedienne-actress Lady Rizo, currently on view at Joe's Pub in her new show, "Multiplied." While Midler used the Vaudeville-Broadway-Borscht Belt style that immediately preceded her as the vehicle for her particular strengths, Lady Rizo fills her act with elements of performance art and glitter rock, and confessional comedy that relies on wit and situation and wordplay rather than Midler's physical comedy and boffo punch lines. But she does share with Midler an antic spirit and a heart big enough that even the quest for modern coolness and quirkiness can't extinguish its warmth.
"Multiplied" takes its title and its content from Rizo's experiences during the past year, in which she completed a hectic touring schedule and, in her words, "got knocked up and had a human baby." How the pregnancy and birth affected her as a performer and a woman informs the show and allows for a number of hilarious, and sometimes touching, moments. Her delivery (with subtle echoes of Joan Rivers and Sandra Bernhardt) remains uniquely her own throughout the long (but not overlong) evening and makes even some expected comic turns seem fresh and funny. She gives us glimpses of her own parents and childhood and how she is trying to keep the best of her past and improve on the worst of it.
She is so good at the "stand-up" portion of the show, that the music might seem superfluous if she didn't also possess a damned fine voice. The songs are an interesting mix of contemporary pop and originals, and the soundscape created by Yair Evnine on cello, guitar, electronics, voice, and whistling is never less than entertaining and often a good deal more. She enters through the audience singing "The Beautiful Ones" (Prince), and at its end, as she practically chants "…I wanna please ya…" over and over, one wonders whether the object of this desire is the audience or her newborn child. She returns into the audience a number of times, but it never seems arbitrary. This is a smart, structured show in the guise of a breezy, wacky, unplanned romp. There is an onstage costume change to rival any I have seen, as she brings a hapless audience member to join her under a tent of chiffon that looks like a large white jellyfish. She interviews him about his parents and family life as she strips (in silhouette) and slips into a slinky, silver gown that would have done Marilyn Monroe proud.
The rest of the songs tend to blur together because, while her instrument is fine, when it comes to the actual singing, she is not varied or inventive in her vocal dynamics. She climaxes or concludes way too many numbers with a loud single note that she holds so long that it has no purpose other than to milk applause from an audience weaned on such senseless vocal gymnastics. She stands on stage and throws her head back as if she were yodeling─Whitney Houston had the same irritating habit. A few too many songs just stop rather than end in a satisfying way. I wish that Lady Rizo would invest the lyrics and story of the song with the same thought and specificity that inform the comedy bits. She clearly has the acting chops to do this, but, instead, she chooses to repeat herself musically, with little attention to the meaning of what she's singing. There is one exception to this: after relating the story of a trip to Ikea that opened her eyes to the challenges of breastfeeding in public, she presents a lovely lullaby called "I Have Never Loved Someone" (Shara Nova) that could easily have backfired horribly, but instead left me in tears.
There is a big climactic physical number involving the entire audience that I will not reveal; let's just say that it, too, could easily have died a horrible death, but all the while it is going on, Lady Rizo shares with us her fears and hopes as she begins the adventure of raising this new "being that has passed through [her] va-gine." The number is overlong, but made palatable by her innocence and openness as she tries to communicate to the audience the profundity of what has happened to her. She wonders where she will find a village to raise this child when villages no longer exist; she questions how much of her show business career would be healthy to share with her son. She expresses all the hopes and fears and questions of a parent of any time and any place in such a gentle and simple and moving way that she actually made me feel more hopeful about the state of humanity than I had been when I entered Joe's Pub. That is a pretty tall order for a cabaret show to deliver, but in "Multiplied," Lady Rizo does just that.
"Multiplied"
Joe's Pub  –  July 19, 20, 25, 26