Lindsey Brett Carothers has been in a number of musicals, among them the off-Broadway hit Mad Libs, and she has guest-starred in a number of cabaret reviews and tributes. (I first saw her at the Duplex in the ongoing series Madame Mathieu's Soirée; she was one of the reasons I liked that show so much.) Having to deal with auditioning and c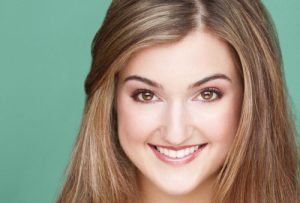 asting directors, as well as with her friends', family's and her own expectations of her as a performer, she began to question her career and, as she says, "her existence." With some procrastination and lots of fear, she decided to do a cabaret show in which she would figure out exactly what it was that she wanted─on stage, in front of people. Thus was born her debut show, "The Voice Within."
As I discovered in the Soirée, she is a tiny dynamo: big voice, energy to spare, and very funny. She demonstrated all of the above to great effect in her show. Her taste in music is very much young and "of her time," so the repertoire was refreshingly unusual for the cabaret stage. Her opening number was Kesha's "Crazy Kids" (Kesha, Lukas Gottwald, William Adams, Jordan Houston, Henry Walter Benjamin Levin)─think back to poor Cole Porter, Bob Dylan, and Stephen Sondheim, who had to write both music and lyrics all by themselves. Carothers managed to send up the newly minted clichés of current pop music (complete with hilariously aerobic choreography both on and off a stool and a ridiculous rap section) while at the same time delivering a strong musical performance of it. Her physical humor continued throughout the evening and became a vital element of her performance.
She has a knack for mimicry, and she did a "medley" of impressions, some as brief as a look or a word, others much more involved, but all delightfully accurate and lovingly exaggerated to point out feet of clay wherever she found them. I liked that she didn't shy away from sacred cows, skewering the likes of Patti LuPone, Alice Ripley, and Bernadette Peters. The segment climaxed with a full-on performance of "I Drove All Night" (Billy Steinberg, Tom Kelly) that celebrated Céline Dion's big, dramatic voice while deliciously sending up her histrionics.
Complaining about the life of an auditioning singer/actress, she boiled it down to what people expected of her as either a brunette or a blonde, and how each persona could define and limit her performance. This led to Avril Lavigne's "Complicated" (written with Scott Spock, Lauren Christy, and Graham Edwards), a good song on its own that became even better as it morphed into an antagonistic duet with a blonde wig on a mic stand─her real self vs. the self the world wants her to be. After this, she confessed to being torn between the roles of Glinda and Elphaba in Wicked, and to illustrate her dilemma, applied green tape to one side of her face and splashed glitter on the other and leapt into a lengthy medley touching on pretty much every song in Stephen Schwartz's score, including the witches' duets. She pulled this off almost magically, and turned it into a showstopper.
The show ended with a group of "serious" numbers by Alanis Morissette, Katy Perry, and Christine Aguilera that might have worked as a progression from the hilarity of the earlier portion of the evening into a message of sorts, but the vocals stayed too slavishly tied to the phrasing and note runs of the original recordings to make them interesting. She seemed bogged down in re-creation when she should have concentrated on interpretation. Her director, Marshall Pailet, let her down here even though his comedic staging was strong throughout the show. As an unseasoned cabaret performer, she has yet to master microphone technique, and placed the mic too high and too close to her mouth. The sound too often became piercingly loud and distorted her voice. Jessie Linden provided understated percussion in support of the good, if uninspired, piano and guitar of music director, Andrea Grody. The arrangements rarely reflected or supported the humor that was so much a part of the performance.
"The Voice Within" introduced a powerful singer, a clown of the first order, and a talent to watch. I hope that Lindsey Brett Carothers gives the cabaret world another visit soon.
"The Voice Within"
The Duplex  –  August 7