Singer-songwriter Matt Alber's "The End of the World" has become a staple in New York cabaret, which is not surprising considering its soaring melody and dramatic, poetic lyrics charting the break-up of a love affair. But as Alber showed in his recent show at Joe's Pub, he is far from a "one hit wonder." He is a first-rate songwriter and a wonderful singer; his gentle, yet strong vocals reveal a beautiful voice that is a welcome throwback to the age of sensitive singer-songwriters like James Taylor, Jackson Browne, and John Denver. One can just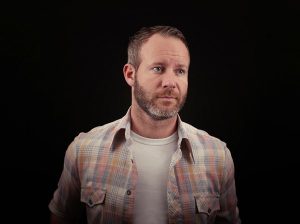 sit back and luxuriate in the rich, grainy baritone sound (which sometimes rises to a sweet countertenor) honed over years of classical training and as a member of the Grammy-winning vocal ensemble, Chanticleer—a voice that captures the audience in a rough caress.
Coming on stage, he giddily informed the almost exclusively male crowd (I counted three women in a full house of men, of which many were hirsute and/or bearded) that he had just come from Provincetown, where he played to crowds of bears. He was still on a joyful high from the experience. It seems he has become the unofficial troubadour of the bear community and is enjoying that status. Using a traditional Appalachian folk song as practically an invocation (he said it was as close as he got to spirituality) to begin the show heightened the communal feeling that grew with each song. I don't mean to imply that the material or performance was in any way exclusionary to non-gay audience members, but there was an open, easy, unassuming presentation of the gay-related material and of the accompanying masculine pronouns and objects of desire (or pain) that was most refreshing. Alber had no axe to grind; he was just being himself and letting the audience discover the universality in the stories he told and the messages he communicated.
In "Monarch," he imagined himself a butterfly spreading wings for a first flight with a hundred of his brothers, and sang of "some strange memory of how to fly, of what to follow [that will] lead me to the origin of me, pre-history," and of "the songs of old and wiser ones who flew this path before me." The heady poetry of this is juxtaposed with the simple words of "Field Trip Buddy," describing the excitement of a first crush, or maybe even first love, as two boys on a trip from school, hands and arms pressed against each other in the last row of a darkened auditorium, promise to be buddies. It's a sparkling cameo of a situation easily recognized but rarely sung about.
"Spectacularly" and its preceding patter provided a bit of lighthearted pandering to New York, home of "the handsomest men in the world" (a sentiment met with much applause for some reason): "Boy, can't you see your sweetness supersedes most sectors of the species…Spectacularly." He got more serious on the same subject with "Handsome Man," which he referred to as his Billy Joel number. His overtly country song, "House on Fire," found him at his most John Denver─complete with his own, quite charming version of yodeling. He was joined by special guest Celisse Henderson (from the Broadway revival of Godspell) in a duet that they had debuted last year at Lincoln Center's American Songbook series: a slowed-down and quite stunning arrangement of Whitney Houston's hit "I Wanna Dance with Somebody (Who Loves Me)" (George Merrill, Shannon Rubicam) that transformed the lively insistence of the original into a meditation on need and desire. It was, in a word, spectacular.
He saved his big hit for the end, and he did a beautiful version, enlivened at its conclusion when it morphed into a bit of The Proclaimers' "I'm Gonna Be (500 Miles)" (Charlie & Craig Reid). As an encore, he left us with an a cappella version of Irving Berlin's "Always" that was simple and haunting─a perfectly lovely postscript to a strong and memorable evening of music.
My one cavil has to do with the piano. When Alber plays guitar, which is most of the time, his playing is rich, intricate, and inventive, enhancing each song. At the piano, his playing was somewhat rudimentary, often seeming to plunk out chords rather than fully accompany the vocals. Fortunately those vocals, and the words and melodies of the songs, were so strong that it helped to mask the insufficiency of the accompaniment. I understand his desire to change the sound of the songs by switching instruments, but I couldn't help wishing that when he sat at the piano he could play with the freedom with which he sings. But this is a minor quibble about a performer I enjoyed immensely.
Joe's Pub  –  July 17