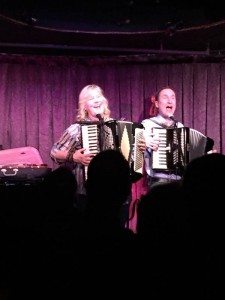 Plan B, a delightfully droll, slightly off-the-wall new musical theater/cabaret piece, is a smart collection of original songs written by composer/lyricist Michael Hicks and woven into a relaxed narrative co-written by Emily Mikesell and Michael Barakiva, who also directs this funny eclectic show with a nice ease.  Mr. Hicks and Ms. Mikesell are the stars of Plan B and have a great rapport with each other and the audience.  They dish up a show that tackles some of the big issues in both their lives: ambition, failure, disappointment, love, loss -- or, as they both conclude, "real life."
Besides a grand piano, the tiny stage at Don't Tell Mama is filled with many stringed instruments, a flute and two accordions since the multitalented Ms. Mikesell and Mr. Hicks also play a variety of instruments.  In addition to being a singer/actor, Mr. Hicks is a well-known accompanist in the New York City musical theater world; singers and actors breathe a sigh of relief when they walk into an audition room and he is sitting behind the piano as musical support for their 32 bars.  Ms. Mikesell was in the original cast of Radio Gals Off-Broadway and regional productions of shows like Ring of Fire: The Music of Johnny Cash and Smoke on the Mountain that require singers to also be excellent instrumentalists.  With a total commitment to their material this duo often play the straight man for each other, adding to the congeniality of their on stage relationship.
Mr. Hicks' songs are a goldmine, superb lyrics with excellent rhymes, well-crafted storytelling, musical diversity and best of all, beautiful melodies.  It is so pleasurable in an era when melody seems to have disappeared from the contemporary songwriter's tool box to hear some captivating ones.  Performers looking for new material should be lining up to purchase Mr. Hicks' music; he writes clever, musically gorgeous, big hearted songs that are perfect for auditions, concerts and cabarets.
Ms. Mikesell and Mr. Hicks open Plan B with "Some People", set to a driving tango beat played by Mr. Hicks on the accordion and featuring some lickety-split lyrics about why folks come to the theater/cabaret with a chorus encouraging the audience to have a second drink.  In another fast-paced uptempo number with Ms. Mikesell on stand-up bass, Mr. Hicks rocks out on the piano channeling his inner Jerry Lee Lewis in "The Decline of Johnny", recounting past loves and warning us to learn from his experience: "don't ever kiss the DJ!"   When Mr. Hicks asks Ms. Mikesell the difference between a violin and a viola, she loquaciously replies that a viola although much maligned and overshadowed by the violin and cello is bigger and better at expressing the deeper darker feelings; a perfect segue into the sweetly comic "That's When I Play My Viola" interspersed with solo viola licks.
Several threads run through the hour-long show: the expected arrival of Mr. Hicks' perfect Italian boyfriend John-Luca, the pervasiveness of the cell phone and all the idiosyncrasies we associate with a show.  These threads create wonderful organic opportunities for songs, like the brilliant duet "Someone Always Leaves at Intermission" with both Ms. Mikesell and Mr. Hicks playing accordions and "After I Am Dead", sung with deadpan earnestness by Mr. Hicks.  As a counterpoint to all the hilarity Mr. Hicks has written some heartfelt ballads; Ms. Mikesell declares that "a global network outage" might not be a bad thing and accompanying herself on the ukulele tenderly sings "I Want To Be Outdated".   In the heart-wrenching yet hopeful "I'm Waiting" she plays the violin and sings some apt lyrics: "Does there come a day...when I'm not besieged with fear...I'm waiting."  When John-Luca, the Italian boyfriend, is a no show, Mr. Hicks reveals his loss with a pulsating rock heartbeat in "Last Week's Song".  "Church" is Mr. Hicks whimsical tribute to a "life consecrated to the stage."
Plan B ends on a sly note: Ms. Mikesell and Mr. Hicks sing "Home Lost" an acappella folk song and bewitch us with a winding enigmatic story, then tell us to "get the hell out", the show is over. Filled with humanity and charming quirkiness, Plan B is a breath of fresh fun air.