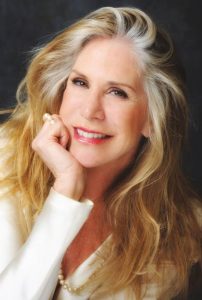 With a seamless blend of songs and stories that will break your heart or make you laugh until you plotz, cabaret singer Risa Finkel is just terrific in her new show Moment to Moment at Pangea, a sweet boîte in the East Village.  Statuesque, with a glowing presence, sweeping blond hair and a gift for effortless patter, Ms. Finkel is a sensational storyteller.  Revealing her experience being a singer in her high school jug band (she played the Clorox bottle) juxtaposed with her love for opera and a desire to emulate Beverly Sills, Ms. Finkel is totally at ease with her audience.  Her versatility is apparent as she talks about her immigrant grandmother's love for singing, regaling us with her Yiddish version of "The Surrey with the Fringe on Top" (Rodgers/Hammerstein) complete with choreography, and then slips into a haunting, take your breath away "Dance Me To the End of Time" (Leonard Cohen) underscoring the song's origins.  Mr. Cohen's inspiration for the song came from the Holocaust; "Dance me to your beauty with a burning violin" makes the connection that as people entered the crematoriums to be killed, fellow prisoners who were musicians would be playing classical music.  Starting the song with just voice and the nuanced playing of bassist Dick Sarpola supplying a pulsing heartbeat, Ms. Finkel brought the audience into a hushed place of loss; her rendition was one of the highlights of this excellent show.
Possessing a dollop of Borsht Belt charm, Ms. Finkel was delightful singing Steven Lutvak's "The Dinner Party," divulging that when asked by the hostess, "And you, what did your family do?" answered, "We were bagel makers to the Czar/The lineage goes back very, very, very far."  She also showed off her comic chops in Leiber and Stoller's "I'm a Woman" and Paul Desmond's "Take 5," woven together with a great vocal duet from the Butch Cassidy and the Sundance Kid soundtrack sung with pianist and musical director extraordinaire Paul Greenwood.
Ms. Finkel called the middle section of Moment to Moment "Cabaret for Adults" as it explored all facets of romance and the affairs of the heart.  Mr. Greenwood's sensitive playing was evident as he created an exquisite musical landscape for "Lazy Afternoon," a song from the 1954 Broadway musical The Golden Apple; Ms. Finkel vocally switched to a warm, creamy sound that she also used to great advantage in a heart wrenching "Dividing Day" from Adam Guettel's Light in the Piazza, Bob Merrill's "Where Does Love Go?" and Sting's "Practical Arrangement."  Ms. Finkel landed the last lyric of Sting's song, "You could learn to love me given time," with such pathos she once again created pin drop silence as the audience took in the fragility of love.  She also introduced us to "Inexpressible," a new song by her friend David Shire, written with his longtime musical partner Richard Maltby from their Broadway-bound musical Sousatzka; Ms. Finkel painted a very moving portrait of a women letting go. Near the end of the evening, Ms. Finkel shared two Jerry Herman songs with us: "I Don't Want to Know" from Dear World, sung with a feverish conviction, and "It's Today" from Mame, a role she definitely should play!
Moment to Moment had a support team of seasoned Broadway and cabaret professionals: Barry Kleinbort's shaping and strong direction allowed Ms. Finkel's genuineness to shine; Mr. Greenwood, Mr. Sarpola and the wonderful John Redsecker on percussion and drums created an intimate sound that matched Ms. Finkel's vocals perfectly.  And speaking of perfection, Pangea is a jewel of a cabaret space; elegant décor, fantastic food, superb acoustics and diverse programming.
Ms. Finkel is a compelling performer and Moment to Moment gives pleasure and much food for thought.  As she sang, "It takes a life to realize what life is all about/And life is all about, this moment" (John Wallowitch's "This Moment"), it's obvious her show is like a stunning string of pearls shimmering with many moments from her well lived life.