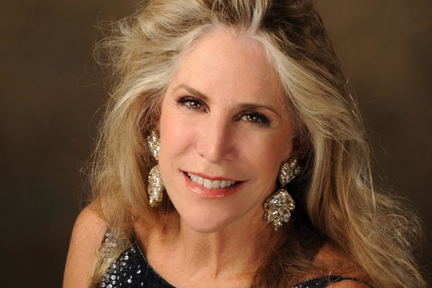 As the cab driver who picked us up from the LIRR Syosset train station pulled off the road and onto a gravel drive, he read aloud the sign out front: "Life is a cabaret? I thought this was a flower shop, since when did it become a cabaret?"
Since when? Since songstress/cabaret artist Risa Finkel had a brilliant idea to pair up with Randy Statham and Philip Claps, co-owners of Scarsella's Flowers in Laurel Hollow, and turn their greenhouse into an intimate concert venue for her new show, Cabaret under Glass, directed by Lennie Watts. Illuminated by hundreds of flickering candles in glass votives, Ms. Finkel and her superb band of veteran New York musicians (Christopher Denny, musical director/pianist, Rex Benincasa, percussion/drums and Bob Renino, bass) inhabited one end of the greenhouse as her audience sat surrounded by flowers and trailing vines for a rich offering of songs and stories. The evening was a benefit for five local Long Island organizations that help children in need.
Exuberant and warm, Ms. Finkel projected a persona that was equal parts Yenta, wise guru and native Long Island gal as she reflected upon life, family, marriage and hope. Her perfect opening number for this setting, Burton Lane and Allan Jay Lerner's "Hurry It's Lovely Up Here" from On a Clear Day You Can See Forever, invited us to bravely bloom as lyrics like Hey, rhododend! Courage, little friend. Ev'rything'll end rhododandy tumbled by.
Her streaked hair swept back and wearing a slivery spangled dress that continually caught the soft glow of candlelight, Ms. Finkel wove a spell with "Pure Imagination" (Bricusse/Newley) and showed off her entrepreneurial skills in Jerry Herman's delightful "Just Leave Everything to Me" from Hello Dolly (Ms. Finkel would be heavenly as Dolly Levi!) with some delicious personalized lyrics by David Friedman.
If you need your ego bolstered or your bathroom walls upholstered/social climbing introductions, expert downward dog instructions/just leave everything to me
In a tribute to her parents, who as children of immigrants made their dreams come true on Long Island, Ms. Finkel's "Somewhere That's Green" (Alan Mencken/Howard Ashman) shed a very different light on an iconic song. Channeling her mother and the days of door to door salesmen led to a sweet rendition of Jules Styne and Frank Loesser's "I Said No" from the 1942 film Sweater Girl. With a flirtatious bop and lots of sass and scat, she and Mr. Renino grooved together on "Back on Base" (David Shire) and her "Yolanda at the Bottom of the Stairs" (Joe Iconis/Robert Maddock) was comic perfection.
It's always heartening to hear mature performers sing about love; they bring layers of experience and deep understanding to each lyric; Ms. Finkel is no exception. Via song, she takes us through the phases of her happy marriage of 44 years, from "You've Got Possibilities" (Charles Strouse/Lee Adams) prefaced with a description of her husband's early fashion choices; peach corduroy bell bottoms with blue patch pockets to the poignancy in "Why Did I Choose You? ((Michael Leonard/Herbert Martin). The highlight of this section was Charles Aznavour's "Quiet Love"; Ms. Finkel, in a hushed voice, signing the lyrics as well as singing, mesmerized us, gently underscoring the beauty of long-lasting love.
Ms. Finkel possesses a smooth buttery sound throughout all her registers; no small feat considering the vocal demands of her material. But it is her depth of expressiveness and attention to story that makes a lovely voice remarkable. Leaving no lyric unexplored, the evening ended with a set of songs reflecting the power we have to change our broken world. Singing with deep conviction, in a stunning arrangement by Mr. Denny, Ms. Finkel wove the thoughts behind Rodger's and Hammerstein's "You've Got to be Carefully Taught" from South Pacific with "Children Will Listen" from Stephen Sondheim's Into the Woods. Finishing with notes of renewal and hope, Ms. Finkel in sync with Mr. Benincasa's percussive heartbeat sang the mystical "Waters of March" (Antonio Carlos Jobim), a tender "You Must Believe in Spring" (Michel Legrand/Alan and Marilyn Bergman) and David Friedman's "We Can Be Kind".
Mr. Friedman's lyrics --  "We can be kind/We can take care of each other/We can remember that deep down inside/We all need the same thing" -- coupled with Ms. Finkel's sincerity acknowledges our interconnected humanity and gently exhorts us to practice kindness, always.