"The Spider Saloff Party" at Cafe Noctambulo at Pangea marked the return of the singer-comedian to the New York cabaret scene, where she once thrived and has always belonged. Since leaving here, she has been living in Chicago and touring the world, mostly as a jazz singe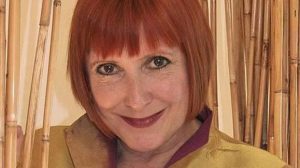 r. While jazz was certainly an element of this show, there were enough cabaret and comedy moments and the always-entertaining presence of Ricky Ritzel on piano to please any of her older fans, many of whom were in the room.
More than ever, there was a simplicity of phrasing, a fine actor's way with storytelling, and a musician's mastery of rhythm and time that combined to make her an even more accomplished entertainer. She is, to use a well-worn phrase, at the top of her considerable game. As Ritzel began to play the strains of "Autumn Serenade" (Sammy Gallop, Peter DeRose), Saloff strode through the room to the stage with a winning smile and an impish sparkle in her eyes, and once she got there she made the song her own—a feat she continued to do in song after song. After her opener, she confessed that the show was a celebration not only of her return to New York, but also of her imminent birthday. That, plus the presence of so many old friends in the audience, pushed the show to an even higher level of energy than it might have had otherwise.
She transformed "Willow Weep for Me"—first by revealing that its writer, Ann Ronell, wrote the song in response to her hopelessly unrequited love for George Gershwin, and then by stripping the song down to its essence of loss and desire in ways I had never heard before. A natural follow up, "Autumn Leaves" (Joseph Kosma, Johnny Mercer) built gently but surely to a climax of heavenly high scatted notes. Admitting to a fondness for songs before The Great War (she was referring to World War II), she sang a riotous "'Tain't No Sin (To Dance Around in Your Bones)" (Walter Donaldson, Edgar Leslie) ably assisted by Ritzel on wacky vocals. Staying on the comedic and pre-war side, she included Cole Porter's "The Tale of the Oyster" which for me had always been Julie Wilson's personal property, but from that night forward it belongs to Spider Saloff.
She has, of late, begun to write songs of her own, and the selections she included proved her as adept at creating good material as she is at interpreting it. My favorite was a heartfelt, heart-piercing rumination on grief and death entitled "Deep Inside the Rain." The crowd would have thought it remiss if Saloff and Ritzel had not sampled at least a small portion of their classic cabaret show, "1938," and for that they chose one of its memorable moments, the Fats Waller classic "The Joint Is Jumpin'," which started at a funereal pace and did a slow-burn rise to a lightning-fast finale. Having fashioned a Sondheim show in Chicago to be toured with pops orchestras, she did "I Never Do Anything Twice (The Madame's Song)," from The Seven-Per-Cent Solution, to perfection.
A deliberate, slowed down, and passionate interpretation of Irving Berlin's "There's No Business Like Show Business" brought the party to a heady close. It was so personal and so wise that, once again, it was as if we had never heard the song before.
One small reservation about the evening: Other than in "Autumn Leaves," her scat singing fell flat most of the time, sounding hesitant and forced and too similar from song to song. This may have been because straight-ahead swing does not appear to be at the top of the talented Mr. Ritzel's arsenal of pianistic abilities—a situation that might have thrown the singer a bit. Whatever the reason, when they perform together again, trimming the scat might be advisable.
Saloff hinted that the twosome might return early next year with a revival of "1938"—an event we can only hope for. In the meantime, Spider Saloff's party was a smashing success!
"The Spider Saloff Party"
Cafe Noctambulo at Pangea  –  October 15