Interview: Imani Uzuri on 'The Gypsy Diaries', Quilt Making, and Diversifying What the American Songbook Means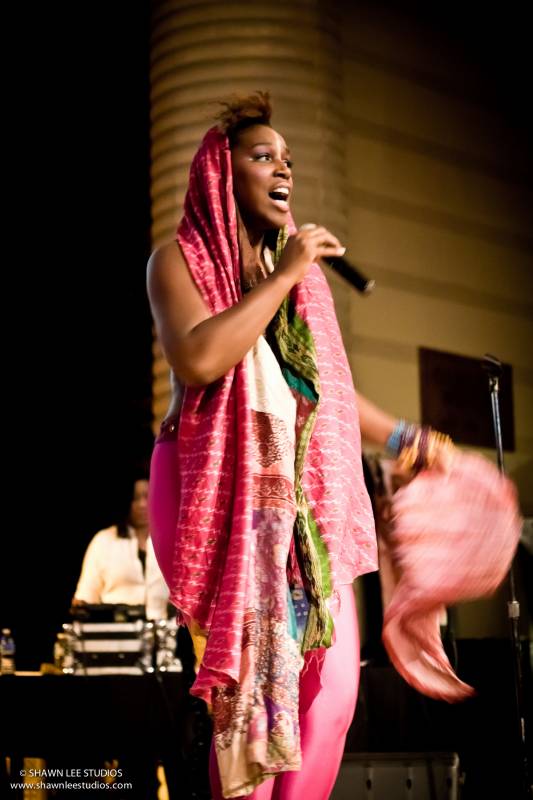 Imani Uzuri is redefining the concept of world music by following the great tradition of female African American musicians like Bessie Smith, and adding a cosmopolitan flavor that doesn't only enrichen her gospel, soulful flavor, but makes it sound fresher than it ever has. In her second album, The Gypsy Diaries, she incorporated instruments and sounds from Eastern Europe, Japan, Morocco and India, to make textures so complex you feel you could almost touch them. Her haunting lyrical work covers subjects like social injustice, lost love, and in the riveting "Soul Still Sings" she pays a beautiful homage to her grandmother. As Uzuri comes to represent the ever changing voice of American music, it's only fitting she will be performing as part of Lincoln Center's American Songbook series on March 31. To celebrate her concert, we spoke to her about her influences, her creative process and her exciting upcoming projects.
This will be your first show as part of the American Songbook series at Lincoln Center. Are you excited?
This is one of my most exciting shows. I was so happily surprised when I got the call from the curator and producer.
You're often compared to Bessie Smith, and you keep perpetuating the legacy of these great women in music…
The comparisons that they often do are Bessie Smith, Nina Simone, even Abbey Lincoln by one reviewer. I think it's because for me, the legacy of this type of tradition, talent and experimentation are very important to me personally. I feel like I'm in a lineage with this type of women, but they're all my heroines, I'm always bowing down to them.
Your albums are great, but I wonder whenever you perform live do you feel obligated to repeat the exact same sounds from the album? How do your live shows differ from listening to the records?
The first album was a rock album, it had elements of jazz, blues, rock and roll, soul, and drum & bass, and then the second album has elements of world music but still has my black American vernacular sound right in the center of it. My live shows are "live",  when I perform I perform exactly who I am emotionally, psychologically. People who come to my shows know my work, so they know they will be getting a very alive experience. The arrangements are not exactly the same, each live experience is going to have its unique take on the music I've written already.
The Gypsy Diaries was informed by your travels, when you sing from this album, do you hope people will experience your vision of traveling, or to inspire them to go and explore the world?
For me the metaphor of the travel is about a physical and emotional journey, a spiritual journey, a psychic journey, so I'm translating my memoir and how I felt, but it's also to inspire people to do their own traveling, most importantly what we learn about other people around the world, what we learn about ourselves, our loneliness, joy, and our connection to the rest of the planet.
Do you find it's challenging to put together a setlist?
I wouldn't say it's a challenge, it's a joy! I always leave room for a little bit of surprise, because when I come into the room I'm also feeling what is the room, what is the crowd, what is the conversation.
Recently I heard someone complaining about how people overused 1 Corinthians 13:4-13, and then I was listening to "Whispering" and in that song you turn it into a mantra. It was beautiful, and I wondered how that came to happen…
Thank you. There's a twist at the end of the verse that's not in the original text, the verse says "Love is patient, love is kind. It is not self-seeking, it keeps no record of wrongs", and I actually believe love is patient, love is kind, loving other people, trying to love the world, self-love, loving things about yourself, things about other people, things about the planet that you want to love more, but I also add "don't f with me" at the end. Some people might think that's sacrilegious, but as a person who wants to live with this principle of compassion - and some people mistake kindness for weakness - so it's like: I'm loving, I'm patient, but don't take it for granted (laughs). We have myriad of ways in which we can love, in spite of other people sometimes you have to take care of yourself.
Similarly in "Gathering", you have this haunting line "I'm living on stolen breath", and I wondered if you've seen your music turn into more of a political statement, given the state of America.
I wrote "Gathering" as a modern day work song, songs that are traditional in the black American tradition, songs when people were put in chain gangs, and we still have this sort of prison industrial complex happening right now. We have the "Black Lives Matter" movement to speak about the injustices that are happening, so on one level it's about this long, unfortunate experience in this country around black Americans' lives, but in a larger context we have a whole history in the world of people who are oppressed and marginalized, and what does it mean, in spite of living on stolen breath, the most important part is you're breathing.
Yeah, The Gypsy Diaries is dark, but it also offers a glimmer of hope.
Thank you.
.Your songs are so layered, there are so many instruments, the arrangements are so complex. How do you know when you've reached the version of the song you wanted to make?
When I first start writing songs - either on my own or collaborating with other musicians - I like to use the live performances to experiment with the arrangements, with the instrumentations, so a live show is like a work shop. I have fun. Improvisation is a big part of black American musical expression, the black American diaspora, so it's important to me as an artist.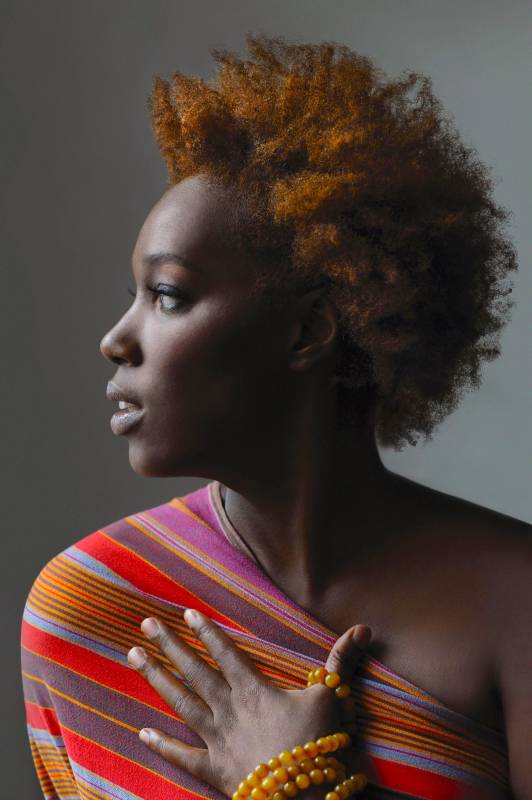 Given the amount of rich sounds in your songs, I was not surprised when I learned you came from a family of quilt makers, because your songs are sound quilts in a way.
I really appreciate you saying that, thank you.
This might sound strange, but do you also make quilts, or are your quilts just in musical form?
I do actually, I think of my musical work, the opera and musical theatre projects I'm working on, I think of all those as aspects of a mosaic and my creativity. The way I decorate spaces, the way I move through the world feel very much like collages or a quilt. I feel that juxtaposition is very important to me because my life is a juxtaposition of all these different experiences, the way my black American culture is informed, how parts of my ancestry known and unknown influence this. I live this experience as a black American woman, part of the African diaspora, and also part of the world. I try to find myself in all these ways.
In a way your songs are short stories, so I was wondering how is this any different from a narrative and structure point of view, compared to the opera and musical theatre piece you're developing?
As a composer I work from the oral tradition, so I use my ears and sound, actual physical sounds from my body to help translate to the instruments and other vocalists what I want them to play. It's a similar process but the forms are different, what I'm writing for musical theatre is very different than my opera, which is going to be different than what I might write for an album. But there are certain themes that are very important to me, like holding on to certain types of black American vernacular traditions, which is what my concert is celebrating, these black American women who understand this kind of tradition like Nina Simone, Sister Rosetta Tharpe, Vera Hall, Sister Gertrude Morgan, Bessie Smith, Mahalia Jackson, Marian Anderson...so for me as a composer it's important to be as creative as possible and listen with a big ear and spirit, to see what is this particular piece calling for. For my album I write the themes of the songs, but for my musical I may have written the lyrics or the book writer might have, or the poet I'm collaborating with might have written the poem I'm setting to music, and so the story in that process, the storytelling in the songs should serve the larger story. The opera is more mercurial, more meditative, it's a non-linear story, that's in development now, so it'll be interesting to see what lands lyrically. The opera has more completely instrumental music.
Very often the term world music is used to label music that marketers don't know where else to fit, but in your music we literally have "world music" because you take instruments and traditions from places you visit and use them in your music. So I had to wonder, out of all the instruments and traditions you've learned along the way, are there any instruments or musical references or poems that you haven't had a chance to use, that you're just dying to use?
I did an orchestral piece called "Placeless" a few years ago, it was based on a line from a Rumi poem, "My place is the Placeless, a trace of the Traceless; neither body nor soul, for I belong to the Beloved", that's a very important nugget of wisdom from Rumi that has traveled with me, and I set that to music. For instruments, maybe a bassoon, or let's say an oboe, let's see what I can do with an oboe. Maybe oboe and bassoon, I might compose something for those and let's see what happens (laughs).
That would be great! I loved when the sitar popped up in some of your songs.
New York is so eclectic in terms of the culture and what makes up what we call America. A lot of my collaborators for The Gypsy Diaries, where people who are hyphen-American, I'm African American, so in that way it's not necessarily just world music, but music about the ways in which America is expanding, and what we mean by America. The way people who came here are adding to American music. My specific culture is black Southern American vernacular songs, so it's nice that the American Songbook is reaching across and diversifying what American means. It's more eclectic than what some people assume, and that's exciting to me.
For more information on Imani Uzuri at Lincoln Center's American Songbook click here.